The Angel Before Me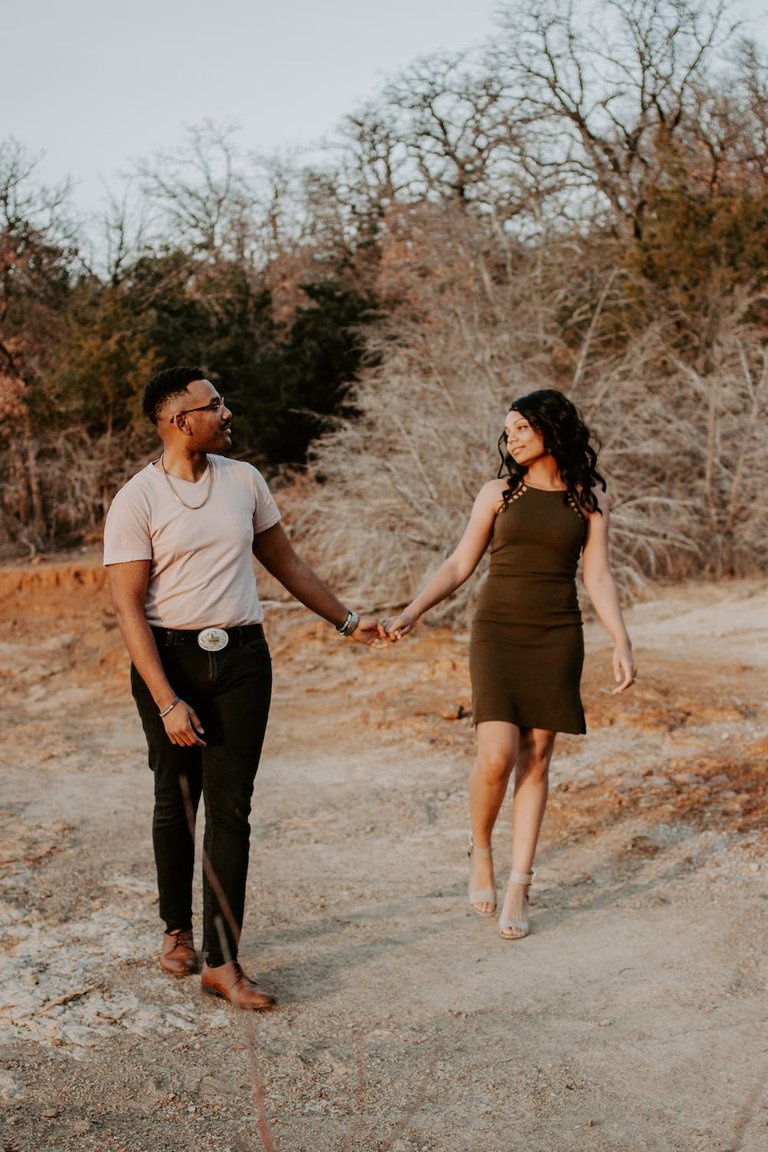 The rain was drizzling slightly and I used the file which was with me to shield my head. Who would've thought that the rain would fall after so many months of having to endure the intensity of the scorching sun?
While running, I slipped on a puddle of water. I closed my eyes waiting for the hard impact but nothing came. Instead, I was surrounded by a sweet fragrance and soft texture of clothing. I opened one of my eyes to peek at what was going on and I came in contact with emerald eyes.
A gasp immediately left my lips as those emerald eyes stared at me with such intensity. We stood there staring at each other for thirty seconds, yeah I counted.
I then blinked away from the staring competition because the intensity was too much for me to bear.
"I'm so sorry for the disturbance "
I muttered slightly, dusting away the invisible dust just so I wouldn't stare at those beautiful eyes. Would I be crazy to say my favorite color was now emerald?
"It's no problem. I'm Thomas by the way, nice to meet you"
I looked up to meet his gaze and I was taken aback by his dazzling smile. His smile immediately became my favorite thing. Is it possible to meet a man this handsome?
"Ummmm…my names are…wait names are or name is…ummm sorry…I'm…am…I'm Sonia" I tried to speak to him without stuttering but I guess that failed and I ended up embarrassing myself further.
He smiled at me. Wait a minute, HE SMILED AT ME. That should be a good sign right? I let out a burst of nervous laughter while scratching my elbow, something I do when I'm embarrassed.
"You're funny" Oh my God, he just said I'm funny. I squealed so hard internally. I guess those words are now my favorite words in the English language.
"Oh and cute too" did he just say I'm cute? I blushed so hard and I thought I was about to faint. Wait, did I say "You're so funny" are my favorite words? Naaaaa scratch that, "oh and cute too" should be my favorite words.
Say something! My subconscious mind screamed at me.
"Emmm…thanks I guess?"
I don't even know what is wrong with me. I met a guy for the first time and I'm a stuttering mess. This has never happened to me before, I don't know what is wrong, maybe he's special?.
For now, I don't want to engage in anything called a relationship because the last ones which I've been in ended so badly. It looked as if he was about to say something when my best friend Rebecca interrupted.
One thing about Rebecca, she is so loud and doesn't know when to shut up even when she has a tense environment.
"Where have you been? I've been looking for you and now I'm wet. Can you imagine Downtown running out of my favorite coffee? It was so heartbreaking that I had to trek down there and still not get what I wanted. I almost cried but then again I saw a very cute waiter so it wasn't so bad"
She kept on rambling despite the fact I tried to stop her. It was as if she realized we were not alone and so she stopped talking instantly.
"I'm sorry. But who are you?" She questioned so rudely. I was about to reprimand her when she grabbed my hands and started dragging me out of the shade muttering about how she doesn't want her best friend having a conversation with a creep. Despite my pleas and arguments she continued dragging me and let me tell you, she's so strong.
I finally stood my ground and screamed at her. That was the time she stopped to listen to me. I ran back to the shade to check if I'd found Thomas but I met only a space. After telling Rebecca what had happened, she apologized so much and was on the verge of tears. She blamed herself for not allowing me to find love but I assured her it wasn't her fault and that if we were meant to be, love would bring us back together.
I went on with my normal life with the hope that one day, I would meet him. For six months I held those hopes high but I later realized I should just move on and forget about everything that has happened. I thought about him so much that I wished he would think of me as much as I thought of him.
I walked Downtown to get some floss, gum, and gloss only for me to bump into someone. Surprise, surprise, the person I bumped into was Thomas. Who would have thought I would see him again?
There was also surprise on his face. We got each other's contact and we went on several dates and now, I'm proud to say, I'm the fiancee of the most handsome man I've ever met. Love truly does not create excuses and if it's meant to be, it will.
---
---