Canadian Truckers is Bitcoin
How can you call yourself a free country when you have a niche of workers protesting for their "rights over their bodies sovereignty" and the resolution that you as a country find to this protest is threaten them of using police force...?
Oh, and why the fuck would you be that devilishly stubborn about vaccinating a whole country, Trudeau, when you as a triple jabbed individual supposedly have covid?
It makes no sense because it's not supposed to make sense. This pandemic is probably a one in a life time event that has rigged fundamental freedoms of millions around the world without too much protests from the individuals. The truckers convoy from Canada is probably the most vocal and impactful so far.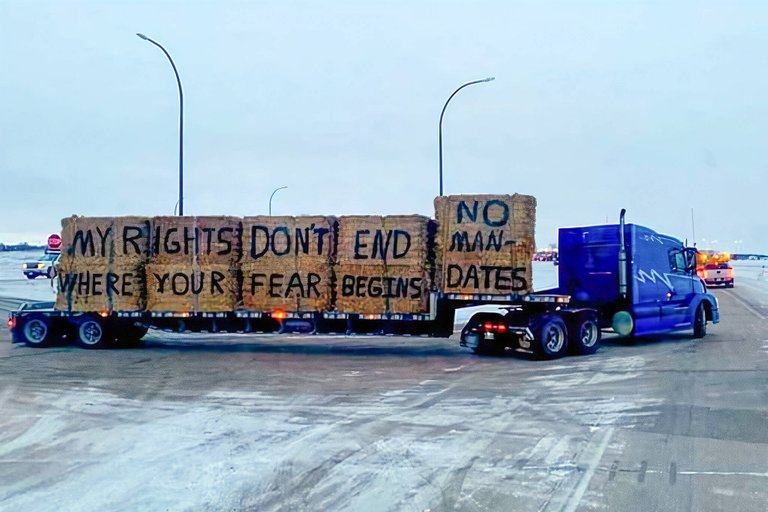 image source
Although the government hasn't agreed on their claims and Trudeau is hiding like a pussy, as he might actually be one, the fight is not over and it seems that farmers are joining in. This march is a manifesto. It is the same as Bitcoin.
It has come at a point where there is no return anymore, you either ride or die, or something like this. Bitcoin hasn't yet become a currency of the world and no one knows for sure if it will ever be one, but very few are seeing the true impact it's having on legacy systems and the crooked elites ruling the world as if it was theirs.
Just to see how dangerous it is for the legacy system look at IMFs attitude towards El Salvador not giving up on Bitcoin. It's a freaking five million people Spanish speaking country, why would they even bother? Because at the end of the day what happens in El Salvador might get replicated elsewhere.
What happens in Canada will be replicated in the UK and other countries in Europe, not Romania of course because we're too lazy and coward to stand for anything. We're good at licking asses of the ones stealing our country's resources and profiting of them, that's for sure.
Bitcoin is freedom because it was designed as such... It's irrelevant to reiterate its attributes because I'm sure 99% of you guys are aware of them. It is indeed the fuck you money that we were waiting for hundreds if not thousands of years, especially during these times when control over data and banking systems, by the establishment, is at nearly ATH...
It doesn't matter if you are vaxxed or not and what you think in regards of benefits or side effects that such medical procedures have, but the mandates are outrageous. Loosing the right to choose over our own health and bodies is as dangerous as loosing our rights over financial freedom, privacy and ownership.
Canadian truckers is Bitcoin. That's how I see it...
Thanks for attention,
Adrian
Posted Using LeoFinance Beta
---
---