Got Airdropped. Life's Good 😁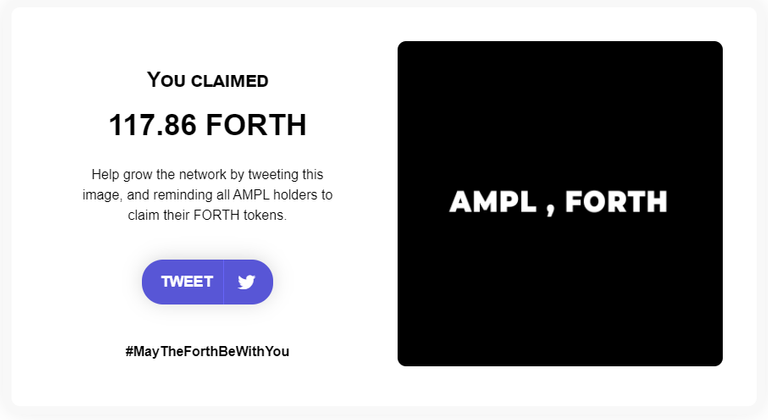 I read a post of @knowhow92 a few days ago about claiming his FORTH tokens for using AMPL at some point, and thought I should try my wallet as well and see if it's eligible. I have used AMPL in the past because I earned some tokens over the years with my Publish0x blogging activity.
Hence I was eligible and all I had was to claim them. I encountered a bit of problems with sending ETH from Binance to metamask to be able to pay for fees and claim the tokens, but after doing some tricks I managed to do that and also managed to cash in almost $2,500 worth of FORTH.
FORTH is the governance token from Ampleforth and it's about $20 at the moment of writing. At the launch, according to coingecko, one FORTH was worth around $60. Now it's 3x lower, but who cares. It's free internet money and I love it.
This is the heaviest airdrop I ever got in crypto and it has made my day. Will I HODL FORTH? No, I already sold it. I'm not interested in participating in any governance voting or something like this and cash comes right at hand these days. I live off of my blogging earnings and it would be such a pity to sell LEO and HIVE at the current levels.
Having around $2,500 cash from an airdrop to spend around means that I can save my earned HIVE and LEO for when the prices go higher. I don't know if you have used AMPL so far, but if yes, then check this out and connect your wallet to claim your FORTH.
It's free internet money and it would be such a pity to waste this opportunity. I don't know either if there's a clock ticking for claiming FORTH, but why wait...
Oh, by the way, thanks @knowhow92 for sharing the tip with us, and for the ones doubting that Leofinance is the best crypto community on Hive, and probably on the internet, think again. A lot of shills and valuable tips have been shared around here. This thing rocks, crypto rocks!
Have a nice day wherever you are, don't fall for the FUD and zoom out for perspective once in a while. We're not in a bear market. Enjoy the bull market and get ready for quite some interesting years ahead in crypto.
Thanks for attention,
Adrian
Posted Using LeoFinance Beta
---
---