Leofinance is No Plagiarism Dump Hole. Let That Be Clear

Yesterday @badbitch exposed a plagiarist on Leofinance and in her post she also mentioned @thefoodlords as a potential plagiarist. I checked this account, went through several posts and all of them plagiarized content on which I left a downvote and a comment with the source of the plagiarizing content.
This user @thefoodlords started today posting proper content. By proper content I mean that it's not plagiarized, but crap anyway. He doesn't say anything, no value in his last two posts and hope nobody upvotes them.
Man, if you want a share of the pie from Leofinance you should start putting some effort in your post, like I did with going through your posts and checking them for plagiarized content. Nobody is gonna give you free money for stealing the work of others. NOBODY. I will make sure of that.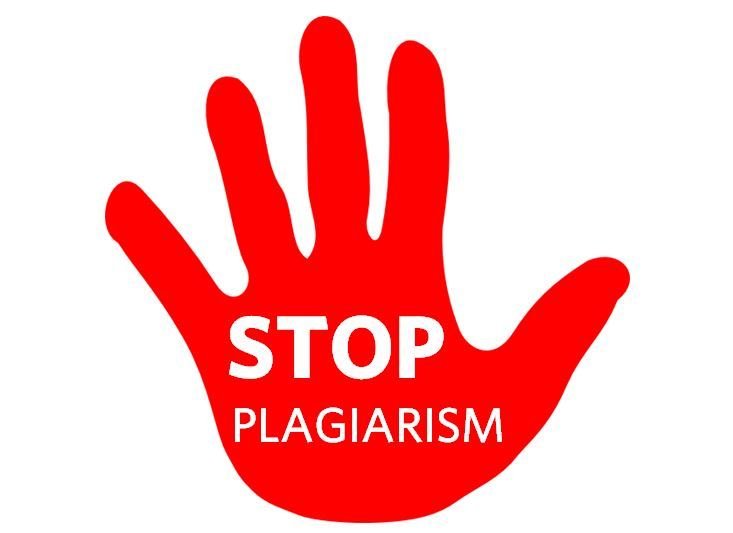 source
There's no excuse for stealing anyone's work and monetizing it. Want to make money on Leofinance? Work for it. You can't use proper English? You have google translate for that. Need any help? Ask... Need an example of a person that puts efforts and gets rewarded? Here you have it: https://leofinance.io/@celi130.
This woman has seen Hive making changes in her life, but she's putting a bit of effort for that and you should do to if craving for some LEO. I'm doing the same and almost anyone around here. Don't feel like putting any effort? Then buy tokens from the market and get curation rewards. Just don't plagiarize!
That's not accepted in here
Don't say you haven't been warned. If anyone considers my attitude harsh and rude, you should consider that this guy is been plagiarizing and taking rewards out of our rewards pool for days. He's doing that consciously, not by mistake. If you have a paragraph taken from a news and put into your post that's not the end of the world.
When you take whole freaking articles from all sort of news outlets and dump them on Leofinance, you're not excused. You either change your behavior or stop posting in here. There's no other way. Below I have screenshots with all the posts that I checked on his account and found them to be plagiarized.
https://leofinance.io/@thefoodlords/dogecoin-hits-10-cents-why-that-has-the-internet-excited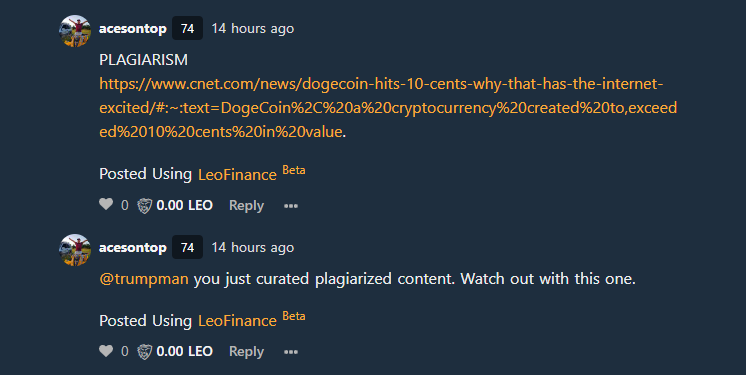 https://leofinance.io/@thefoodlords/bitcoin-price-hits-nearly-usd65k-on-the-day-coinbase-shares-start-trading-on-nasdaq

https://leofinance.io/@thefoodlords/a-simpsons-episode-comically-predicts-bitcoin-s-price-will-surge-to-infinity-and-gamestop-s-stock-will-fluctuate-ridiculously-in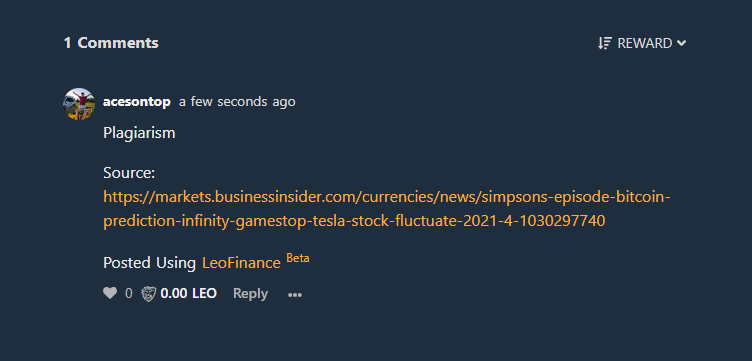 https://leofinance.io/@thefoodlords/ripple-price-prediction-xrp-eyes-usd2-if-this-crucial-support-remains-unshaken

https://leofinance.io/@thefoodlords/usdxrp-joins-world-of-defi-thanks-to-wanchain-s-cross-chain-bridges-xrp-breaks-usd1-61

https://leofinance.io/@thefoodlords/binance-coin-usdbnb-on-fire-as-coinbase-listing-on-nasdaq-nears-now-up-1484-in-2021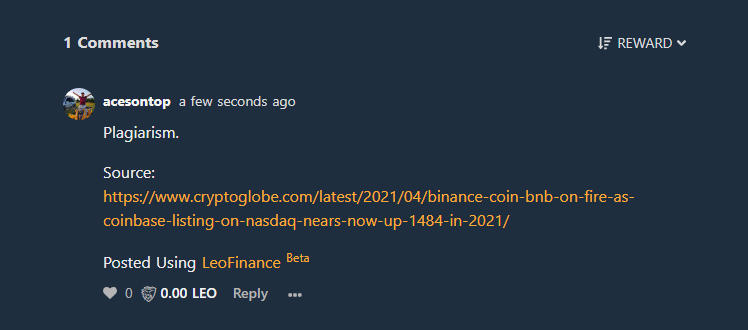 @thefoodlords, you've wasted my morning chasing your ass for plagiarism when I could have done something more productive with all this time... You owe me big time. Hope you'll reconsider your behavior and stop trashing this community. Have a great day folks and see you to the next post.
Thanks for attention,
Adrian
Posted Using LeoFinance Beta
---
---