6 weeks to go to reach 15 dolphins !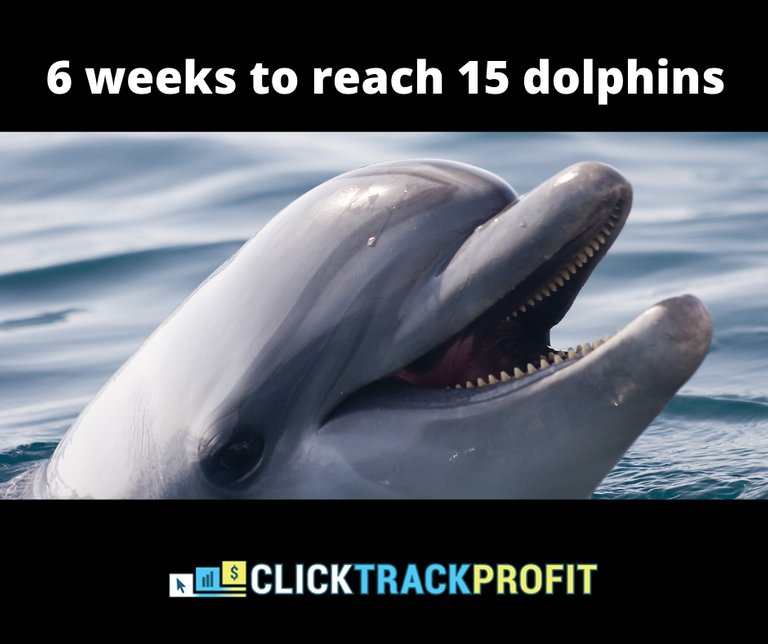 I believe that the after fork problems combined with the low hive prices have had a discouraging effect on people.
Good news... the problems seem fixed and I see some positive dynamics on the price side. So let's go on, let's reach these 15 dolphins by the end of the year.
@rezoanulvibes needs less than 800 HP to get there. @russellstockley, @djsl82 and @rcaine are only a couple of hundred HP away from 4000. It's still possible, let's go on pushing!
The Swarm Booster is helping you
All the people that are within this ranking are supported by the @ctpsb account which upvotes their posts. But of course, it's necessary to write posts to get supported. At the moment the @ctpsb account upvotes your posts with 34'000 Hive Power and about 220'000 CTP staked!!!
The top18 of the candidates for the Dolphin Swarm are in addition supported by the @happyvoter account who votes with around 6300 Hive Power
Something great is coming to the CTPSB project...
I've had an idea that will make the CTPSB project even better. This will profit everyone involved in the project and the community as a whole. Stay tuned :-)
The Ranking
Orca
Dolphin Swarm
Candidates for the Dolphin Swarm
Is your name missing in this ranking? If you post regularly on ctptalk then write a comment so that I may add you to the list.
| Date | Cumulated Hive Power | Number of Users | Average HP / User |
| --- | --- | --- | --- |
| 31.8 | 158610 | 32 | 4956 |
| 7.9 | 172774 | 36 | 4799 |
| 14.9 | 179156 | 39 | 4593 |
| 2.10 | 194416 | 39 | 4985 |
| 13.10 | 200049 | 39 | 5129 |
| 18.10 | 202326 | 39 | 5187 |
| 3.11 | 282484 | 40 | 7062 |
| 17.11 | 287641 | 40 | 7191 |
P.S: 10% of the author rewards of this post go to the @ctpsb account
---
Let's connect on Hive, Lbry or on Publish0x
My free e-mail course: The 100'000 satoshis a week strategy

---
---