CTP Swarm Ranking Update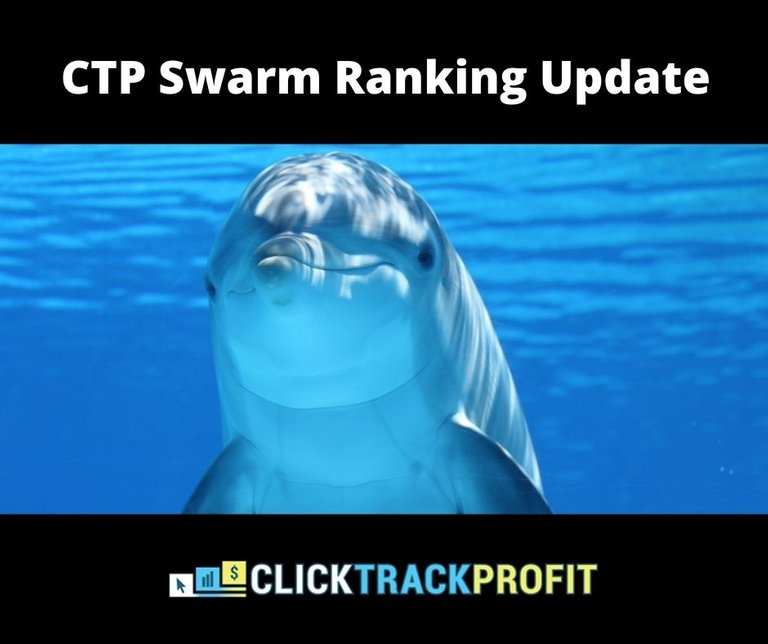 The CTP Swarm ranking is a map of the users of this community and it tracks there progress towards dolphinhood and beyond.
I had prepared the data two days ago and I couldn't find the time to write the post. So sorry for the fact that the Hive Power of the accounts might have evolved in the meantime.
We have already reached the target of 10 dolphins in our tribe but maybe we can get one or two more until the end of the year.
Little stagnation among the candidates for the Dolphin Swarm
I can't help to notice that many very promising Minnows have difficulties to take the final step to become Dolphins. Some of them haven't posted for several weeks and I hope that everybody is well and healthy.
People can't be blamed not to power up more when there is so much exciting stuff going on
It's not surprising that the progress is not as imposing as in the past. When people are bombarded every week with new great tokens to buy, they have to invest there as well :-). I just say INDEX, CTPSB, LBI,...
This ranking includes the most active authors using the CTP tag on their posts. To help them progress on their journey, everybody is supported by powerful upvotes from the @ctpsb account that votes with a total of 48'000 Hive Power at the moment. An additional support is given to the Candidates of the dolphin swarm who are upvoted by the account @happyvoter who upvotes posts with 6000 Hive Power. The top 18 ranked get this support.
But let's go to the ranking now!
The Ranking
Orca
Dolphin Swarm
Candidates for the Dolphin Swarm
New starting from next ranking:
@harpreetjanda
Is your name missing in this ranking? If you post regularly on ctptalk then write a comment so that I may add you to the list.
| Date | Cumulated Hive Power | Number of Users | Average HP / User |
| --- | --- | --- | --- |
| 31.8 | 158610 | 32 | 4956 |
| 7.9 | 172774 | 36 | 4799 |
| 14.9 | 179156 | 39 | 4593 |
| 2.10 | 194416 | 39 | 4985 |
| 13.10 | 200049 | 39 | 5129 |
| 18.10 | 202326 | 39 | 5187 |
| 3.11 | 282484 | 40 | 7062 |
| 17.11 | 287641 | 40 | 7191 |
| 5.12 | 297091 | 40 | 7427 |
P.S: 10% of the author rewards of this post go to the @ctpsb account
---
Let's connect on Hive, Lbry or on Publish0x
My free e-mail course: The 100'000 satoshis a week strategy

---
---