Only 168HP until 10 Dolphins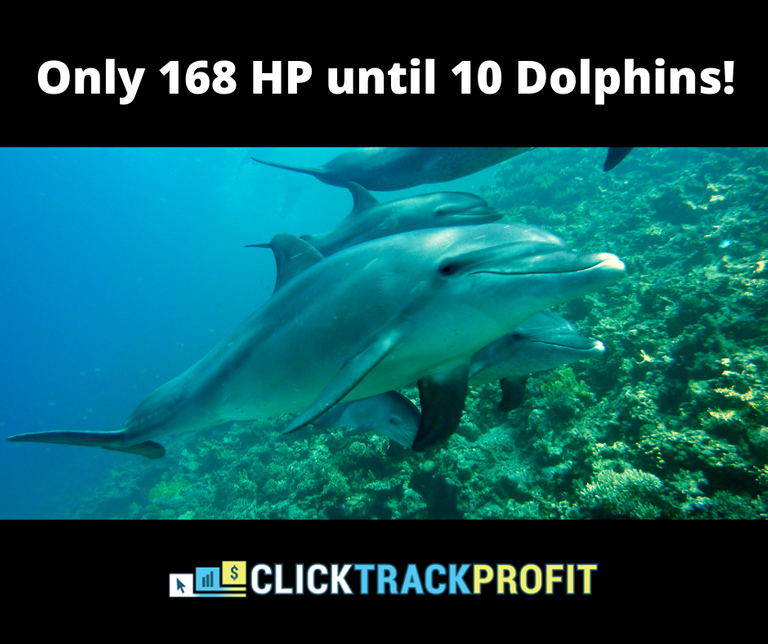 The CTP Swarm is growing gradually and continuously. Since the last update on 2nd of october, the combined Hive Power has increased from 194K to 200K. The average Hive Power per Hive Owner has passed the bar of 5129 HP. In the average we are a dolphin Swarm!
Target of 10 Dolphins almost reached
There are already 9 dolphins in the swarm that have reached more than 5000 Hive Power (actually you need around 5160 HP to become an official dolphin but we will keep this 5K mark). @bradleyarrow is progressing at the speed of light passing from 4268 HP to 4832 HP in 11 days. This makes him only 168 HP away from the 5000 HP mark and from us reaching the goal of 10 dolphins!
We are seeing amazing progressions
Our orca @jongolson is flying towards 100K. He is only 16'000 HP away from it. Let's all upvote his posts so that he can get there;-). Behind him we have our super dolphins @ph1102 and @alokkumar121 who are getting close to 20K Hive Power. Then we have the very dynamic dolphins like @pixiepost and @flaxz who grow by around 50 - 100 HP per week!
But also among the candidates for the dolphin swarm we have people who really develop very fast. I would like to point out @bradleyarrow but also @russellstockley or @rcaine who are making huge jumps in HP.
We will get 10 dolphins for sure but we also see a lot of people that will come very close to it by the end of the year
In addition to the @ctpsb account that is upvoting all the authors in the CTP Swarm, we have the account @happyvoter who is upvoting the candidates for the dolphin swarm. The first 17 people in this ranking will get upvoted once a day by the @happyvoter account that has 2672 Hive Power.
The ranking
Orca
Dolphin Swarm
Candidates for the Dolphin Swarm
Is your name missing in this ranking? If you post regularly on ctptalk then write a comment so that I may add you to the list.
| Date | Cumulated Hive Power | Number of Users | Average HP / User |
| --- | --- | --- | --- |
| 19.8 | 138010 | 30 | 4600 |
| 24.8 | 154181 | 32 | 4818 |
| 31.8 | 158610 | 32 | 4956 |
| 7.9 | 172774 | 36 | 4799 |
| 14.9 | 179156 | 39 | 4593 |
| 2.10 | 194416 | 39 | 4985 |
| 13.10 | 200049 | 39 | 5129 |
---
Let's connect on Hive, Lbry or on Publish0x
My free e-mail course: The 100'000 satoshis a week strategy

---
---