The CTP Swarm Ranking 2020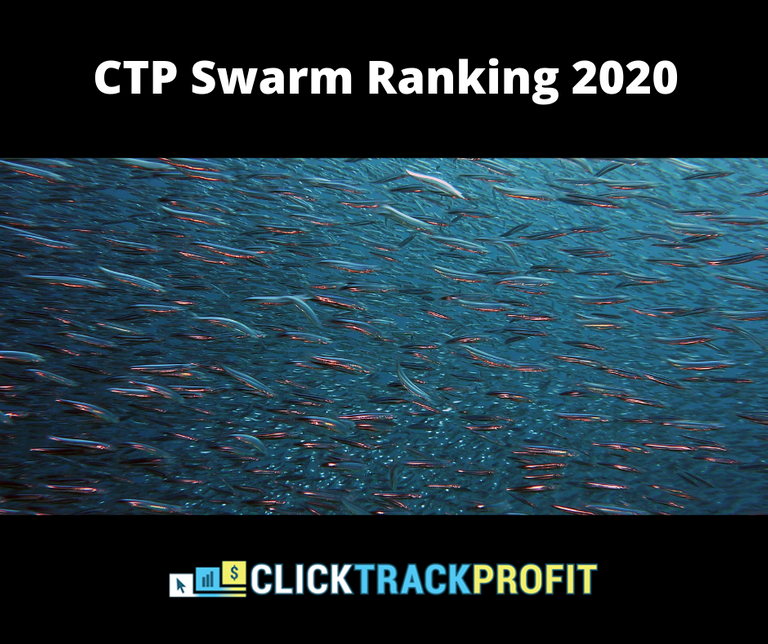 Dear friends of the CTP community. I would like to present you the final ranking of the CTP Swarm for 2020.
After the CTP power up challenge, there were some new people who started to regularly write posts with the CTP tag and I want to include them in our CTP swarm. Some of the people that have been added, are very active on CTP but are not posting regularly. I want to include them to encourage them to post more often :-)
These are the people that are new in the CTP swarm:
Dolphins
Minnows
@filotasriza3, @behiver, @khan.dayyanz, @anderssinho, @kaseldz, @fiberfrau, @successchar, @harpreetjanda, @aiovo
Thanks to these new people joining, there are now 11 Dolphins in the Swarm and some others are very close to Dolphin status.
The advantages of being in the CTP swarm
Our target is to help everybody in this swarm to evolve to reach the next level in Hive Power. Our main tool to do this is the CTP Swarm Booster. The account @ctpsb is upvoting the people in the swarm. The account votes maximum one time per day and only on posts that carry the #ctp tag. Another condition is that the posts have a certain quality standard.
The minimum standard for posts to be upvoted is that the post has a good inviting title, a picture and is composed of at least 100 words. The most important however is that the content is yours and that you don't copy it from somewhere else.
Please consider that there is no guarantee that your posts get upvoted. The account has a certain amount of voting power and if this voting power is used then the account can't vote.
Help us develop the CTPSB project
You can help to develop the CTPSB project in many ways. You can buy CTPSB tokens on the market and the proceeds will be used to power up the account. You can also delegate Hive Power to the account and you will get dividends paid out in CTP tokens every week. Another way to support the project is to delegate hive-engine tokens to @ctpsb.
Ok let's now go to the ranking!
The Ranking
Orca
Dolphin Swarm
Candidates for the Dolphin Swarm
Is your name missing in this ranking? If you post regularly on ctptalk then write a comment so that I may add you to the list.
P.S: 10% of the author rewards of this post go to the @ctpsb account
---
Let's connect on Hive, Lbry or on Publish0x
My free e-mail course: The 100'000 satoshis a week strategy

---
---