We have 10 dolphins!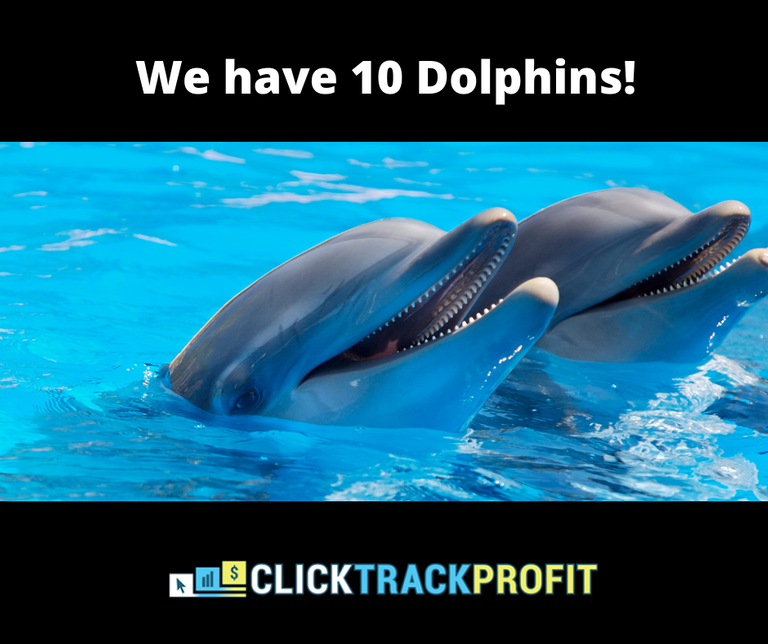 This is a special edition of the CTP Swarm report to inform you that our friend @bradleyarrow has managed to become a dolphin today!
This means that we have now 10 Dolphins in the CTP Swarm.
We have reached one of our big goals but hey, let's continue and go further! There are more and more people who have passed 3000 HP and I believe that we need to help them as much as possible to reach Dolphin hood as well.
We have reached a goal but it was only one step towards the top of the mountain!
I believe that @bradleyarrow really deserves to be where he is today. His dedication and hard work allowed him to reach his goals at high speed. Check-out this post by @clicktrackprofit.
Since @bradleyarrow is now a dolphin, he won't be receiving upvotes from the @happyvoter account any more. His spot will go over to @elizabetamt who is 17th of the ranking.
The CTP Swarm Booster is continuing to grow
The Hive Power of the @ctpsb account passed 24k today and the token value is now at 1.047 Hive. As @invest4free wrote in his post, for many of our posts the @ctpsb is giving one of the most powerful upvotes. This allows us all to grow together. The bigger the account, the faster we grow!
The ranking
Orca
Dolphin Swarm
Candidates for the Dolphin Swarm
Is your name missing in this ranking? If you post regularly on ctptalk then write a comment so that I may add you to the list.
| Date | Cumulated Hive Power | Number of Users | Average HP / User |
| --- | --- | --- | --- |
| 19.8 | 138010 | 30 | 4600 |
| 24.8 | 154181 | 32 | 4818 |
| 31.8 | 158610 | 32 | 4956 |
| 7.9 | 172774 | 36 | 4799 |
| 14.9 | 179156 | 39 | 4593 |
| 2.10 | 194416 | 39 | 4985 |
| 13.10 | 200049 | 39 | 5129 |
| 18.10 | 202326 | 39 | 5187 |
P.S: 10% of the author rewards of this post go to the @ctpsb account
---
Let's connect on Hive, Lbry or on Publish0x
My free e-mail course: The 100'000 satoshis a week strategy

---
---