Creating a token is easy, to make sure it keeps it's value... is not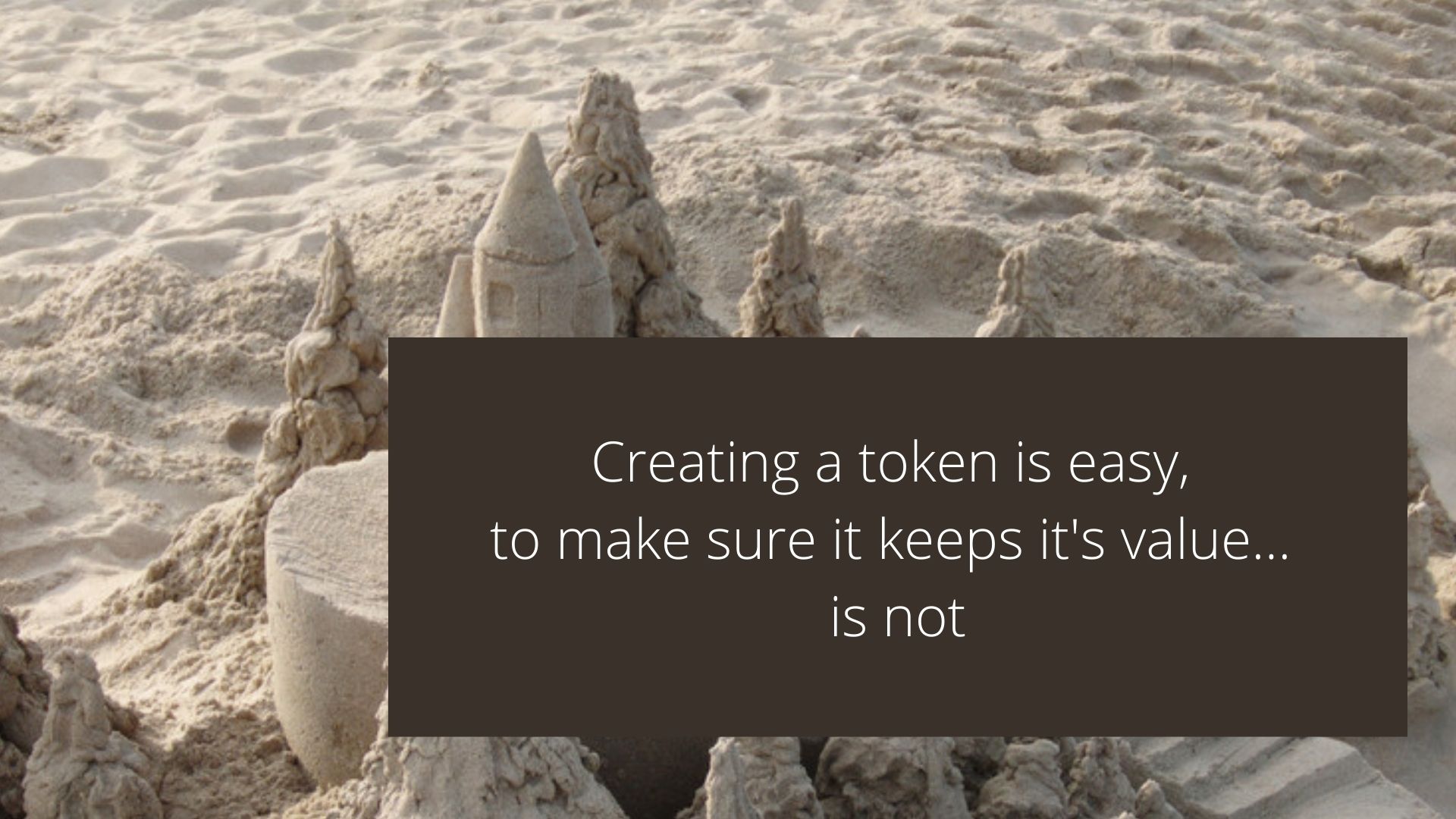 On tribaldex you have the amazing option to create your own crypto token and it only costs 100 BEE's, or about 23$ at today's prices. It's unbelievably cheap to create a token that is linked to all the infrastructure of tribaldex and hive-engine. Not only, you get a token, you also get a listing on hive-engine, tribaldex and leodex.
If you are willing to pay more BEE's, you can make your token stakable, delegatable, you can link it to a front-end, you can create a liquidity pool for it. The possibilities are pretty amazing and quite affordable.
The problem with such tokens is not the price to create them but the difficulty in making them keep their value. Unfortunately, on hive-engine there are very few projects that have a somewhat stable price evolution. Since it's so cheap, almost anybody can create a token and often the necessary knowledge is lacking when it comes to giving value to a token.
What is the value of a token?
The value of a token is defined by a balance between offer and demand. If I have a token and nobody wants it, well then it's worth nothing. To be able to give any type of value to a token it needs a demand. So in a way we need a certain demand for a token and if the supply of the token increases over time, then the demand needs to grow at a similar speed, otherwise the balance will be disturbed and the token value will decrease.
How to create a demand for a token?
In order to create a demand, which is necessary to bring value to the token as we saw before, the token needs to have use cases. In the hive-engine world, the most basic use case has been staking. Since thanks to curation rewards or in diesel pools, it was possible to earn a return on staking, this use case was actually pretty well used.
The problem with staking is that either the rewards for staking are minted and it leads to an always increasing supply and one day the demand won't be able to follow. Or the rewards in diesel pools is limited whereas the liquidity grows, meaning that after a certain point, the liquidity will be "full" and it won't be possible to stake more profitably.
Other use cases are to create a market where the tokens can be used for products and services. A great example is DEC from Splinterlands since the packs in the game can be bought with DEC at a specific price. This gives DEC a value and a kind of peg.
Use cases are necessary for a token to have value. The other thing that matters is the token supply.
Why the token supply matters?
With most of the tokens on hive-engine, there are new tokens being minted every day. Especially the tribe tokens print tokens at a steady rate. In situations like now, where the general feeling in the cryptoworld is dominated by FUD, it's very difficult to grow the demand and with a constant supply and a not growing demand, prices will decrease over time.
When a token is minted, all the other tokens in circulation are devaluated
Once a demand is set for a token, every new minted token is actually devaluation all the existing tokens in circulation. Let's have a look at that:
Situation A:
There is a given demand for the token according to its use cases
There is a given supply of the token at this instant
Situation B:
10% of new tokens have been newly minted
Now the given demand is still the same
However the supply has been increased by 10%
This means that the value of each token will also be decreased by 10%!
With daily minting, this phenomenon is not really visible for people but it's there even if the token supply increase is only 10% over a year.
The problem with the supply
If the supply continues to grow over time and the demand stays similar, we will always see a decrease of value in the token. After a while, this value will tend towards zero the more tokens are in circulation.
Many token owners try to create an artificial demand and try to slow down the process. This can be a solution but it requires fresh money and isn't really sustainable.
What about reducing the supply?
If you reduce the supply of a token, it will grow in value if the demand stays stable. Unfortunately, burning tokens has lost a lot of it's appeal in the crypto world. In my opinion, it's however the best way to steer a token.
Ideally, a token should strive for growth in it's userbase and in it's demand with use cases. If it's not possible however to increase this growth, then I believe that the supply has to be reduced by burning tokens.
Playing with the supply can be a good way to adapt to the demand of a token. A creator of a token can create use cases and then encourage the demand, but a lot of factors are out of his control. On the supply side however, he should put in place ways to increase or slow down the supply from the beginning. In my opinion, this is the easiest way to have a sustainable token price.
A good example in my opinion is polycub. They have been reducing the supply constantly and at the same time they try to grow the demand with a semi-artificial demand that comes from buying tokens with income generated on and around the platform. With this buying activity, they actually make the token interesting for holders and they increase the overall demand. I'm looking forward to seeing where it will lead.
---
Let's connect ! You can find me on these platforms:
Posted Using LeoFinance Beta
---
---