Hive a place for young athletes to promote themselves and monetize their careers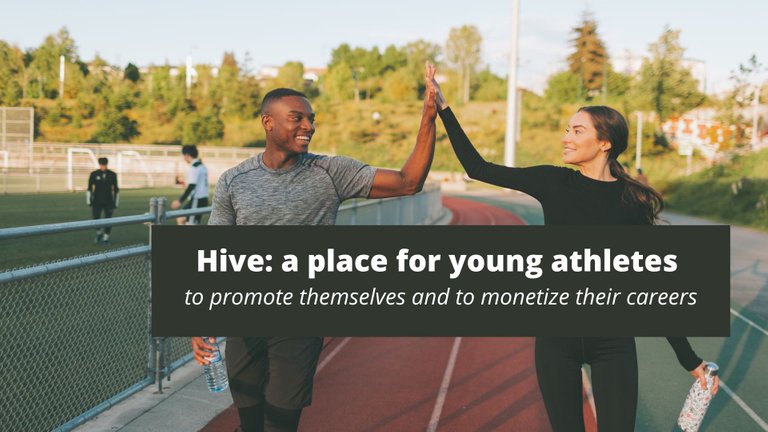 My kids are doing a lot of sport at a higher level. My daughter is quite successful and is now member of the national team in her sport. I believe, that Hive could maybe help the career of young athletes.
Young athletes require a lot of money for their career
In my country, most people who do sports on a higher level are in a club or an association that provides a network for training and competitions. These clubs have to be founded. Most of the time, these clubs are financed with a yearly fee paid by the parents of the athletes. This is combined with sponsoring and also income from events that are organized by the clubs. There are often different hybrid ways to collect money but most of it comes from these sources I believe.
At a junior level, there is absolutely no money to be made from the sport itself. Even if we see the big salaries of some players in popular sports, the number of people that enjoy such revenues is very very small and limited to a very selected number of professional sports.
If your kid wants to go forward with it's career, the financial requirements become quite consistent. For my daughter for example, we need to take part in at least 4 international tournaments per year. So in addition of the yearly club fees, the gear that has to be purchased, there are the hotel costs, travel costs and enrollment costs linked to it. In some cases, it's even necessary to cover the costs of a coach for these tournaments. In a nutshell, it is pretty expensive.
Innovative ways to finance a career
I see a lot of athletes that try to come up with ideas to finance their career, especially to find a sponsor or two. Most of them do it over social media, becoming influencers on their field and trying to provide a platform of visibility that can be sold to a sponsor. The problem with that, is that the effort put in this platform can be totally nullified if the platform decides to terminate the account for a reason or another.
If an athlete wants to successfully attract some sponsors, he needs to promote himself as a brand and prove to have a certain follower base.
Provide a network of support for young athletes on Hive
Imagine if we could provide a network of support for young athletes on Hive? You could tell them to share their training, their experiences, their results on hive and they would be supported by nice upvotes. The fact is that an athlete never comes alone. Around an athlete, there is a family, there is a coach, there is a club, there are other athletes from the club and there are the friends and fans.
Now an athlete could start posting on hive and invite all the people around him to hive to watch his posts. Suddenly everybody starts to upvote his posts and a small community emerges, around a single athlete.
The club could share all the posts of the athletes on his own blog and some parents could power up some hive and actively support the athletes of the club. There could be a sponsor that instead of making a one time payment, could power up hive and vote on all the posts of the club. The club could communicate to its members over hive. They could rise money with NFT's or with a club token.
Hive is a cheap way to run your own website
When a young athlete needs to promote himself, he often can't invest in an own webspace. Hosting and domain fees are not free. So they often limit themselves to social media profiles. Hive could provide a free webspace for them where they share everything. In addition to that, they wouldn't need to worry about software updates or database backup linked to a wordpress website.
People won't do it by themselves
The problem with hive is that it's complicated. Also, after a couple of weeks on hive, people get discouraged by little post rewards. Therefore there should be an infrastructure in place to welcome athletes. I believe the following things would be necessary to get started:
There should be an external website that promotes this program for young athletes
On this website there should be a tutorial for the most important aspects of how to get started for athletes, for clubs, for sponsors, for parents
This website should function as a link between web 2.0 and hive
There should be a curation program on hive that supports the posts of these athletes with a big curation account that could give meaningful upvotes
Hive wouldn't be able to finance these careers but it would definitely contribute and offer a platform for these athletes to promote themselves and to monetize their content and their network. In addition, athletes could profit from our inbuilt HBD 20% apr savings accounts to collect money for when they need it. Once they are on hive, they then could discover all the aspects of this amazing blockchain...
---
Let's connect ! You can find me on these platforms:
---
---