How many vouchers will you get?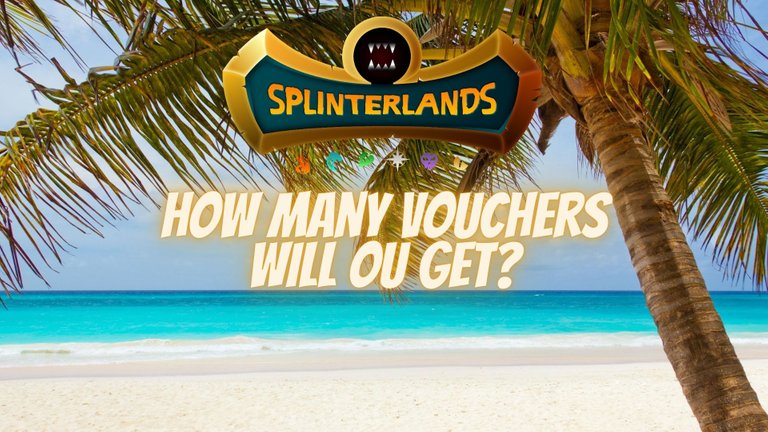 The news about the chaos league pre-sell is out and there is a lot of information to process. Among many other things, there will be a voucher system that will be needed to purchase chaos league packs during the pre-sale and maybe even after that.
During the pre-sale that will last 30 days, a total of 1 million packs will be available. Accordingly 1 million vouchers will be minted. The minting process will be done as a kind of airdrop to people who have SPS tokens staked.
How will the vouchers be distributed?
The number of vouchers that a person gets will depend on the amount of SPS that this person has staked in respect to the total amount of staked SPS.
There will be 33'333 vouchers minted every day from october 18th to november 17th 2021.
These vouchers will be tokenized and you will also be able to buy and sell these vouchers on platforms like tribaldex.
How many vouchers would you get today?
Since it's not possible to predict how many SPS tokens will be staked in two weeks, we can get an idea by taking todays numbers.
At the moment of writing this post, 94735050 SPS are staked in the game. I don't believe that SPS staked outside the game will be elegible for the vouchers.
| Your SPS Stake | Number of vouchers that you would get per day |
| --- | --- |
| 10000 | 3.51854989257 |
| 8000 | 2.81483991406 |
| 6000 | 2.11112993554 |
| 4000 | 1.40741995703 |
| 2000 | 0.70370997851 |
| 1000 | 0.35185498926 |
| 800 | 0.28148399141 |
| 600 | 0.21111299355 |
| 400 | 0.1407419957 |
| 200 | 0.07037099785 |
| 100 | 0.03518549893 |
What is to be expected?
Overall, there is a staking rate of 75% for the SPS token in game at the moment. However this doesn't take into consideration the staking that is being done in Liquidity pools.
The closer we get to the pre-sale, the more people will probably stake their tokens. This means that the numbers above will probably be lower. On the other hand, people holding more than a milion SPS will only get vouchers for 1 million. This might bring the number of daily vouchers a bit up for everybody else.
How much SPS do I need to stake to be able to get a limited promo card?
If you buy at least 50 packs during pre-sale, you will get guaranteed one limited-edition promo card. In order to be able to buy 50 packs, you will need at least 50 vouchers. As of today you would need to have at least 5000 SPS staked in order to get about 50 vouchers during the whole pre-sale.
If you want to get a gold edition of this promo card, you will need to have at least 100'000 SPS staked to get 1000 vouchers over the duration of the pre-sale.
Just keep in mind that you will need 4$ as well to purchase each of these packs:-)
P.S: I made a mistake in my calculations and thanks to @behiver for pointing it out! The numbers above are corrected.
---
Let's connect ! You can find me on these platforms:
---
---