How to get chaos legion cards much cheaper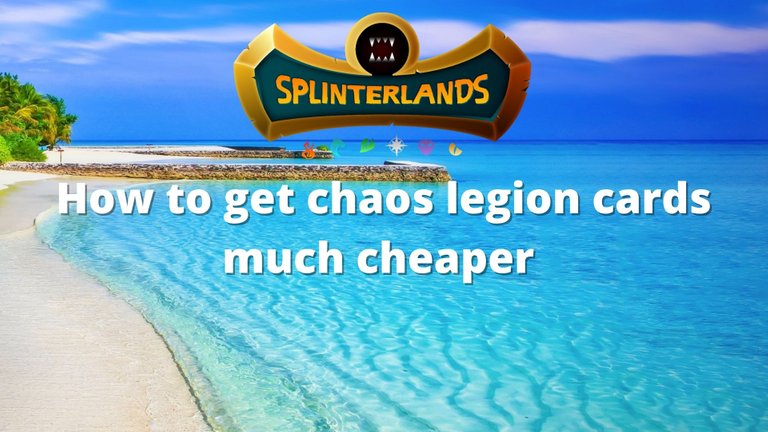 I had recently a very interesting discussion over a chat regarding Splinterlands. Somebody told me that he felt it was not fair that new players were disadvantaged in the game. That it was somewhat impossible to grow organically in the game.
I had to say that he was right but he missed one important point. Most top players didn't reach their place in an organic way. Splinterlands isn't really a free to play game. It's a game that needs some investment so that you can really earn something with it.
There is of course the summoners spellbook. Then, if you want to grow with the rewards that you earn, you will probably give up before long because you will see that you don't manage to progress. Once you understand the game and you think that you are stuck, it might be a good idea to invest in some cards. However it's important that you invest in the correct ones :-)
I discourage new players you from buying chaos packs in the pre-sale
If you are struggling to get enough money and vouchers together to purchase a handful of packs during the pre-sale, it's maybe not such a good idea to participate in it. Let's be clear, the pre-sale starts to make sense if you can purchase at least 50 packs. However, even at this level the free card that you will get certainly doesn't compensate for the vouchers that you have to purchase to get your packs.
You want chaos legion cards all the same? There are several possibilities that will be much cheaper for you...
Buy packs on hive-engine
First of all the official pre-sale over the Splinterland front-end is not the only place that you can get chaos legion packs. If you are not hungry for the special edition reward card, you can actually purchase chaos packs from hive-engine. At the moment of writing this post, one voucher will cost you 24.5 Hive. Then you need to add 4$ to that, to purchase a pack on Splinterlands.
You can buy full fledged chaos packs in the same hive-engine market for 15.25 Hive at the moment. No need to buy vouchers. They are already exchanged.
Let's just compare this:
On Splinterlands a pack will cost you 24.5 + 5.23 = 29.73 Hive
On hive-engine a chaos pack costs 15.25 Hive
It's almost double the price! Are you willing to pay double just to have the chance to get the special edition reward card? Of course, if you buy the packs on hive-engine they won't qualify either for all the other goodies. But if you want affordable packs, buy them on Hive-engine!
Wait for the cards in the market
When you buy packs of course it's a great experience opening them and hoping for the legendary gold foil. Truth is that you will get a lot of cards that you won't be able to use in your deck. Once the packs are free to open, you will see plenty of cards from the new chaos legion series in the markets on splinterlands and peakmonsters. If you wait a couple of days until the prices settle, you will be able to buy exactly the cards that you want. Don't forget that there will be a total of 15 million packs and there will be a lot of cards in the shop and prices will rather go down.
Just keep in mind that the burn/point value of the cards of the Chaos edition are lower than the ones from untamed edition. I therefore don't believe that the value of these cards will be that high to start with.
I would suggest not to overpay these packs and be patient. Wait and only buy the cards that you really need.
---
Want to start to play? Join my referral program!
Join Splinterlands using this link, buy the Summoner Spellbook and I will send you 200 DEC tokens

Join Rising Star using this link, make 100 missions and I will send you 1000 Starbits
This action is only valid for people who actually are my referrals.
---
Let's connect ! You can find me on these platforms:
---
---