I tripled my Hive Power in 2021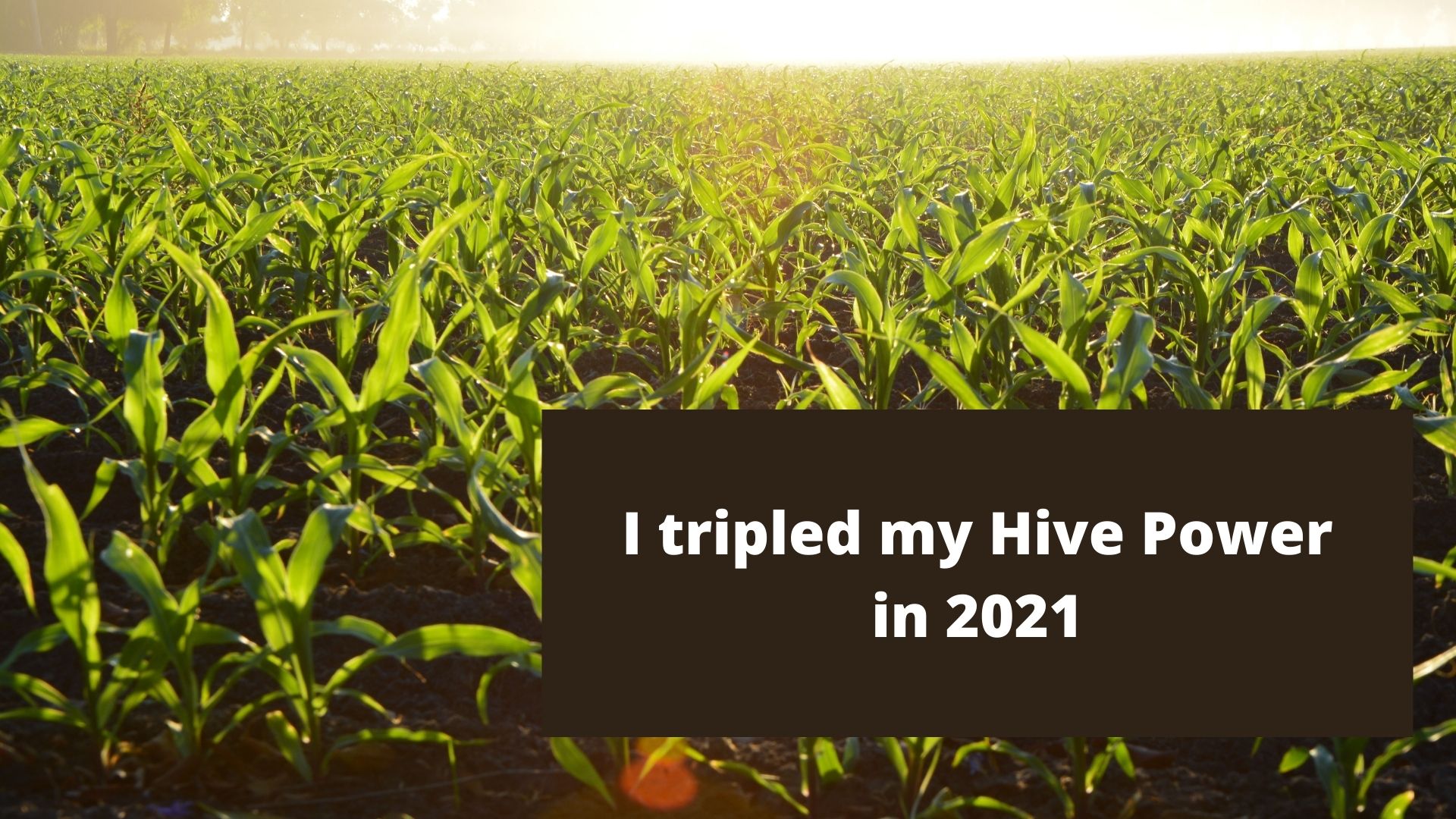 About a year ago, on 19th of December 2020, I have set my goals for 2021 in a Hive post. I've tried to focus on these goals but during the year, I've lost sight of them. Today, I want to check if I managed to reach them.
My goals for 2021 and what I achieved
Below you see the goals that I had set at the time and I have added the numbers that I have today.
| Token | 16.12.2020 | Target | Today | Reached |
| --- | --- | --- | --- | --- |
| Hive | 5933 HP | 10'000 HP | 18'824 HP | Yes |
| Leo | 439 Leo | 2000 Leo | 1'600 Leo | No |
| CTP | 16'440 CTP | 30'000 CTP | 30'300 CTP | Yes |
| Tron | 3'035 TRX | 5'000 TRX | ? | Target abandoned |
| dCity | 837 SIM/day | 3'000 SIM/day | ? | Target abandoned |
When looking at these numbers, I believe that it's clear where I've set the priorities. Early in the year, I had abandoned the targets for Tron and dCity for different reasons. I've managed to reach my goal in CTP tokens and am not too far away for Leo. When I look at hive, I can confidently say that I managed to reach my goal :-). In one year, I have tripled my Hive stake. I have done that with content creation and curation but also thanks to the income from Splinterlands. I have sold a couple of expensive cards and invested most of it into Hive Power.
Outlook for 2022
Even if I haven't paid too much attention to my goals, I believe that it's great to set them in a post where you can go back to, even if it is just to see how your numbers have evolved. I will set some goals for 2022 in Hive Power and HBD.
During the last months, I have started to accumulate HBD. With a very interesting interest rate, I consider it as my piggy bank. My objective for this piggy bank is to be able to finance the studies of my kids. It's a long term goal but the more I can grow it now, the more compound interests I will be able to generate.
My goals for 2022
| Token | Today | Target |
| --- | --- | --- |
| Hive Power | 18'824 HP | 35'000 HP |
| HBD | 5'774 HBD | 10'000 HBD |
For 2022, I want to concentrate my efforts in accumulating Hive and HBD. For both tokens I want to achieve a doubling of the amount I have today. I believe these are challenging goals but I hope I can get there.
I will try to reach these goals with content creation, curation but also with rewards from Diesel Pools which offer a very nice income that hasn't been discovered by the majority on the hive blockchain.
Thanks for stopping by and happy Holidays to you!
---
Let's connect ! You can find me on these platforms:
Posted Using LeoFinance Beta
---
---