Imagine hundreds of businesses onboarding people to Hive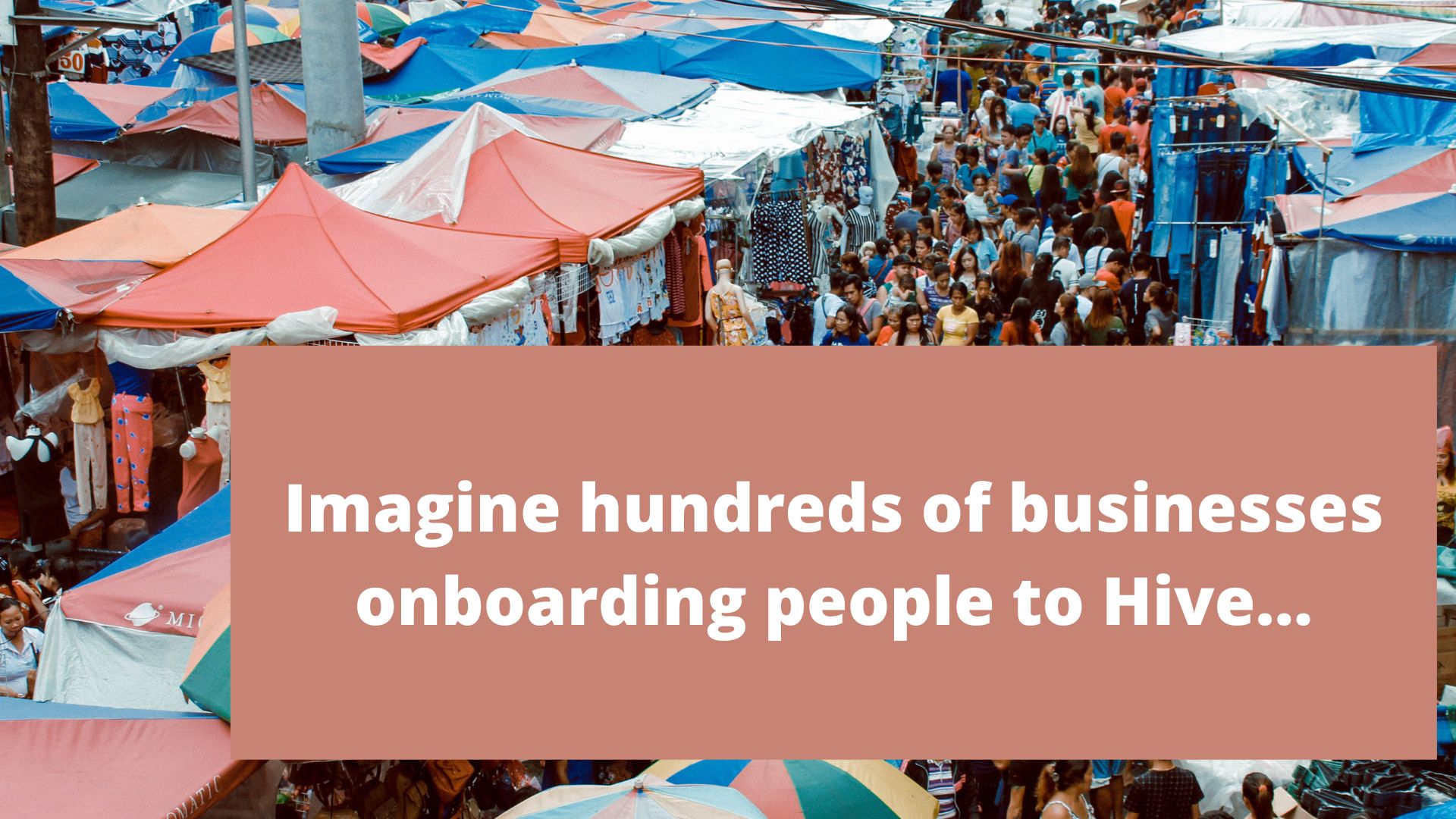 Today, I saw a very interesting cryptomaniacas podcast with @jongolson, @taskmaster4450 and @anomadsoul. At a time, they were talking about the challenges linked to bring people to hive. This made me think and I kind of got an idea...
When I look at the efforts that are being made to onboard new users, most often it comes down to try to show people on traditional social media why it's better to post on hive. It's an uphill battle because what hive is strong for doesn't really resonate with people who linger on social media.
The number of people who blog is pretty limited
First of all, I would say that when we try to bring people to hive for it's blogging aspect, we need to keep in mind that only few people have the capacity and the willingness to create posts. It's by far not the same to write a tweet than to write a post.
People who are successful on traditional social media, don't see an interest in leaving their audience
When we manage to find people on twitter, they are probably with a certain followership (otherwise we wouldn't try to target them). This means that they are successful and they thrive on twitter. Why would they want to start from scratch on another platform?
Games are much more successful to onboard people
The biggest impact on the number of hive users has by far been achieved by Splinterlands. Not everybody can or want to write blog posts but almost everybody plays games..
By trying to bring the masses to hive by promoting the blogging side, we only touch a very small percentage of people. The example of splinterlands showed that through games or other aspects, new users can be found in a much easier way.
My idea for onboarding the masses: Link Hive to the real economy and let every business onboard people
I run a small business in the leisure sector for more than 10 years. To keep my customers loyal, I give them bonus points each time they consume products in my centre. They get a card and for each consumation, the card gets a mark. After 10 marks, they get a free product. Now this has been one of my best marketing activity over the years.
I have tried to digitalize this loyalty program in the past and signed up with a specific service. First of all, it was very expensive to take part. Then the service changed it's offers and I had to follow. In the end there was so little flexibility that I cancelled it.
My idea would be to digitalize my loyalty program with hive. I could create a token specific to my business on hive-engine and then distribute these tokens to my customers each time they buy a product. They could then collect these tokens and buy other products or they could exchange them on hive-engine. Each of my customers would become a crypto owner.
For me as a business, the advantage would be from a marketing point of view that every customer gets a crypto reward when coming into my centre. Also, I could use the tools provided by hive-engine and create a blogging platform all around my centre. Users could then stake the token and earn more while blogging about my business. I could keep in contact with them with regular posts and powerful upvotes. This would be a great marketing channel. From a financial point of view, I would need to pay for the token creation and maybe for the additional services but then I would have a maximum of flexibility.
For the user, the advantages could be manifold. They could use these tokens to purchase products in my center. Or they could swap these tokens into almost any other crypto currency thanks to hive-engine.
Imagine now that other businesses offer a similar service. My customer could swap his tokens for the tokens of the local hairdresser and get a free haircut. The more businesses that would be linked to it, the more synergies would be available.
The advantages for Hive
Every business that would be linked to this system would actually bring new users to hive. Not everybody would be using hive regularly but many would start to discover what hive provides: The apps, the games, the financial aspects. Every business would work as an onboarder for hive and the number of users could multiply very quickly. In addition to that, every person involved would have a hive wallet ready to use!
What would be needed
From a practical aspect, some work would need to be done. Maybe people would receive a physical card with their keys on it in the form of a qr-code for example. There would be a tutorial how the customer can scan this card with an app (keychain) and all the data would be directly stored. As a business I could create these accounts in advance and create the cards to distribute. There would be standard names probably and if somebody wants, he could create a personalized account at a later stage.
Then, I would need to have a webservice that allows me as a business to quickly scan the users card or phone, enter the amount to transfer in my token and send. The great thing is that the customer doesn't even need an internet connection to receive the tokens!
A shop would also be necessary where the customer can exchange his tokens into products.
Of course it would be necessary to think all this through well but I believe that by linking hive to the real world economy, we would be able to onboard the masses. They would come to hive not because of the blogging but because they have something on it that has value. This in my opinion is the best motivator possible ;-).
---
Let's connect ! You can find me on these platforms:
Posted Using LeoFinance Beta
---
---