Looking into a new Hive-Engine tribe - Proof of Brain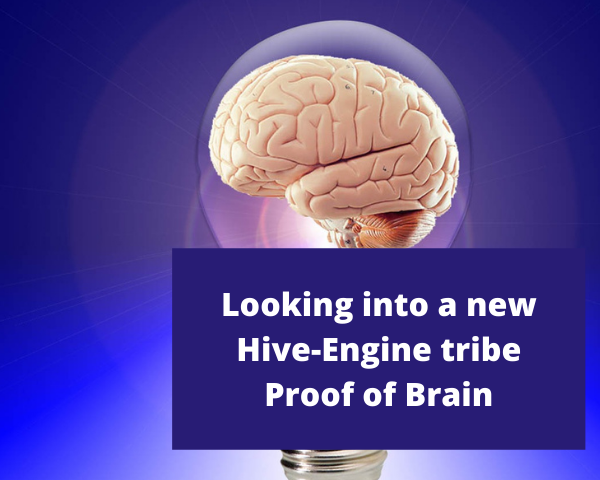 Lately I have been receiving some POB tokens from curating posts and I saw that these tokens were actually quite valuable. That lead me to look into this token a bit more in dept and I liked what I saw...
What is Proof of Brain?
According to the explanation on Hive-Engine:
POB is a pure 100% Proof of Brain (PoB) token meaning that the only way the token enters circulation is through PoB rewards that are earned by posting and by curating content with POB staked.
The project was born around the beginning of the month of March 2021. That's when the whitepaper was released.
Data about the project
Tag to use in posts: #proofofbrain
Front-end: https://www.proofofbrain.io/
Linear reward curve and 50/50 author – curation distribution
What can be posted with the #proofofbrain tag?
Extract taken from a post of @proofofbrain:
interesting, engaging content that people enjoy interacting with. As a human, what I find interesting is subjective, but I will make an effort to be as objective as possible.
Your original content could be anything from creative expression to technical analysis or anything in between.
Tokenomics of Proof of Brain
In a nutshell the project tries to apply the same distribution as bitcoin. The supply being limited at 21 million tokens.
Every 2 minutes 10 tokens are issued. This a totoal of 7200 tokens per day. At the moment there is a circulating supply of about 179'000 tokens which is very little and is mainly due to the fact that the token is very young.
Every 4 years, the token supply will be reduced by 50%.
Getting into the game early!
What I like about the project is that it has a very transparent supply structure for the tokens. There are no miners and no airdrops. Therefore the supply is growing very fast at the beginning and only through author and curation rewards.
It's always difficult to predict which project will be a winner but it's definitely a big chance to get into such a project at a early date. If you have 10'000 tokens now, you will be a whale in no time for this token!
---
Let's connect ! You can find me on these platforms:
Posted Using LeoFinance Beta
---
---