Making video content is much easier than you think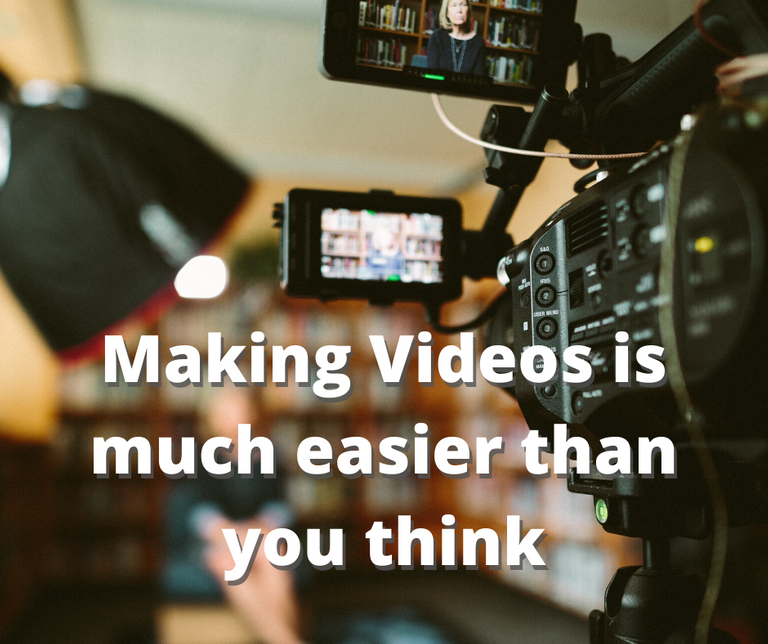 I've watched a great post by @flaxz and it gave me the idea to make do this post.
When it comes to create content we actually have a multitude of options in what form we want to do it. To present your content as a video is getting more and more popular. Researchers that evaluate the behavior of internet users, claim that videos are much more likely to be watched than a post to be read.
Users spend up to 88% more time on websites with videos
source
When I speak with people about video creation, they often bring up some excuses why they can't do videos. They don't want to show their face, they don't have the good camera, the good mike or the good editing tools...
In the end these are only excuses because if you really want to do videos there are resources out there that allow you to do everything without any investments. You don't even need to show your face if you don't want to. You actually don't even need a camera....
The tools I'm using
To create my videos I use the screen recording software OBS. This is an open source software that can be downloaded and used for free. It allows you to create several scenes and you can include almost anything you want into your videos (intros, pics, webcam, titles, screen capture,...).
I often combine OBS with the open office software impress. Impress is a kind of powerpoint clone that is however totally free to use. You can create nice presentations and then register them with OBS. Since you can speak over your recording you can create your videos in one single work step.
This allows me to create videos without post editing (I don't like editing ;-) ). If you want to cut or edit your movie, I suggest you use the open source software Kdenlive. There are no water marks, no limitations and you can do almost anything that you could achieve with a commercial software.
For the thumbnails of my videos I use the online software canva that can be used for free.
In order to make your videos, you only need your computer, a cheap mike and there you go. You can start by making tutorials while recording what you do on your computer. You can then go up to the next step and make animated presentations and record them.
Making videos can be a nice alternative for writing posts. A lot of people can express themselves better while talking than while writing.
If you feel comfortable to see your own face on camera, the next step is to use either your webcam or your phone to make your videos. Whatever you do is not that important. Try to make your first video. It will probably not the best that you will ever make but you will start the learning process and with every video you will get better...
---
Let's connect on Hive, Lbry or on Publish0x
My free e-mail course: The 100'000 satoshis a week strategy

---
---