NFT's aren't as bad as everybody says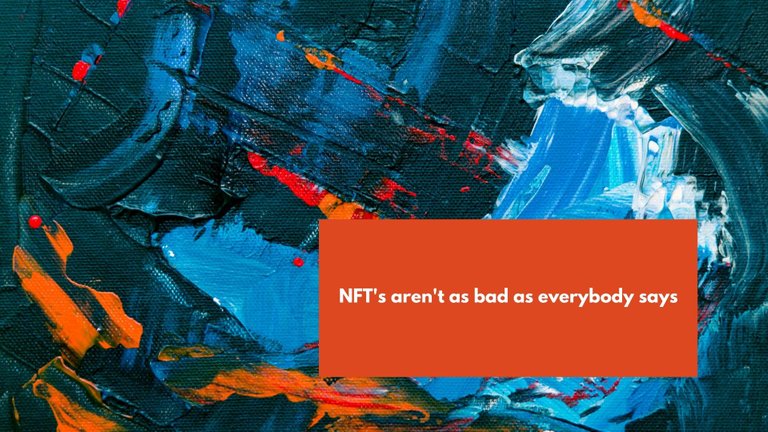 After the big hype around NFT's and the crypto boom, a lot of people have turned against NFT's. Often, it's the people who shilled them the most that now are very critical towards any kind of NFT. It seems a recurring habit in the cryptosphere. Something is hyped up then discarded, when it proves not to be as great as advertised. I have a much more nuanced opinion about NFT's...
A lot of things don't make much sense
There were a lot of NFT projects that didn't make much sense to me. I didn't really get why people invested money into NFT's that had no use case whatsoever other than being rare. The rarer a good is, the more valuable it can be, if somebody is willing to purchase it. Without the last part, without a buyer, even rare NFT's are totally worthless. A lot of hype has been made around such rare NFT's and I believe a lot of people have invested serious sums into them, just to realise that in the end there is no market for these NFT's. It's understandable that they don't feel so great about NFT's in general.
NFT's can be great when they have a use case
But not everything in the NFT world was like that. When a NFT can be used in a way or another, it can actually be pretty interesting. The best use case for NFT's in my opinion is in the gaming industry. Almost every game that I know uses some kind of tools, powers, spells, items and others to improve the gameplay. Whenever this is the case, it can be replaced by a NFT. The fact that NFT's are transferable, upgradable and coming with attributes fulfil the requirements of most games. These NFT's live on a blockchain and the game can access them, associate them to a gamer's inventory, create a marketplace for them and many other things.
If my kids play a game and want to purchase items from these games, I'm totally against it. Once the purchase is done, the item will be useful only as long as they play this specific game. Once they stop playing, which happens quite often, well the money is lost. In this respect, NFT's offer a totally new solution. If I buy a NFT, I own it, I can sell it, rent it out, delegate or even burn it. This means that my purchase is not lost, even if I stop to play the game. Of course, the game can become obsolete and the item can lose it's value. So there is still the chance that my investment is a total loss but with NFT's, I at least have a chance to keep the value of my investment.
Financing games with NFT's
Being able to sell packs with NFT's can be a great way to finance games even before the game is playable. We have seen that on Hive on several occasions. Of course, it implies a certain risk that the game will never see the light of day. For me it makes more sense to buy packs once a game can be played.
Once the game is playable, there are several ways to finance it. For the game producers, it's possible to earn money not only from sales but also from a working marketplace. If they allow users to buy and sell their NFT's, they can take a cut on each transaction. This is a very sustainable way to finance a game I believe, because there will always be transactions as long as there are players playing the game. The game producers can even introduce free NFT's and then make them tradable on the market. Imagine, you give to each player one free NFT but only one. This NFT is upgradable for higher level players. So these players will need to purchase more copies to get a more powerful card. You can create a demand just like that from a free NFT! Each time this free NFT is transferred, the game makers earn their cut!
Thanks to NFT's, every game can become a Play2Earn game
If a game distributes NFT's and offers a market place, it automatically becomes a play2earn game, since you can sell these NFT's on the market. If the game makers take their cut on the market, they can finance the game like that. So a game can basically be Free2earn, like Alien Worlds on WAX. In this game you could mine a planet, get tokens and win NFT's without investing anything. You could then sell these NFT's on the market and Alien Worlds, as creators of these NFT's would take a cut on each transaction. No need to integrate any payment solution, no need to be approved by Google Play or Apple shop. You create a game and you earn just from the transaction fees of your NFT's!
I believe there are many ways to finance games with NFT's. It's a win for the game makers and also for the players since they purchase something that they really own and can even monetize. Thanks to NFT's, gaming is not only playing the game itself, it becomes an economical playfield as well where you can make money while enjoying yourself!
---
Let's connect ! You can find me on these platforms:
---
---