Why I invested more than 1000$ into SL cards today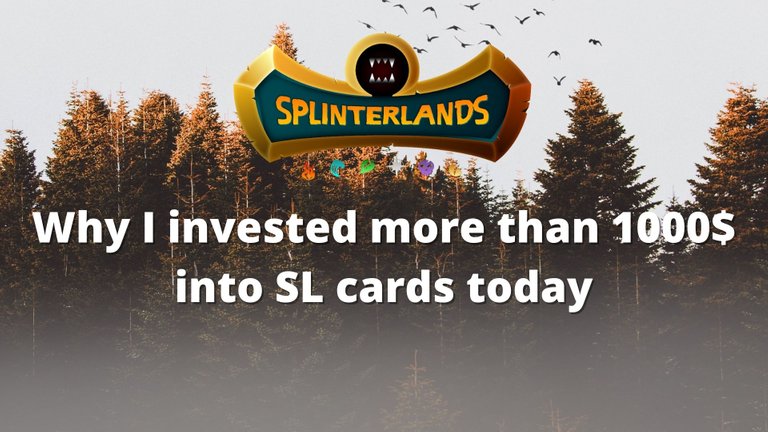 According to Splintercards, when looking at the pack value since the first moment chaos legion packs could been opened, is has dropped from 15$ to around 5.8$ today. At first sight, this might look very negative because not only the CL cards are losing value but about all the cards in the game are cheaper today. People who have just joined the game might end up panicking, believing they will lose their investments.
It's good for the game in the long run if card prices come down
Having played the game for more than 3 years, I know from experience that there are always phases when card prices go up and down. It has to do with the edition releases and honestly the price increase after untamed run out was kind of crazy. Now we have the card prices come down and new players can actually buy cards quite cheaply. For 25$ you can already buy a summoner of level two. If you are willing to invest some money, you will quickly be able to get your 1000 CP to climb into the leagues where you get some nice rewards.
From a game perspective, I think that this is very important. This will allow new players to be competitive on the same level than older players. So far all the money from the new players went into the pockets of the older ones, making them even more powerful. Now they can buy packs, sell and buy cards and even rent cards out on a same level than existing players. This is very good because these players will quickly see the potential of the game and start to upgrade their decks. They will increase competition at higher levels and will also force existing players to go on upgrading their cards. This in return will generate more demand for cards, more upgrading and in the long term new users will see that with an affordable investment they can start to play profitably.
So what should we do when prices go down ?
We should profit to buy cards. That's the best thing to do. I don't like to buy packs because I get many cards that I don't need. I prefer to single the cards out that are useful for my deck on the market. I believe that card prices will drop even a bit more and then we should see quite stable prices from there. The cards we buy can help us to improve our deck and maybe in the long run they can help us for the land extension and maybe even for rentals once CL is sold out...
I invested more than 1000$ into Dr. Blight
That's what I'm doing and I invested today into the card that I believe is the most powerful in the CL edition so far and it's Dr. Blight. I hadn't taken part in the pre-sale and sold all my vouchers. So I didn't get any airdroped cards. Today I used a part of this money from vouchers to buy and upgrade Dr. Blight. Another reason why I have chosen this card is that there will be no more such cards in the packs. The only Dr. Blight cards that can still be minted is of people who haven't claimed their airdrop yet. With a limited supply and a powerful card, I think that it's a good long term investment not only financially but also to improve my deck.
I often regretted not having bought Yodin Zaku when it was 40$ on the market. Today, I paid more than double that amount per card for Dr. Blight. Better be safe than sorry ;-)
---
Want to start to play? Join my referral program!
Join Splinterlands using this link, buy the Summoner Spellbook and I will send you 200 DEC tokens

Join Rising Star using this link, make 100 missions and I will send you 1000 Starbits
This action is only valid for people who actually are my referrals.
---
Let's connect ! You can find me on these platforms:
---
---