Zoom out the Bear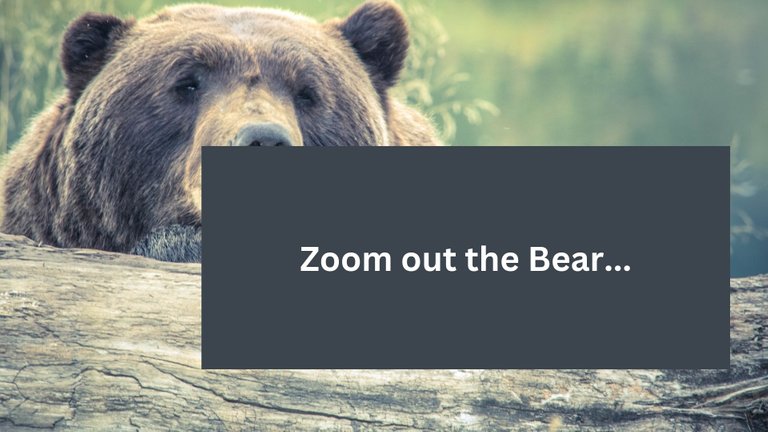 Are you bored of the bear market? Are you depressed by it?
I have the feeling that many among us are affected emotionally by the overall market situation around crypto. When you see the value of your tokens decrease and your work being less rewarded, it's totally normal that sooner or later it affects you. You might develop existential fears when you don't generate enough money or when the value of your savings is collapsing.
It can become difficult to stay motivated
I've been on Hive and the former blockchain since march 2018 and I have seen many ups and downs. Whenever Hive prices went down, the number of posts produced on hive also decreased. If the price of Hive went through the roof, suddenly everybody started to create content again.
I would say there is a direct relation between the price of Hive and the quantity of posts and maybe even with the quality of the posts that are created.
You build your fortune when prices are down
So what happens when prices are down and people post less content. Maybe they even stop curating. This means that the people that go on posting will get the same rewards in Hive but since there is less content, the active authors will actually get a bigger part of the pie of the reward pool. It's therefore easier to collect Hive when prices are low.
I claimed from BTC faucets when 1 BTC was 200 $
When I discovered crypto, the first thing that I was doing was claiming from BTC faucets. I often earned several hundred or even several thousand satoshis with a single claim. At the time, this was not even worth 0.01$. The people around me were making fun at me how I was wasting my time. However, I didn't really care about the value of BTC in $. I saw a new technology that I found pretty amazing and that I believed it. There are only 21 millions BTC out there and this hasn't changed over time.
Thanks to my stupid clicking, I accumulated enough crypto to create my own faucets where I could leverage my income. I then invested some of that cryto into Splinterlands and there again I managed to leverage my income.
What started with stupid clicking became more and more interesting over time. I managed to get there by not caring about the price of things.
Emotions have nothing to do in finance
The first thing I learned as a trader in a bank was to phase out our emotions. In trading you are your own biggest enemy. Your emotions make you do things that are irrational and that in the end will make you lose money.
People should realize that they have now influence over a market. There are just probabilities. In every situation there is a 50/50 chance that things go the way you plan. Chart analysis might help you to get an edge but still your chances to win are only slightly higher than 50%. Our rational side sees that but why do we feel so bad when prices don't go the way we planned? It's not our fault and beating us up because of that just makes us feel worse.
Why do you feel bad when the trade doesn't evolve the way you planned?
In order to keep your emotions under control, you have to build a construct that protects you from yourself. Try to figure out your biggest mistakes in the past and how you could avoid them in the future. Always think things true before you act. There will always be a market to buy a token. No need to fomo into it...
It's the same for us feeling bad about the bear market. It generates fears and we feel bad because we believe that we lose money. But do you have less hive than yesterday? In a way, it's all relative and you never know how your efforts will pay off in the future. The best is to have no expectations and to do your best day in, day out without being affected by the price of your tokens...
If you went into crypto it's probably also because you kind of stopped trusting fiat currencies. So why do we always measure the value of tokens in fiat???
---
Let's connect ! You can find me on these platforms:
---
---