Avoid Too Good To Be True Orders On Black Friday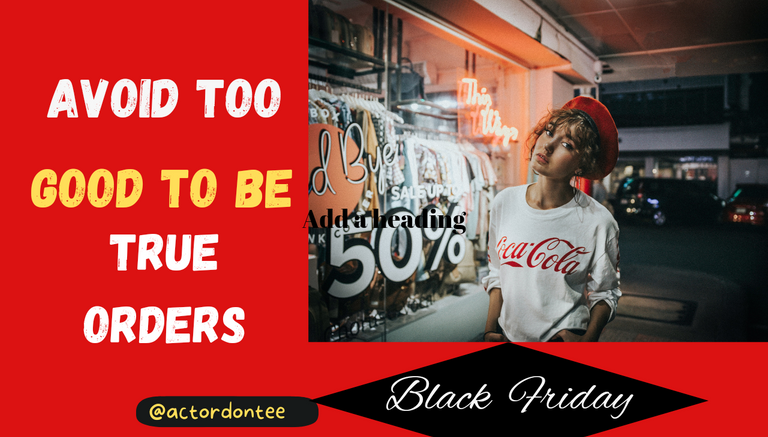 We have all engaged in shopping at discount or reduced costs.
A simple human instinct is to look for cheap items to save money.
Even when some people have more than enough money in their bank account, they still hurry to take advantage of opportunities when they see cash or devices being given away.
Let's examine "Black Friday's" definition.
What is Black Friday?
According to Wikipedia
Black Friday is a colloquial term for the Friday after Thanksgiving in the United States. It traditionally marks the start of the Christmas shopping season in the United States. Many stores offer highly promoted sales at discounted prices and often open early, sometimes as early as midnight or even on Thanksgiving. Some stores' sales continue to Monday ("cyber Monday") or for a week.
As everyone gets ready to shop for Christmas, scammers are getting ready to steal a lot of their hard-earned cash with giveaways and discounts that will be too good to be true.
Last year my colleague was a victim of a Black Friday scam, top e-commerce sites in Nigeria (west Africa), like Jumia, Konga, and Jiji offer Black Friday deals which used to last for more than 20 days.
Consider the case of "Jumia," which began Black Friday in November 2022 and will run through the 30th of November.

A cloned e-commerce website sent my colleague an email. The subject line of the email reads as follows: You have been chosen as one of the lucky customers for a special offer on Jumea Black Friday 2021.
Click the link to get a 42" Samsung LCD TV for $70.
The price of the television at the time was $180, but because of the attractive discount price, he clicked the link without hesitation and submitted his payment information to complete the purchase right away.
As soon as he entered his information, a debit alert went off, and he was signed out of the link. At that point, he realized he has been scammed.
The website's name was incorrect when he double-checked the email that has been sent.
They wrote Jumea instead of Jumia.
Furthermore, the link's URL wasn't encrypted.
Through the discussions of their victims, I learned some of the tactics scammers employed to defraud their victims.

The tricks are as follows:
Identical company name: The business name will be spelt similarly to the original name; for instance, Jumia will be spelt Jumea, Amazon will be spelt Amason, Etsy will be spelt Etcy, eBay will be spelt ebey, etc.
You will be scammed if you did not take your time to carefully check the spelling.
Check the URL because the majority of them are not safe and lack the keypad lock icon.
Although some scammers are extremely clever, they utilize a secured URL, and the real URL of the website will differ from the fake URL.
Sending fake messages via text, WhatsApp, and Telegram groups
This might be information on a competition organized by a reputable cryptocurrency or e-commerce platform.
For qualification purposes and to get prizes, you must enter your information.
Social media fraud
Fake advertisements that link to similar fraudulent websites or impersonations of well-known businesses' stores are another scam that is frequently spotted on social media.
Enticing promises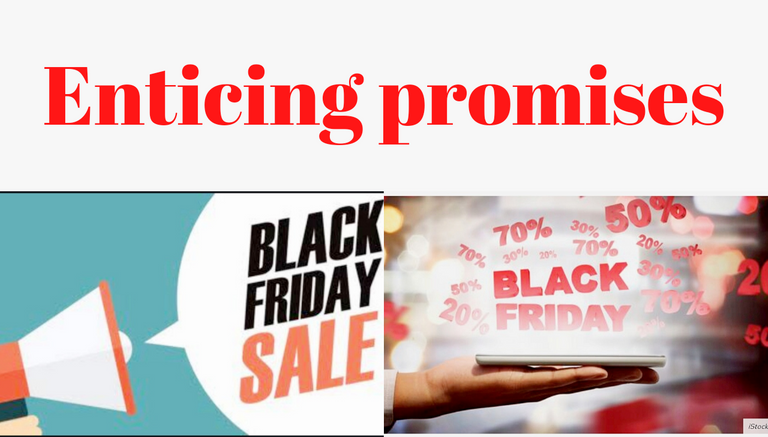 Beware of retailers that offer a 50% discount on Black Friday, the legit retailers will offer a 10-20% discount, at most 30%. But if the discount is up to 50%, verify very well before taking action.
Now, what are the suggestions to avoid being scammed.
Useful Tips
Before making any payment, carefully review the URL address and the business name.
If you are interested in an advertisement you receive by email or SMS, it is preferable to go directly to the official brand website rather than clicking the suggested link.
Never click the link in any messages regarding offers you didn't apply for, and never share them with your friends and families.
Watch out for brand sales and extremely tempting prices on social media

Scammers are constantly coming up with new tactics, it can be difficult to identify all the frauds that are out there. However, using the above advice will put you one step ahead of scammers.
Also avoid saving your credit card information at any online store, whenever you make an online purchase.
Thank you all for reading.
---
---