BEWARE OF AIRDROPS GIVEAWAYS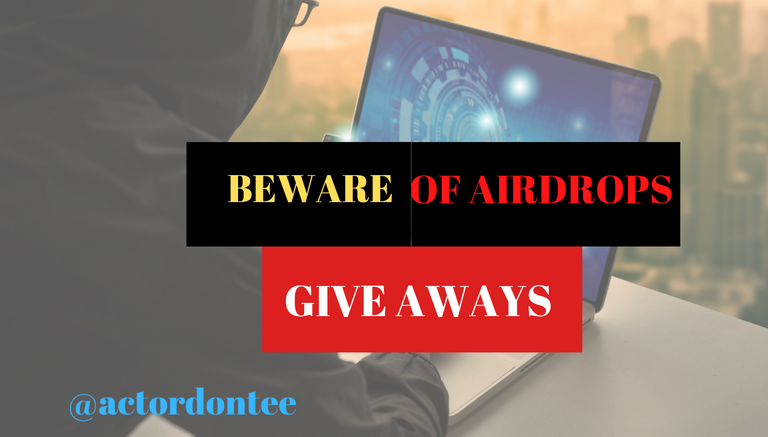 The number of airdrops giveaways has been on the rise during this holiday season; it has been widespread since Black Friday and will continue to do so daily through the end of this month. In addition to the black Friday giveaway airdrop phishing, many people have already fallen victim to the world cup airdrops giveaways.
We are all pleased to have a decentralized wallet to prevent losing our cryptocurrencies, and the scammers are following suit to rethink how they can steal.
In the blockchain, there are numerous Airdrops and tokens.
Airdrops Served As The Foundation Of Blockchain.
Airdrop Is used by block chain companies to launch their cryptocurrency projects
Reasons Why People Become Victims
When we see any advertisement for a free airdrop, our first thought is that we should sign up to benefit from the new project since airdrops have been used as a promotional tool by token creators for their new projects.
Most of us enjoy getting free things, so these airdrops are tempting since they seem too good to be true. Simply clicking and perhaps completing one or two tasks will win you many airdrops.
People become attracted and become victims.
Please take note of the following information on airdrop scams.
Whenever a well-known cryptocurrency or blockchain corporation, such as LTC, ETH, etc., wrote a blog post or updated information online. Many people will be claiming to have gotten the massive airdrops that scammers are promising in the comment section, thereby attracting many people to their phishing airdrop.
Never fall for this airdrop scam; it's a significant warning.
Many people have lost money as a result of this simple strategy after seeing accounts that fabricated testimony

The latest phishing scam involves fraudsters creating a standard website to promote their free airdrops. These websites will look similar to some well-known web3 wallets and may even offer some of their features.
To receive your free airdrops, you must have a web3 wallet that is compatible, such as Coinbase, Trust wallet, Exodus etc.
They will include a link that lists all web3 platforms that are compatible.
An error notice will appear when you click on any of the wallets.
The website will ask you for your seed phrase; this is how the scammers successfully access the victim's wallet.
Because of the error notice and their mistaken belief that it was a legitimate website, some people will enter their seed phrase, which will result in the complete loss of all the coins in the wallet.

Never enter your seed phrase on any website; the only time you should is when you wish to recover your wallet. Stop being a victim.
Finally, never provide permission to your web3 wallets for any decentralized website or application. Your money is at serious risk if you do this. We should all be careful about giveaways. Guide your hard-earned money.
Thank You All For Reading.
---
---