Cryptocurrency Is A Moving Train That Cannot Be Stopped By The Government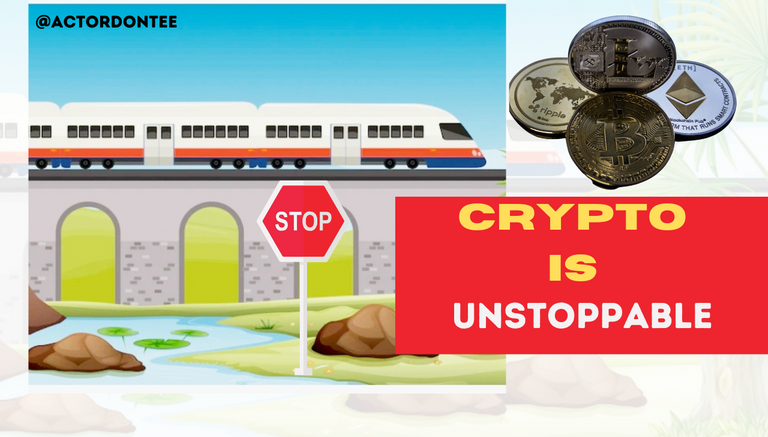 Image Source & Designed On Canva
The government is trying all possible ways to stop cryptocurrency, they have been having sleepless nights about it since the emergence of cryptocurrency.
But developers are smarter than the government.
Many projects appear every day with different goals.
The government then came up with a KYC update, ordering exchanges to identify their customers.
For example, on Binance, you are verified before you become a seller. You will go through the KYC process and be verified by the country's passport.
All exchange platforms obeyed the rules, but the Government is yet to be satisfied.
Binance, the largest crypto exchange has been investigated by multiples US agencies and they are still investigating them.
Binance was charged for enabling US traders to access unregistered assets and for alleged violations of anti-money-laundering laws.
Binance CEO CZ is always ready for any charges.

After the investigation in 2021, CZ Binance added more
CZ Binance added more experts to its regulatory advisory team, including well-known people with experience in regulatory and financial services.
Binance has always been coming out stronger from the FUDs. I could remember the crash of FTX.
There was FUD that BNB will go down because some believe that CZ Binance was among the causes of the downfall of FTX.
CZ originally consented to give a loan and purchase FTX to save it, when the company had issues. However, after looking at FTX's records and realizing the depth of its financial issues, CZ changed his mind and refused to buy FTX.
Does this affect Binance?
After the crash of FTX, some rushed to swap their BNB for other coins, and BNB dropped for a few days. But CZ Binance held live interaction on Twitter, a lot of investors asked questions and he assured everyone to keep calm and that everything will go back to normal.
After a few days, BNB pumped up and Binance gained momentum.
Why did I refer to this?
If Binance can withstand all odds, cryptocurrency cannot be stopped. Developers are working day and night to stay ahead of the government.
Some countries ban cryptocurrency as legal tender.
Buying cryptocurrency with local banks is illegal in some countries.
Are crypto bans effective in some countries?
Using Nigeria as an example, in February 2021, the Central Bank of Nigeria restricted cryptocurrency trading in the country.
We thought it was a joke until some traders got their accounts restricted and flagged for cryptocurrency trading.
Because they bought crypto with their local bank.
 Ban Solution 

Crypto traders and investors switched to peer-to-peer features, making use of P2P exchange platforms.
P2P is the process of trading directly with another party, whereby users choose their own payment method, the best rate available, and cheaper transaction fees. P2P exchanges typically have more relaxed verification processes.
These features can't be stopped by the Government because traders make use of the P2P platforms for their transactions. The P2P platform's function is to simply connect buyers and sellers all over the world for a small charge. The platform serves as the trusted intermediary between the buyer and the seller.
There would be no need for panicking.
Why The Government Can't Stop Crypto
Cryptocurrencies are decentralized: which means that there is no single entity in charge of them. This gets rid of the need for middlemen like banks or payment processors, which can make transfers take longer and cost more.
Crypto has saved me from getting stranded during the past few weeks of the fiat currency shortage in my nation. Local banks' payment processors were down due to the extremely poor network and internet banking were also down.
The bank apps are not opening and if you transfer money from one local bank to another, it might take hours or even days for the recipient to receive the funds.
But when it comes to cryptocurrencies, you get your assets quickly.
Confidentiality: Although cryptocurrency activities are stored on the blockchain, the users who carried them out remain anonymous. For those who value their privacy, cryptocurrency trades are a desirable option due to the high degree of privacy and secrecy offered by this.

Self Management: You control how you manage your assets, including when to sell and purchase more cryptocurrency. Your decentralized wallets contain all of your assets.
There wouldn't be any downtime from any bank before you can access your funds.
When it comes to emergencies, this is the best. Nobody has access to your money.
Foreign Trade And Convenience: With no regard for national boundaries, cryptocurrencies make it simple to send and receive payments all over the world.
Also, Anyone with an internet connection can access and use cryptocurrencies.
In conclusion, nothing can stop the daily growth of crypto. As in the case of El Salvador, I expect that many nations will eventually accept cryptocurrency as legal tender.
Thank You All For Reading
Posted Using LeoFinance Beta
---
---