2nd Edition for dCity is Going Out of Print
2nd edition is going out of print and I wished I had more time piling up 2nd edition cards. dCity is an NFT game built on Hive.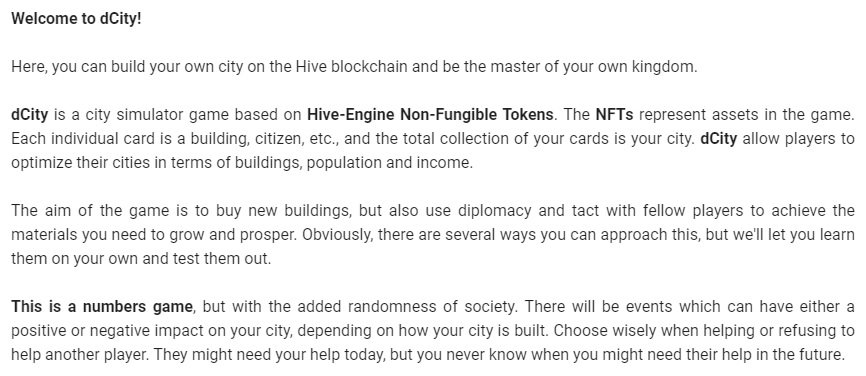 The recent popularity bonus changes shifted my budget from buying more 2nd edition into buying 1st edition cards that give population stats just to keep the city running.
The game is relatively working fine as it is if you consider it as a game. It's on difficult mode for new players but not as punishing to start when considering the price of SIM in terms of USD. It currently gives around 40+ % APR in Hive which is around 4x more on average than what you generate from the linear reward curation curve if you HP is staked.
But those earnings can be subject to change based on in game governance choices so play to earn at your risk.
If a player prioritizes earning more than actually playing, it's better to just buy SIM and earn from the daily airdrops of Hive for SIM holders. Buying cards, designing a city, and going through the mental gymnastics of balancing your city takes a lot of effort for earning. Who wants to do all that when you can just go through the shortcut of holding SIM? Buying cards and playing them means welcoming the possibility that you may have a hard time liquidating those NFTs.
I made a post about starting dCity with only 2nd edition cards. I read that post again and still came to the conclusion that 2nd edition cards have everything you need + citizen cards to thrive. All the tech cards, tax control, and viable strategies require the cards found in 2nd edition. You can't create tech cards without research centers, you need creativity and education stats found from second edition, and combination cards require plenty of 2nd edition cards.
Taken from this post are the highly valued cards from the 2nd edition:
Law firm (reduces tax by 10%)
Hospital (increases population by 1%)
Research center (required to discover technologies)
Military industrial complex (gives 1 war share)
Social aid office (decreases social support costs by 100)
I'm going to add Waves Broadcast Tower to the list because when paired with the Tech Card "Voice to Skull", it raises the chance of minting a new citizen from an event by 10%. Minting citizen cards has been a focus of some strategies and these are profitable because some citizens give your city unique stat boosts.
4th edition hasn't been announced at the time of this writing but I'm speculating that some of the 2nd edition cards may be added to the new buildings which further increases their value in the game. I didn't think basic homes, luxury homes, and apartments would be in demand until the population bonus given by popularity stat was reduced from 70 to 60. This made those 1st edition cards jump in value as large city players required more population stat to run their city.
Now despite the falling prices of SIM, I still think it's fun playing with the game's simulator, do math, time the market for cards and watch the community progress as it is. I don't even bother checking how much I'm earning passively from the game because it's a game which I happen to play and earn on the sidelines.
The mechanics to make your city work can be tailored to what strategy your going for and there are more ways to earn from the game besides focusing on buildings that generate SIM. It's not for the masses because once you are done customizing the city, it just sits idly and earns compared to the visual action you can see from other NFT games.
The game just gives me the option to play actively or passively without being punished on losing out from the potential rewards. No need to grind hard, or log in daily for fear of being left by the competition, you play at your own pace and if you treat the game as an investment, then at least you don't have to be online baby sitting it most of the time.
If you made it this far reading, thank you for your time.
Posted Using LeoFinance Beta
---
---