An Experiment with Hive to HBD Slow Conversion Method

Sharing the things I learned using the 3.5 day Hive to HBD slow conversion method in trying to arbitrage trade. The underlying math behind the process has been shared by @savvyplayer in his Converting HIVE to HBD, with lots of math post. This post is testing out my own findings using what I learned from that post. And also noticing not many posts exist about how great the conversion process during the pump and dumps on HBD. This helps adding to the general pool of knowledge about how Hive works.
I highly recommend understanding that post first as it dumbs down the complicated concepts behind conversion. And coincidentally, the snapshot that posts shares were the same conditions I had when I tried to use the process recently.
Disclaimer: This isn't financial advice and I'm just sharing my findings trying out the Hive to HBD conversion process. These are sets of opinions so don't YOLO your tokens if you didn't do your own research. There are risks when trying to do arbitrage using this slow method of conversion. You could gain more Hive/HBD when pump and dumps happen in the external markets but you could also lose Hive/HBD using this process.
---
What HBD price is good to begin the conversion?
If you look at the PeakD wallet notice for converting, it mentions HBD at 1.05$ and up is good. But even when the external market price of HBD is at 1.05$ or hovering 1.05-1.08$ range, I'd still be hesitant to commit converting my Hive to HBD using the 3.5 day method. Pump and dumps can happen in a span of seconds to minutes and there's a lag behind what coingecko displays. You could convert your Hive to HBD and it may not have been worth it. What I would look for are candle sticks that have closed above 1.1$ at the 5 min chart from UpBit with the HBD/BTC pairing.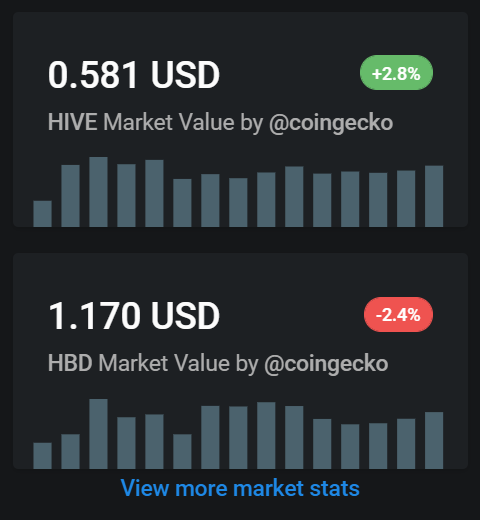 Taken from Savvyplayer's post, these are similar values I had when I tried the experiment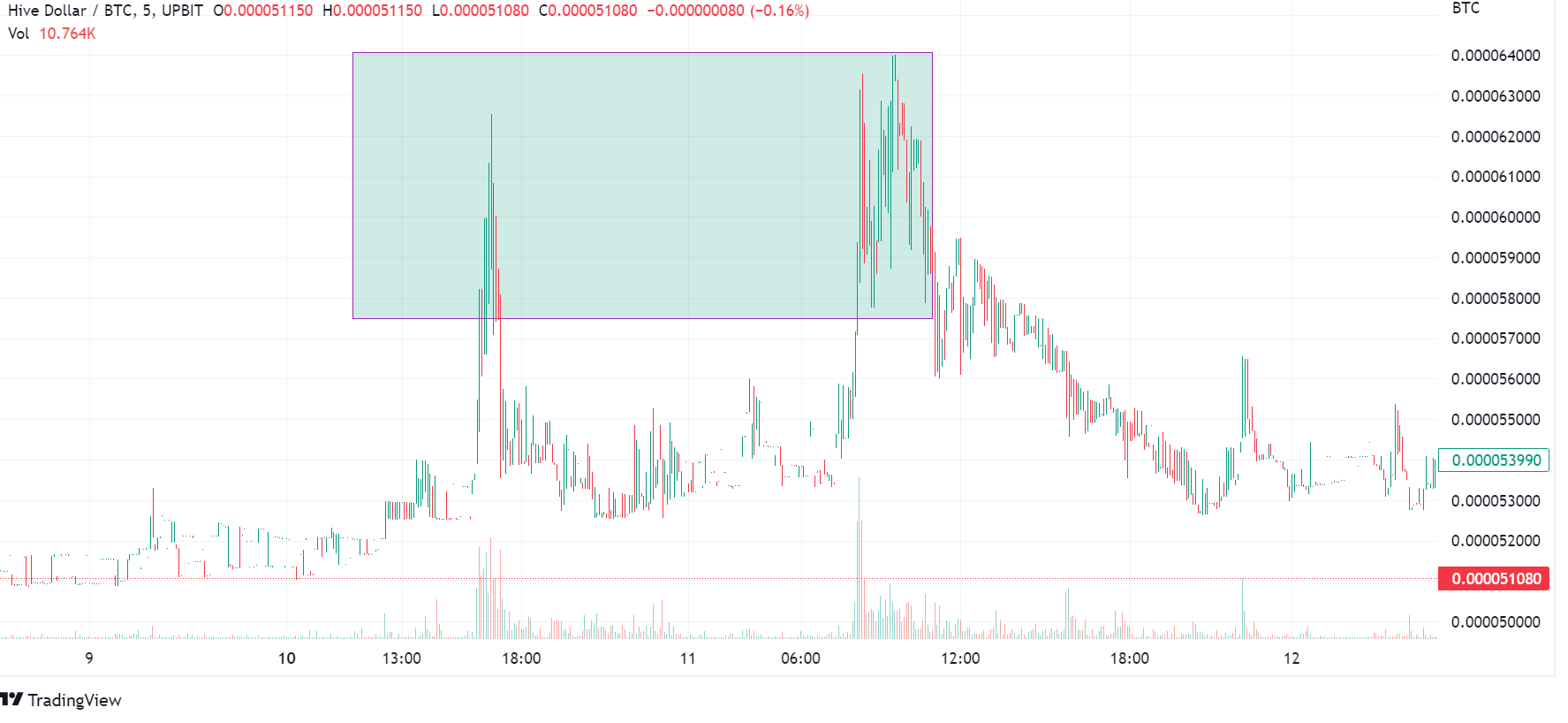 Highlighted were the two instances I'd be looking for when viewing the HBD/BTC chart on UpBit.
But what if both HBD and Hive pumps on the external markets?
If my trades are only limited to the internal market, I have resolved it by having only one bias. By favoring one token, which was HBD, this limits the nuisances with potential gains from the Hive pump. If both tokens are rising while you're managing a limited capital, trying to get greed will just get you burned. Trading in the internal market is its own challenge.
There's just not enough volume to make prices move, and there are lags in how bots put orders to match the external market rates or witness price feeds. My hypothesis is it's possible to get the best of both tokens if you trade in the internal and external market but external market pairing would be HIVE/USDT or HIVE/BUSD. Trading on two frontends is a circus of its own but maybe someone else can pull it off but I'm fine with only one frontend.
When both tokens were pumping, Hive was at 0.58$ but on the internal market it was stuck at 0.52$ sell wall even when the dump happened. So the bias to favor HBD paid off since I bought Hive cheap on the internal market (thinking HBD = USD in theory). Had some whale or the hbdstabilizer moved the orders within the internal market, the outcome would have been different. This uncertainty is one thing I learned recently because the @hbdstabilizer has been efficient doing its thing within the internal market.
Pump and dumps happen often in crypto so missing some opportunities isn't the end of the world. When I fully committed to converting my Hive to HBD then used the HBD to buy back Hive at a cheaper rate from the internal market to rinse and repeat the process, I was left with no Hive and HBD to trade with. Now I was already out of the market waiting for my collateral Hive to come back after 3.5 days and during this time another pump and dump happened.
How to confirm the internal markets are reacting to the HBD pump outside?
There is a huge sell off created in favor of buying more HBD and this is triggered by market makers in the internal market. You can still trade with real people there but expect most of the quick orders and volume are made by bots. Seeing the huge and fast sell off that is sustained for a few more minutes is a positive sign along with the sustained candle sticks hovering above the 1.1$ HBD value.
How can you lose money from the system?
Converting at the wrong time, when you saw the coingecko displayed HBD was trading at 1.2$ but the buying pressure to the point that it dropped to 1.03 real quick (hypothetically), then you're stuck with relatively the same value you began with + another 3.5 day wait time for the Hive you locked up for collateral during conversion.

The lowest median price of Hive within 3.5 days sank even lower than expected. Let's say during the time of conversion it was around 1 Hive is 0.46$ as the median price, then after 3.5 days where the price of Hive tanks to drastic levels, that the lowest median price now became 0.25$, well you're screwed. The best case scenario is the median price staying as is or Hive pumping higher within the 3.5 day period to profit from the conversion.

You fat fingered something you shouldn't, failed to account how much Hive and HBD you had before you started the conversion process (my bad), or you were sucking your thumb while the pumps where happening and couldn't decide which token to root for when both were pumping (opportunity cost).
The slow conversion tool and the math behind it was something I had only had to experiment on rare occasions because I can't sit on the computer watching charts all day. But when the opportunity to presents, I had my hesitations even if I knew the projected and expected outcome behind it, including the worse outcomes. But no pain no gain, and I risked it thus this lesson.
Even going through it a few times already, I still use caution when committing my Hive to the 3.5 day conversion process because 3.5 days locked in meant I won't be able to use that capital to chase some other pumps when they do happen. There's also the anticipation that I lost my gamble and Hive went under an extreme dump for the past 3.5 days (which it did but not drastic enough to reduced profits to 0).
My simplified mental checklist is:
Got a stack of Hive or HBD?
Recorded everything before you started to convert?
Double and triple checked the charts HIVE/USDT, HIVE/BUSD, and HBD/BTC?
Is the HBD price above 1.1$?
You feeling lucky that the lowest median Hive price will be stable or higher within the next 3.5 days?
Checked if the internal market is reacting to the changes outside?
(Optional) Have an excel sheet ready to fill in the data.
If all of these are yes, I'd proceed to convert and hope the gamble pays off.
Once you get your HBD from the Hive conversion, proceed to buy Hive at internal market cheaper than the external market price while treating HBD as equal to a USD.
To keep track of the potential Hive that will be returned after 3.5 days, you can use the formula mentioned on this post. I made an excel sheet to the possible lowest median prices after 3.5 days and the actual Hive received were close to the projected value.
Unless you're prepared to gamble, lose Hive/HBD, and understood the math behind the process, this isn't something I'd recommend doing because trading isn't for everyone. I did earn from the recent gamble which made me more confident about sharing this post.
If you made it this far reading, thank you for your time.
Posted Using LeoFinance Beta
---
---