dCity as a Passive Cryptogame
Disclaimer: None of this is financial or legal advice. It's just my opinion about the cryptogame and I recommend you do your own research about the dCity before diving in.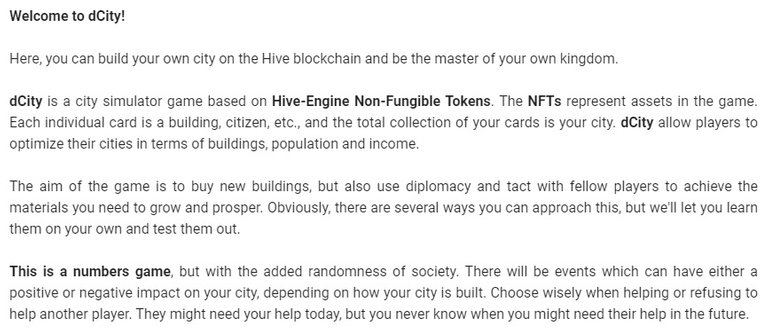 ---
It's almost a year since I started playing the game right around the time when the game was about to crash. This post isn't a guide to how to play the game but a general overview about the game. You can find a compilation of tutorials from a post made by @ecoinstats here.
Looks complicated and daunting at first but you'll get used to it if you like the numbers game. dCity is all about planning your city building strategy to suit whatever the meta of the game is. While the game is generally passive, subtle events can happen that can impact your SIM income in the long run. There are a lot of conditions in the game that can raise your SIM production or penalize you from random events. There are strategies available to mitigate these risks depending on your city build.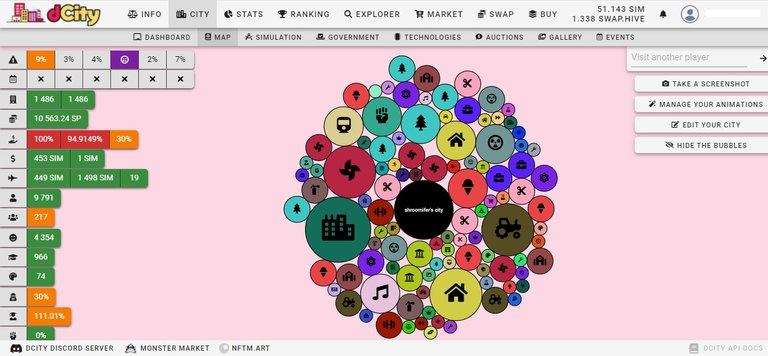 I think dCity has always been an underrated game despite having a lot of income generating opportunities it bring for players both SIM and liquid Hive. The barriers to entry include the game being a mathematical game of markets and politics. The money is slow compared to other cryptogames out in the market. The current tax climate can be a frustrating early game experience as the game had seen better days when it was printing a lot of SIM. And lastly, the game is passive that the visual bling bling factor may put off a lot of potential audience.
Despite the overwhelming advantages of playing the game such as taking advantage of holding SIM for governance, liquid Hive rewards from the pool, and liquidity provider incentives, dCity still has a small niche player base.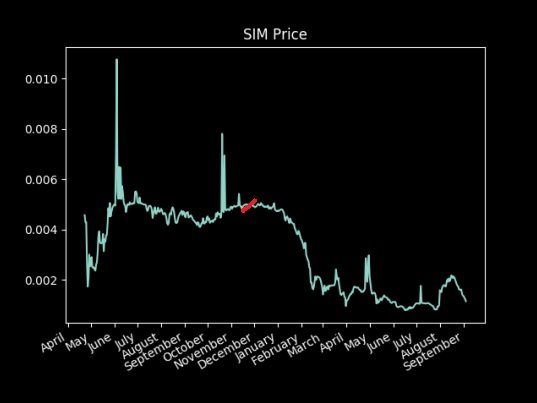 ---
I started the game right before the waterfall (red line). From an investor point of view, you'd thin that I was entering a bad deal which was partly true. What I learned despite the falling prices is that even after I invested around 2.9k Hive on it, I've recovered half of what I've put in a span of a year. That's 50% APR gain and I still get to keep that cards that helped me get far. It's a combination of building my city to weather out the taxes and time in the market by taking advantage of players selling low for their exit.
Please note the the value of Hive during last year was way lower than the value of Hive at the time of this writing which means if I convert my SIM earned, I would still be in the green. Al of this is abstract to picture out but seeing the chart and some reflections from the hindsight made me see the gamble paid off as both a game and an investment.
I made a post about when cryptogames stop being fun and end up being treated as a chore or worse, work to earn. I had enough fun with the numbers, strategy element, and progression that thinking about return on investment became a second to less and less of a priority as time went by. Even when there were pumps that would help me recover my losses faster, I just reinvested it on purchasing more cards to build my city.
There's an objective element to one's success in the game and I made my city's growth in buildings and SIM generation a metric. It's not how much I can sell SIM but how much I can navigate my way to pay less taxes or reduce impacts of crises.
---
My argument on favoring passive cryptogames for income and fun are:
The first is playing the game long term will not make the experience a chore because the game's dynamics changes over time due to the political element of the game. Presidents in the game can set higher or lower taxes, players with a lot of SIM power can dictate reward allocation, and incentives for ranking stats can shift. You're only option is to be as dynamic with the changes in the meta and are rewarded for adapting with consistent numbers gained.
You can gauge how much you can earn from the day even with a threat of impending crises looming in. There's no energy meter that conditions you to spend hours burning the meter down until it becomes inefficient to farm rewards. You get what closer values displayed to you once the game updates each 24 hours.
The second is not playing the game will give you the same if not near the level financial rewards actual players enjoy from. Just by setting up your city and holding SIM can already earn you SIM daily and liquid Hive from the reward pool. You don't have to log in daily or even play the game to take part of these incentives.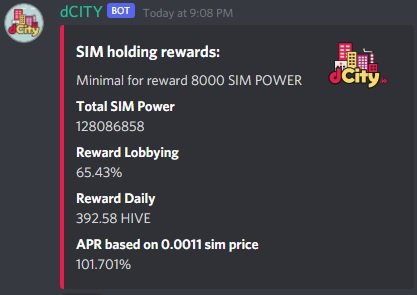 ---
Buying SIM and putting it into the liquidity pool or just holding it on your Hive Engine wallet just above 8000 SIM power for 30 days average already qualifies you the benefits players enjoy. No complicated math to think about or market monitoring. In hindsight, I would have just opted for this if I wasn't introduced into the fun rabbit hole of city building.
We can't ignore the potential kickbacks when investing in cryptogames as it blurs the line between fun and potentially earning from your leisure. Why dCity is the best example of an idle cryptogame is it's ability to incentivize SIM holders from earning at all conditions. Passive games offer this great advantage over active games, if you don't feel like playing them or get sick, you don't miss out on the rewards. With active games that conditions you to grind daily, it becomes an inevitable chore and work when you are just forcing yourself to play when you don't feel like it.
Most of the time spent on this game are planning what strategy to implement and watching the market. There's a feature that lets you simulate the conditions which help guide your buying purchase. This feature can save you a lot of unnecessary costs an time from figuring out the mathematical impacts on your city building choices.
Once you got a strategy you want to follow long term, you can play game spending only as little as 2 to 5 minutes daily or just logging in once a week. The game automatically prints the SIM for you with some variations in income depending on the taxes or crises events that happened during that time span. This decrease in income doesn't warrant frequent baby sitting playing already invested in cards than could mitigate the risks and taxes their cities may suffer from.
The holding rewards flexed on that image speaks a lot of the potential rewards just by holding SIM. An average account on Hive that earns from curation would have an APR around 10% . Holding rewards calculated by the bot at the time that snapshot was taken showed more than 100% APR if you bought at that price (still subject to change depending on market conditions).
dCity has undergone a lot of community changes. The community was way different when it was the good times and now when prices are low we're still seeing consistent names during the hard times promoting the game. This means it has a solid small community participating. With the rise in Splinterlands, it's not far fetched to see some more users exploring Hive and discovering this Edutainment (coined term from another dCity player. They know who they are if they read this).
---
Inviting you to Join the Pizza Community with its own set of PIZZA token. The community is focused on onboarding new Hive users through blockchain games and introducing the blockchain to mainstream gamers.
If you made it this far reading, thank you for your time.
Posted Using LeoFinance Beta
---
---