I'm trying to Learn How to Trade: January 2023
A post about documenting my trades for the month of January.
Objective: To have a monthly log of my progress in trading. I want to know my baseline and see where I'm heading. Trading has been for kicks and giggles hobby rather than a means to generate income for my living expenses. I want to learn how to do it, see if I could get good at it and how far I can go doing it.
Disclaimer: It was midway till I noticed that fees altered the end profit amount which was a noob mistake in hindsight but I just continued how I logged the results considering it's not really meant to be a strict journal. I'm not an account/bookkeeper by profession so I am also open to entertain some numbers here maybe inaccurate. The whole point of the post is sharing some insights from my trades. I've been doing this for months and it's only this year that I started to consider improving at the skill. Nothing here is meant as a financial advice.
I'd teach anyone how I do my trading but I'll never frame my methods to be at a professional caliber. I took inspiration from a local stock trader that eventually started his own company teaching people how to trade, what started as a hobby led him to enrich himself and then it snowballed into teaching people how to make a living out of the markets. He eventually created something of value and it was inspiring enough to get me to try out the art.
I'll freely share what I know without any paywalls from these posts and maybe give some aspiring traders out there to learn what not to do.
The Summary of January 2023
| Starting Capital | 1000$ |
| --- | --- |
| Total Trades | 73 |
| Win | 48 |
| Loss | 25 |
| Win Rate | 65.75% |
| Ave. Win Per Trade | 23.4147 |
| Ave. Loss Per Trade | -15.225 |
| Largest Win | 597.971 |
| Largest Loss | -36.8865 |
| Win Streak | 5 |
| Loss Streak | 4 |
| Net Profit | 743.259 |
| Net Gain | 74.25% |
Despite the positive results, there's this inner drive to be competitive and self-improve. I know I could do better and the blunders on some trades stem from having FOMO and testing out systems from the spur of the moment. I tend to innovate what I learned just to see where it goes.
Inspired from an anime called Blue Lock where the protagonist tries to piece together formulas in the form of jigsaw puzzles to produce an outcome. I review my trades from countless screenshots to see which part works and don't.
The win rate may have been considerably high but most of the largest earnings came from a combination of arbitrage and lucking out I happen to be online at the moments. These can just happen in seconds to minutes. The consists wins and small to moderate earnings came from spending a few hours watching the chart which was inefficient relative to the value of my time doing it.
I wouldn't say spending a few hours to acquire a loss or small gain was wasted. It helped me gain some insights on what I was doing right and what could be improved. For this month, the success was being near indifferent to the amount of losses I have incurred. Winning trades don't generate me a lot of dopamine kick, but losing trades tend to make me more focused. It's not the loss of money that is a main concern but it's the winning aspect. Trading, is a game for me there are quantifiable measures to determine if I won and achieved something for my time.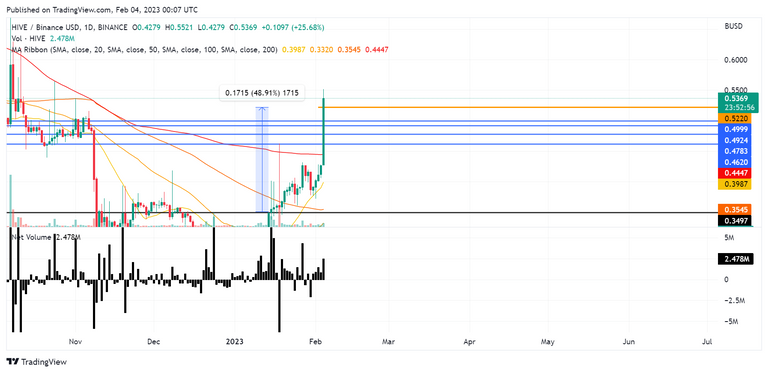 My best trade so far that took me a few days to wait it unfold. Although it's dated Feb 4, I had been buying up positions and averaging up at the late part of January which led to the final reap of rewards to this day. The black line was where I entered and orange when I exited. I missed out on selling above 0.522 levels for 14% missed opportunity but I'll take my 48% just fine.
Most of the wins came from trading AGIX. I didn't trade Hive due to the low volume but this token has a high pump frequency that it's hard to not keep under watch. I usually look for high volume tokens reaching more than 5 million as a screener. The bulk of my selection came from checking the chart if it looks like it's going to pop up, consolidate or whatever setup I require. There's not a lot to pick from as only small pool of tokens can reach high volumes on a daily basis and almost every popular token follows whatever BTC price is heading.
My worse trade was losing around -36$ for not cutting losses at 3% even if I knew I should have already cut early at 2%. It's during times I had this thin hope to wait and see if it reverses where my loses drag higher. But this was a mixed reception considering when I did get to follow my initial plans, the market turns 360 real quick and proceeds to go on track with what was the expected direction and I end up missing the boat with an added loss. It's a fun and frustrating experience lump into one activity.
Sitting for small gains isn't worth the wait, but if viewed from the lens of skill building, this isn't so bad. I find the waiting game exciting only when my order is filled and I'm in position to see what happens next.
So far, the system that has given me consistent wins is a combination of trailing and a bit of buying before break out during consolidation. The latter method is also my most common sources of losses so I tend to rely on it less. There were instances when I just knew it was going to pump and I should have taken the trade but was busy with work to commit. I just saw the token fly 50% up and sat there thinking, dang, I'm right but not profitable right.
I think the most remarkable part about this exercise is when I loss 20$ or gain 20$ both circumstances didn't budge me to stay out of the game. I went for 5 winning streaks and 4 losing streaks during revenge trading. I made all the common mistakes a new trader makes and this was the fun part about relearning a previous assumption where I thought I've figured it out.
I'm trading with pocket change compared to how much other traders are risking so I don't think 74% is a big deal for a small account. It's the systems to trade I want to develop here before I'm ready to handle a larger portfolio. All in all, this is just for kicks and giggles. I just want to know if I can and whether I can get good at it.
If you made it this far reading, thank you for your time.
Posted Using LeoFinance Beta
---
---