In a hypothetical situation where you're in an island when the storm hits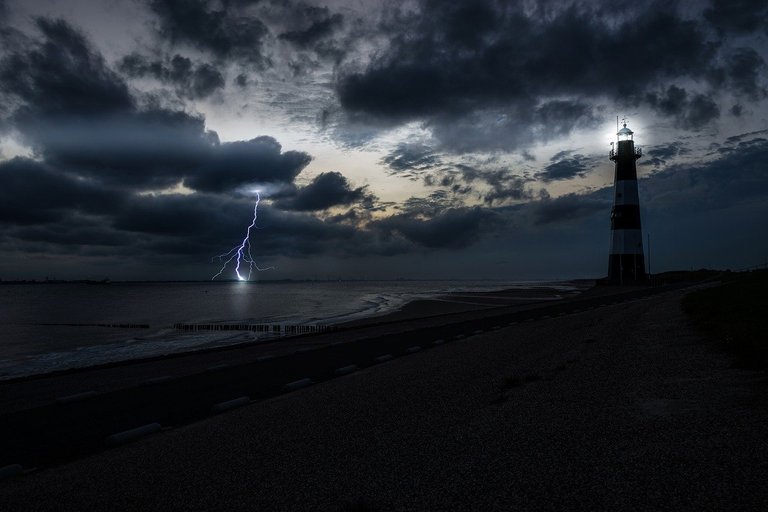 Image Source
A recent conversation from a colleague that came back from Siargao after being stranded for 5 days inspired me to make this survival guide. I find their insight from the experience worthwhile listening to.
Hypothetical Situation:
You're on a vacation and the destination is a tropical island still in development to be the number one tourist destination, what do you do when a storm hits?
Check the Weather Reports Daily
If the weather forecasts a red flag, rethink about your life choice. If you're already on the island, rethink if you find the place worth staying for your safety. A common mistake people make is assuming that boats traveling back and forth on the island will always be available as scheduled. It's a frontier world out there on open sea and even more when it's underdeveloped.
Establish Rapport with the Locals and Your Guide.
I can't emphasize this enough even on my personal travels. If you're unfamiliar with the place, by all means necessary do nothing to upset the locals and know the culture. In the far flung areas of paradise, the locals would naturally have an us or them mindset. You're not the only stranger they have experienced meeting and there are prejudices already in place prior to your encounter. It's not you but if they had bad experiences with tourists, they may indirectly harbor some feelings like that to you.
What you can do is try to be as conversant and get interested in knowing more about the locals. Getting curious is an indirect way to show some respect for boundaries and locals appreciate you showing some interest.
One life hack I personally use is stocking up come snacks from the city and handing them out to folks at random times. Living in far flung areas means they don't see a lot of colors from shiny packaging, get to experience artificial flavors, and just general nice stuff we take for granted in city living.
Small consumables like chocolate bars can take you a long way from establishing rapport, be a conversation opener, and making some good impressions. Maybe some liquor can get some men to talk. It really helps a lot if you are a casual drinker.
Be friends with strangers because it's possible your life may depend on them later on.
If you exercise doubt, keep it to yourself.
One way to quickly upset the locals is being too paranoid. Granted that tourist often get fooled by locals is a common thing but as long as there is no clear evidence to doubt someone's hospitality, do not display it in your attitude. You wouldn't trust someone that is suspicious of you and being vocal about these doubts hurts the pride of hosts who just want to be hospitable.
If you don't trust the water they offer (like it harboring some sort of water-borne disease), you can still divert the offer by asking for a soda and offer to treat them to it as well. I live in a country where soda is more accessible than life saving medicine and it's almost the same for potable drinking water. If you're backed in a corner and pressured to accept, take it like a champ but be sure you have some meds ready.
Know the Place Like the Back of Your Hand.
From the port to your room accommodations, you better have taken note about how to enter and exit the island, form of transport, landmarks, schedules, and people. All these stuff matters because when emergency situations can arise, you wish you know who to contact or where to find them. This is the part where getting curious and conversant as a life skill kicks in.
Your Survival Depends on the People Around You.
A colleague of mine got their place partially destroyed by strong winds during the recent storm. The living quarters were still intact. A family that passed by had no such luck so they took initiative to invite these folks for temporary shelter. It wasn't long before their place also hinted impending destruction but thankfully they got rescued by other locals who went to search for people in need. It turns out that the family they helped were close to the local officials so it made their relocation more bearable.
I know a lot of our money is tied to electronic wallets but those don't really matter when there's no cell signal in the area that can process or ATM to rely on when you need some cash badly. It's reasonable to expect no electricity would be available beyond what a solar panel can provide once things settle down. Cash matters and it also helps if you know how much your cash on hand's purchasing power because some may take advantage of the emergency to get the best of you.
This is where your rapport saves you as locals can help you find some resources you need as an exchange (because they also need money too). And some would be ambivalent in selling you anything because they may need it more or their fellow than hand it out to you. That's why you have to learn how to be friends with them prior because at times like these, their favor can mean you get access to basic necessities.
My colleague learned this hard but it wasn't a tough lesson as she was a bubbly person to converse with. She had money but it was tied to her electronic wallet. She needed to pay the fare to get off the island so the promise of paying back the money borrowed was all she could offer. And guess what happened when she asked for this favor?
If you ever find yourself in this situation, try to be mindful and friendly to everyone because you won't know when you're going to need their help later on.
If you made it this far reading, thank you for your time.
---
---