R402 Manga Review - Mature Content


A manga that knows how to execute the femme fatale archetype and accurately depicts real social issues when it comes to domestic abuse, emotional manipulation, and pursuit of gains at the expense of another. Reading this during the first run was a challenge due to the available English translations (it's crap) but once you get a grip on the context and past the sex scenes, there's actually a well-crafted character building within the story.
This isn't a story I'd recommend for an average reader. If themes of violence, sex, emotional manipulation are not your cup of tea, this isn't the manga for you. While the drama may seem exaggerate for the sake of the storytelling, I think people would be surprised that what the characters do within the story are exactly what the real monsters that walk among us actually do.
Screenshots were taken and used on the post. I don't own the images.
Warning: Spoilers ahead.
Plot and Characters:
Sasamoto, the main character, is a civil servant that is a loner by choice and an effective workaholic. He keeps things to himself, has disinterest with people, and loaded with issues about social interaction. While maintaining the reasonable level of social interaction with peers, his internal monologue shows how conceited and critical he can be for the people around him. His life changed upon meeting Haji on a train and by coincidence on his office during the same day.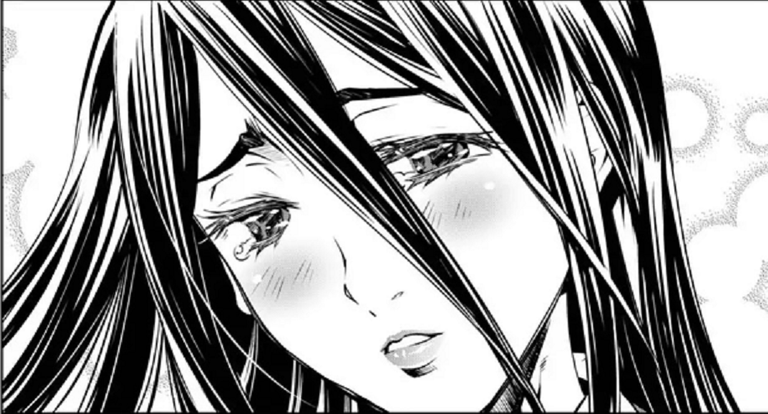 Haji is the classic femme fatale with several mysteries attached. The initial chapters show she has a few questionable dealings with shady people prior to meeting Sasamoto. She knows how to use her assets to the fullest. She knows her femininity becomes is her best lethal weapon.
There were two ways Haji could be portrayed in the story. The first is having those rare occasions when she lets out expressions of disgust for a moment then quickly reverting to a rehearsed calm, composed and seductive expression. These moments add depth of reality on her character. The second route would have been removing those moments where she shows disgust and maintains the act up to the big reveal.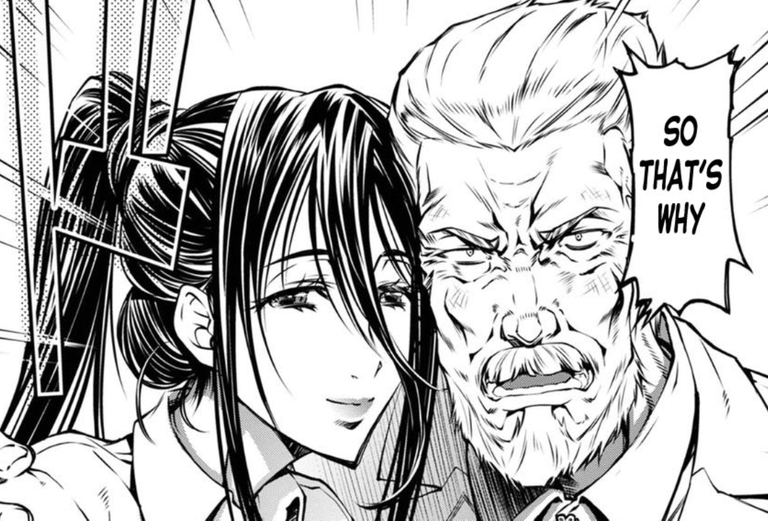 This approach makes her character more mysterious and dangerous because of the little information readers have to go on. She's one of the best femme fatale archetypes I've encountered on manga because her behaviors are exactly how the real monsters behave while living among us.
The biggest turn off for this manga is the available English translations being British slang. It took me several times to Google what the slang meant and it helped add to my vulgar vocabulary. It takes getting used to and a few more chapters further you'll just intuitively understand they're talking dirty. In the context of the story, you can still figure out what the dialogue is but it's a steep effort if you're not well versed with British slang.
I just love how the artist drew Haji's expression to the extremes. The emotions were on point with the facial expression and it coincides with her character.
I did have hopes for Sasamoto to have some post-nut clarity after the giveaways Haji has been leaking. But maybe it was for the best that he didn't as this further adds to Haji's appeal as a femme fatale. I could argue that this was Haji's show only told in the eyes of Sasamoto. We get to see the gradual deterioration of Sasamoto's morals and even when he seems to be in control, he isn't.
We slowly see the descent of Sasamoto's morals as each passing chapter when he is spun on Haji's whim. It's a constant debate on whether I should feel bad about the guy for being a tool or think it was well deserved.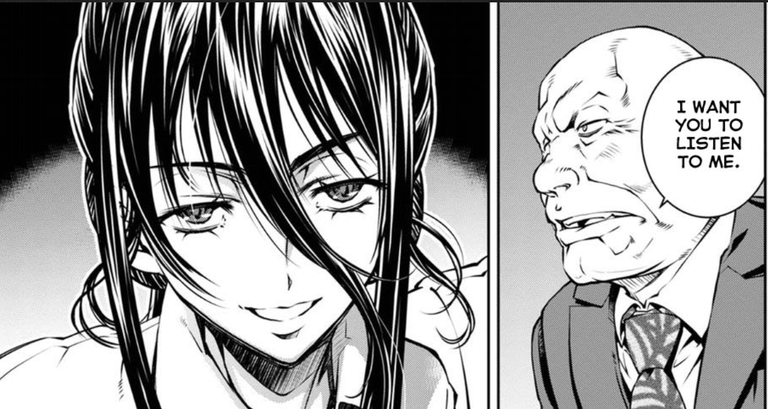 The ending was unfulfilling but then if the author intentionally wanted to get the story as close to what happen in real life, I suppose it works. Let's just say Sasamoto still got lucky but hasn't grown as a character. Haji's backstory understandably sets her up for the dark path but the reveal was underwhelming. It did provide closure to how she came to be but given what she has done made her less empathetic.
A lot of the negative feedback this manga has comes from the lack of plot. I do argue that there is a plot and a good story behind the noise of poor translations and overbearing amount of sex scenes. This is a story of deceit, suspense, and mystery woman Sasamoto met on the train.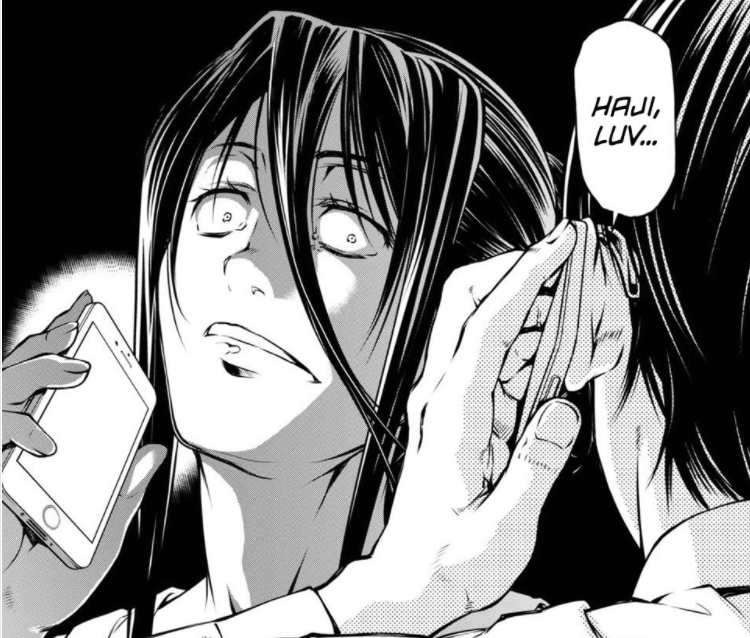 What I think most wouldn't notice during the first run of reading is how the characters conform to what really goes on in the real world. Men tend to be physical and inclined to enact sexual violence when they commit abuse while women would resort to emotional abuse and manipulation.
Conclusion:
It's a 2.5-3.25/5 for its genre. It's hard to say it's really that bad when the only English translation available I found was bad. If there were alternative translations, the dialogue would probably show more character development. R402 illustrates exactly how a femme fatale with sociopathy operate and the events shown here aren't that far from what actually happens in real life. I didn't regret reading this but it's a hard manga to recommend for an average person to read.
If you made it this far reading, thank you for your time.
---
---