Leofinance: Then Vs Now
The call to action by @leogrowth I think it's a great opportunity for everyone to share their experience then when they first join the platform and now. I have been here for several month now and I know some of development that happened when I'm here.
My beginning of Leofinance
I have been on hive blockchain for 2 years but am not that too familiar with Leofinance, all that I know then is that I always go through a couple of posts and most of these posts are Crypto and money-related topics which are always published on leofinance Community. I remember Sometimes I once published a post not related to Crypto, money, or finance to the community and I get a reply from one of the moderators that the post is not a Leofinance-related topic.
Late 2021 I was aware of Leofinance is not just a community on hive blockchain it has a different interface https:// leofinance.io that may users interact with Crypto and other finance related topics
I wanted to learn more about Crypto then I started paying more attention by visiting the Leofinance website. During that time I start visiting often, the first confusion I have is author's rewards on the post. Imagine viewing same post under different frontend it get confused for new users, what I'm trying to say here is that if I checked a particular post using hive.blog site the author's rewards always different to what I'll see checking through the Leofinance website. That was my first confusion until I get to know the one on Leofinance is the worth of the Leo token tip the author.
However, while doing this through some posts published on Leofinance due to my interest in cryptocurrencies, I started using the Leofinance site to occasionally read, write and comment, but I am still unable to write content that fits the community. Even though I have been around on hive blockchain creating content on different communities for awhile but it was not as creating the one fit for the Leo platforms. Most post I always end up reading then are Polycub, cub, yield, Cubfinance blah blah ba!!! I don't know anything about them.
---
How I have improved my writing and learning path through Leofinance
---
I started creating content with low experience once a while and get involved in a little bit of the posts I can have understood about. What motivated me most is the Leo token tip on content create using Leofinance, however, I tell myself hey guy! it's still the best time for you
to accumulate it for the future through your engagement on Leo web. That's how it started....
What is Leofinance and what makes Leofinance a great place?
The flagship of the entire project is Leofinance.io, which is the social media application. This is a long form blogging platform designed in the style of Seeking Alpha. However, this is a Web 3.0 application, being built on the Hive blockchain.
Users can earn tokens and coins for their activity. All articles posted as eligible for author rewards. This can come in the form of the blockchain's native coin ($HIVE) along with the LEO token.Leoglossary
---
The Leofinance community is a great place to be and has great engagement with several brilliant minds in the hive blockchain. A place where you can share your thoughts on everything related to cryptocurrencies, money and even learn new things through your interaction with other users. A place with vibrant community support that allows you to monetize the knowledge of your investment with a good website designed for UX. When it comes to quality, and Defi project Leofinance has it all.
Leofinance is already a home for me, where I can learn new things about money every day. I love Crypto investment that's why I'm here, I want money, money, money!!!.
I made this place home and set a goal of learning to write into the community daily which I still adhere to. If you check my blog, you will see that I am trying to improve, and of cause I believe if the learning is good, one-day money will be made and my efforts will be noticed.
---
Now let's talk about what Leofinance was like when I first join and what improvements have happened to Leofinance.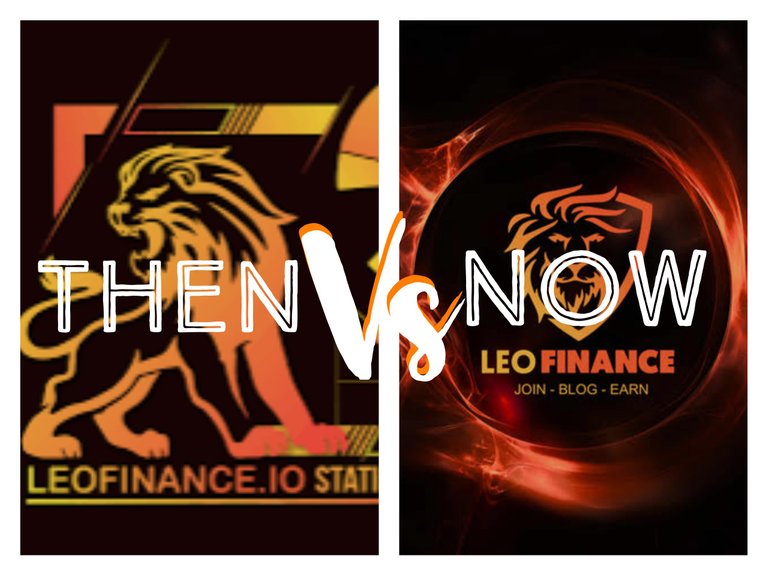 Leofinance Then Vs Now

| THEN | NOW |
| --- | --- |
| Low engagement | Super engagement |
| No stacking awareness | LeoPowerUpDay |
| Leodex | Leo glossary |
| Hivestats.io | Leothread |
| CubDefi | Leobridge |
| #AMA on DISCORD | The Daily Leo |
| | Community page on website |
| | Liquidity pairs (bHive,bHBD) |
| | LPUD badges |
THEN
When I just joined the community there is no engagement like the way we roll on now with engagement on Leofinance. Only if you're here for longtime that you will be able to understand most of things done here, the new users don't have guildline that will guild them through, and that makes the new user clueless about their projects. But now I think they're trying their best to carry everybody along.
The Leofinance site then did not have different communities on the site but we have it now. And that make it easy to select a communities relate to what you want to publish


Yes! there is another thing that always makes you sick, using the Leofinance notepad to write a blog post. Immediately your connection is not secured or you leave the page and think of coming back to finish writing, it's a sorry case for you because everything you have already written will disappear. So then I write with Hive Notepad and copy and paste it here to publish

Now
These are the things we have now that makes the engagement superb
Leothread: Our almighty Crypto-twitter that change the game of interactions in Leoverse.
Leothread is first microblogging platform on hive blockchain that allows you to interact, to share thoughts & ideas, and have a great response with just 240 characters of words. The team bring something similar to well-known Twitter and add some Value that will allow users here to earn Crypto while threading. As a new user all you have to do is to get a Leofinance account and do what ever you know how to do on Twitter here and have a chance to earn Crypto in just a 5 minutes.
#LPUD: LeoPowerUpDay is another thing that happened to us recently and I think it's one of the best activities here in the Leofinance community. It all started in June this year, and this is a great awareness that the Leo token should be encouraged. To be honest, I don't know how it's important the Leo token I earned should be stake until when the initiative was brought to us by @leogrowth and this really helps me a lot to achieve my goal of staking Leo Token for the future. You can read more about it here

Leoglossary: Leoglossary, I called this our dictionary. It a project that contains all terms and definition of words in Leofinance that can be link to your post.
LeoGlossay is a resource center that focuses upon areas of investing, finance, and cryptocurrency. This is a database full of terms that will aid people in their learning about such topics. In addition to being an education center, LeoGlossary provides content creators with the means to spice up their articles by utilizing the many links provided. This can enhance the understanding of the reader along with creating backlinks for each topic. Leoglossary
The Daily Leo: .The team are really working hard everyday to delivered Interesting and top quality crypto and finance post published through Leofinance across the world. This is really good for authors for their post will be visible outside Leofinance ecosystem. If you want hottest Crypto and finance stories to be delivered to you daily follow @thedailyleo and subscribe here to get delivered to your mail so you never miss the Daily LEO.
What I would like to see in future
Leofinance has been a great Community with lot of improvement for user to have a great experience using the platform. And we have seen a lot of features added recently that is likely going to attract web2 user coming to Leofinance. I love the team commitment to improve the quality of Leofinance. Good job @khaleelkazi, hey friend @taskmaster4450le I see your commitment too to make this place a better place with lot of engagement.
All these things are good and I will like to see more of it in the future
In future I would like Leofinance to support offline project. This offline project is not about teaching the world Leofinance it's all about giving helping hands to people that are in need of help publicly to promote Leofinance to the world. Something like Charity program in the name of Leofinance not hive, helping the world when they are in need or lack of something government can not offer them will go a long way to extend this awareness of Leofinance to the world not only on internet. Not necessary everytime, 3 times is okay in a year and at the end of year we're going to do magazine for what we achieve in a year.
Secondly, I know there are lot of update still coming to thread. I suggested that to make this threads standout brighter we still need some new features that have not yet mentioned. How will you like it if we have a recording button for recording voice on thread, likewise re-thread other's people thread the way we have it on Twitter.

I don't know what you're still waiting for if you are reading this post. Join the great platform with amazing Community support this will allow you to learn and earn Crypto in just 5 minutes.
@blessedkid-121, @epodcaster @otuyanancy I know you'll love this features and what is happening here in Leofinance.
---
May Leo token be with you all
---
Posted Using LeoFinance Beta
---
---