What strategy are you using to accumulate hive this bear season?

A week ago I remember the hive was still hovering around 55 cents and there were many questions about the coin's progress in the market as it moved towards 60 cents, many thoughts that the bull is just around the corner. What I see there is that both HBD and HIVE are trying to reinforce each other. If you find that a decrease in HIVE causes the increase in HBD, vice versa.

When the fixed HBD value increases, it usually triggers a reaction on the HIVE, either going up or down. All I know is that HBD is the factor that improves HIVE performance.

We recently saw HBD above $2 and that resulted in HIVE performance a week later when it rose to 70 cents.

However, a few days ago the HIVE dropped below 50 cents, which is probably a new recovery time and time to buy. It's time to see the weather so low, and many of us have taken the opportunity to accumulate more HIVE in our wallets again.

I also took the opportunity to convert my HBD rewards to HIVE when the price is 49 cents and continue to monitor the coin's progress maybe I'll get another chance to buy before the bull run starts.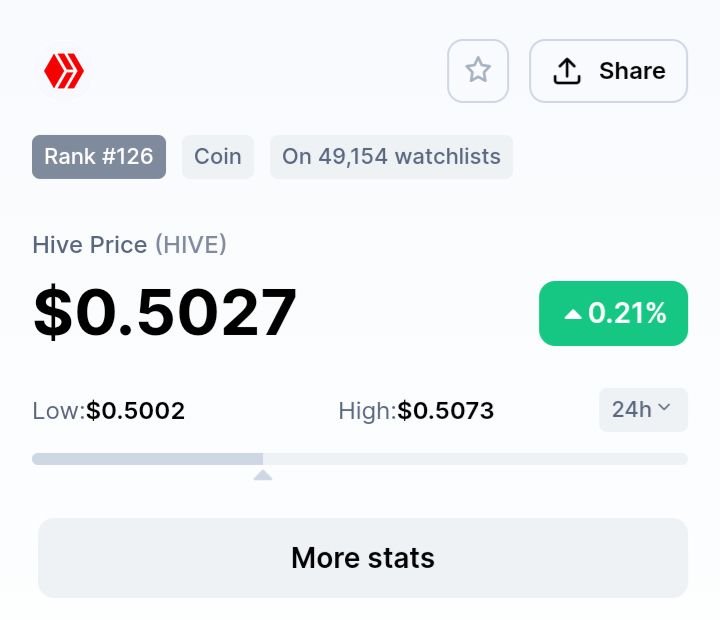 Yesterday I converted again for 50 cents 2.3 HBD to HIVE for the little rewards I claimed and to make the most of this opportunity, I need to take some HBD out of the savings that will take probably three and a half days before I receive it then I will buy more HIVE.
---
I keep stacking until my hive account is fine, and you, what strategy do you use to build your hive account?
Posted Using LeoFinance Beta
---
---