Webtalk Ad Revenue - What you Need To Know Before the Launch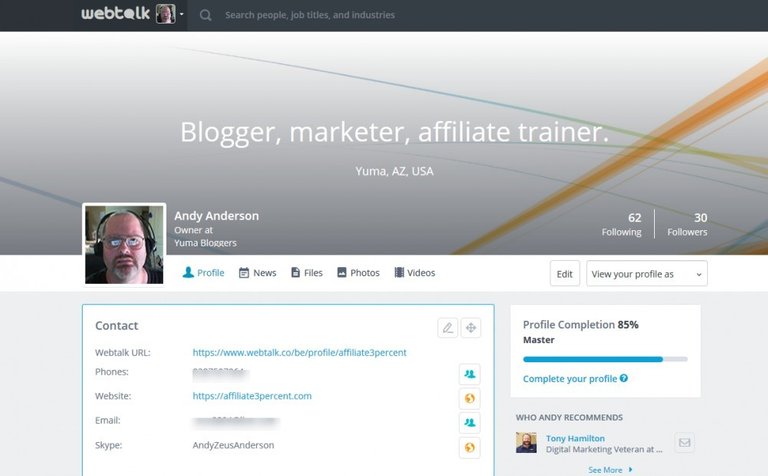 Follow Me On Webtalk: https://www.webtalk.co/affiliate3percent
Ad Rewards is scheduled to be released today 02-12-2020 and will allow members to receive a share of up to 50% of the total advertising revenues of the site by earning a point for their great content.
Webtalk's latest Beta Release will include the Ad Rewards program and you need to know a few things to get the most out of this free to join a social network for business and personal needs. The first is that your personal life can be hidden entirely from your boss as long as you place them in a group other than friends and don't post things that you do not wish for them to read on your public stream.
That being said there are HUGE Benefits to using Webtalk both in terms of business and professional Customer Retention Manager upgrades or SOCIAL CRM as it's called, and in the all-new Ad Rewards that will launch today if all goes according to plans for Beta Testers to dig into. Right now 3.8 million users are beta testing every new feature and profiting from prelaunch systems like Social CRM and now Ad Rewards 1.0.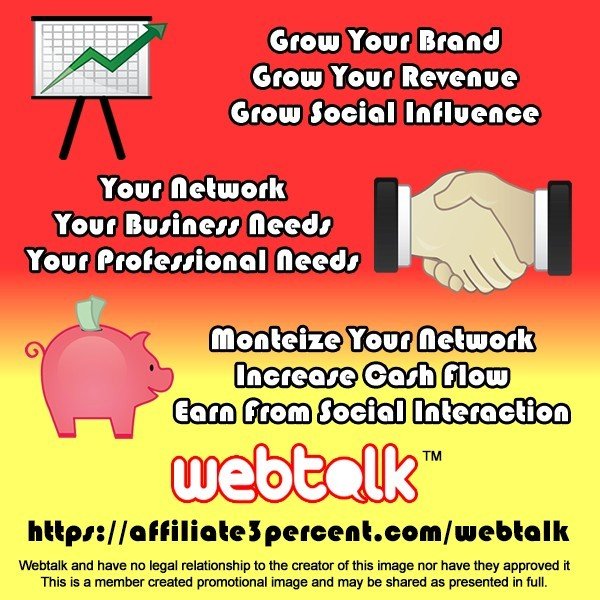 What are Ad Rewards?
Ad Rewards by Webtalk is a points system that rewards your awesome post with a share value for every point you receive based on points per action. Of course, comments and shares get the most points while likes do too but you also get points for giving similar credit to others. After all, what is social if it is a one-way street? So what you need to know about Webtalk's Ad Rewards will follow next, a basic social media 101 if you prefer.
Ad Reward is very social, so Social 101 applies here:
Write great content and share the things you love from around the Internet.

Be social with others to get social interaction in return. People post to social media to be engaged with and get social affirmation to their thoughts, opinions, professional prowess and more so feed their ego and they will be a lot more responsive to doing the same for you.

Small followings are better if you only have a short time frame to comment and share a post each day. The larger the following the better if you have time to engage those followers but starting small can be just as lucrative if you are able to really connect with that audience. This is social engagement, not a bigger penis contest.

Rewarding others with content shares will also help build interest and engagement with your own profile. After all your following will love popular content especially if it fits your niche.

Having a Niche or interest group helps. I have my blog Affiliate3percent.com and my new Local SEO company to engage readers with. Both have content that revolves around marketing with a special interest in Search Engine Optimization and Social Media Marketing. With that said my marketing niche draws people interested in marketing, in Webtalk's case it's largely Social Media Marketing that people look forward to so a post like this could go viral within that group.

Don't focus on the points you are earning or the number of posts. If you do your community will be underserved despite being over-delivered. If you send too often, the post doesn't fit the audience's interest, and your quality is poor people will not Comment, Share, or Like as often and you will fail to earn as much as the next member producing half as much but better quality content. Less is more so 1-3 great post a day may be more productive than 10 meaningless and unfocused posts a day.

Be the person you wish to meet. You are an ambassador for your content so give a good face pic, be authentic and personable, and BE HONEST in every way. People like a good guy/girl more than they say and they prefer trust over funny fake names and people hiding behind images of cats.
That's about it. Rinse, repeat, and constantly improve your content even if you need to scour the web to find ideas and link often to other people's articles. Shares are the queen because the content is King and great content will get more shares. Remember every share is a link to your profile meaning more search traffic as well.

Thanks for joining me on Webtalk: https://www.webtalk.co/affiliate3percent
Andy Zeus Anderson
---
---