DAO Labs Social Mining- What To Know
Blockchain has undoubtedly changed the face of digital currency forever with its decentralized possibilities and opportunities for creators. Venture capital companies adopt various techniques to advertise and incentivized bounties such as bug bounties, creative bounties and airdrops were not left out.
Projects adopt bounties and crypto airdrops as a means of incentives. A bug bounty program is offered by many projects to developers and contributors by which individual participants can be compensated for reporting security exploits and vulnerabilities such as bugs that could affect their system. A bounty program doles out rewards or tokens for participants completing specified tasks that help promote the project.

The Emergence of Social Mining
Without a doubt, blockchain technology has transformed how people work and earn. After the collapse of the ICOs in late 2019, the number of bounty programs focusing on product and project marketing witnessed a drastic reduction. The crypto industry needs a better mechanism to incentivize hence, Social Mining fits in. Social mining platform users get rewarded by producing and creating suitable content on social media, as well as interacting with other users on platforms that support this mining technology.
The DAO Labs Social Mining Platform
Who could ever imagine social media account could be used as a means to make an honest living? This is a serious concern why DAO Labs aims by integrating Web 3.0 functionality into traditional social media platforms to create a suitable solution that offers the next-generation governance infrastructure and tokenization tools for organizations across the private, public, and social sectors. DAO Labs is a home for experts from leading blockchains, such as Celo, NEM, QTUM, and EOS helping blockchain startups build efficient strategies and lasting infrastructures in marketing, business development, and token architecture.
Key Takeaways
Social mining not only provides opportunities but also serves as a concrete and tangible avenue for users to build. This is in line with the DAO Labs belief in the power of an organised working community that determines a crypto success through incentives for the contributors. Below is a chart showing some of the unique features of the DAO Labs social mining platform.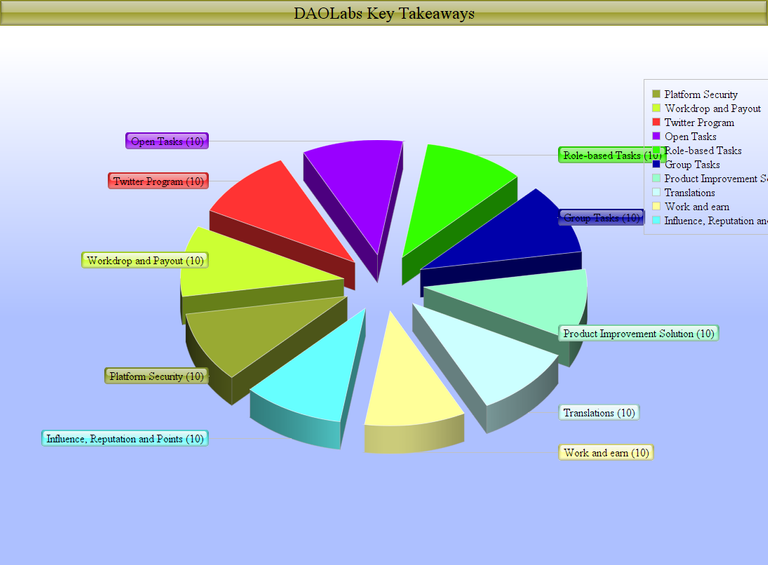 Source: Author's Computation
Reference
---
---