[ENG - FR] MAME ROULETTE - 9e épisode
[ENG]
Hello to all my readers. The MAME Roulette is now in its 9th episode: 3 titles from the past to play on MAME (and other emulators).
NEMO - Capcom 1990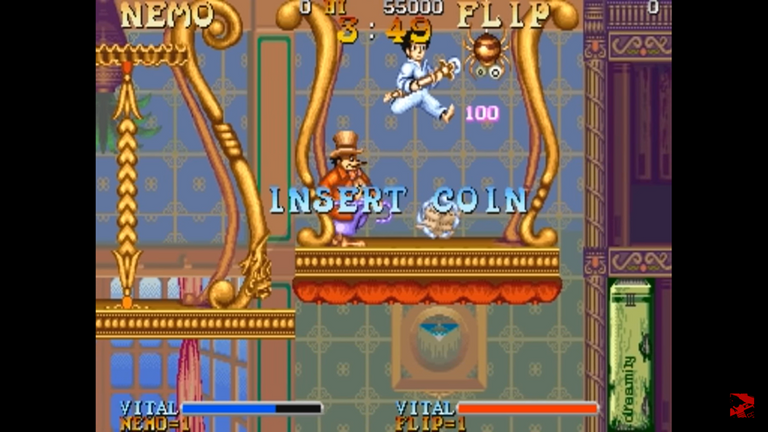 Nemo is an unusual scrolling platform/shooter game developed and published by Capcom Mummy in November 1990. The game is based on Winsor Mc Kay's original comic strip, "Little Nemo in Slumberland", published in the New York Herald in 1904. Later, in 1910, an animated film based on Nemo's adventures was also produced, and in 1990, "Tokyo Movie Shinsha" (TMS) acquired the rights to make it into a film, and sold the rights to Capcom to make it into an arcade game - this one! The game begins with Nemo asleep in bed on a typical night when the King of Slumberland appears to him in a dream and invites him to his kingdom to play with his daughter, the princess. Nemo doesn't hesitate twice and enters the kingdom, only to realise almost immediately that the princess is not there. So he decides to set off to explore the kingdom in order to find the king and understand what has happened. He begins his journey through seven colourful levels in the world of dreams, but not everything that glitters is gold. Our hero soon realises that the toys are out of control, and to save his skin he will have to destroy them without too much fuss, and to do this he will have a magic staff to use against such fierce enemies. If you're looking for an alternative to the usual titles, Capcom's Nemo might be for you, and contrary to what you might think looking at the picture, it's a tough and unforgiving title: completing it is far from easy.
STRIDER - MEGA DRIVE 1990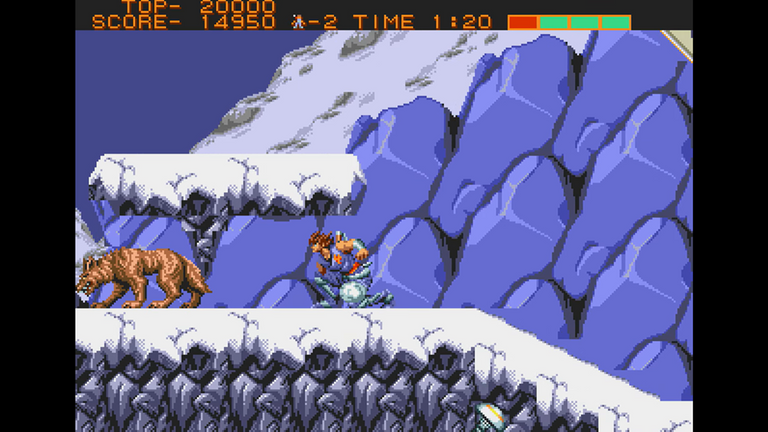 In the 1980s, one of the most successful software companies was undoubtedly Capcom. In the arcade market, much of this success was due to the Capcom Play System or CPS1 cards, which enabled the company to create and publish some of the most iconic titles. One of these is undoubtedly "Strider" ("Strider Hiryu" in Japan) by the great Tokuro Fujiwara ("Ghost'n goblins" and "Tombi"), which was released in Japan in 1989 and immediately caught the attention of gamers, leading Capcom to opt for multiplatform conversions.
Fortunately for the Mega Drive, Sega itself handled the conversion, giving 16 Bit owners a cartridge that was really something.
The game presents itself with a really well rendered graphical look. The sprites are all well defined and animated, and the backgrounds are very well rendered with some effects. Of course, we can't talk about arcade perfection (something that at the time could practically only happen on the Sharp X 68000), so we'll have a bit less enemies on screen, some scenery lacks detail and in some sections we can see small slowdowns, but for a Mega Drive a really excellent job has been done. The music and effects are also really addictive, even if the digitised phrases that were present in the arcade version are absent.
The most limited part of the game is certainly the longevity. Although packed with enemies, end of level bosses and some very original and innovative passages, the five stages are very few and far between and the choice of difficulty levels won't be enough to keep you coming back to play once you've finished. This is still a fun title to play but it still has a soul that is too much linked to the coin ops canon, which makes it very frenetic but at the same time extremely short.
DONKEY KONG COUNRY 2 - SNES 1995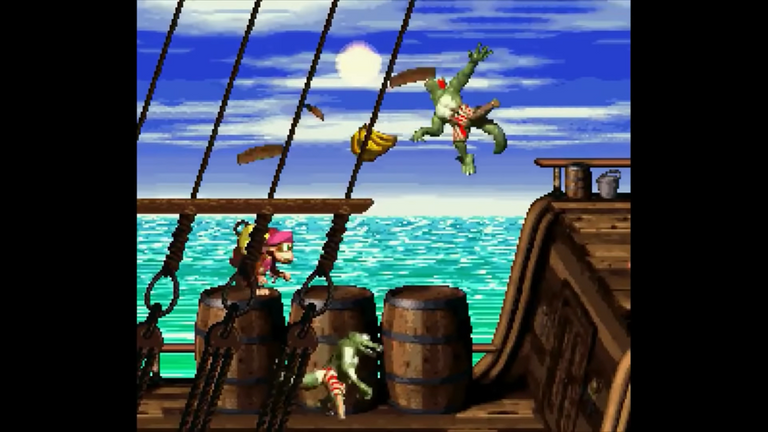 Encouraged by the huge success of the first chapter, RARE (a British software company) and NINTENDO decided to develop the second episode of Donkey Kong Country. This was a very tough challenge given the huge critical and commercial success of the first game. While Rare did not manage to replicate the sales of the first Donkey Kong Country, stopping at just over 5 million copies sold compared to the 9 million of the first chapter (which is still the sixth best selling game on the SNES), it did manage to surpass its predecessor from a technical/artistic point of view (at least according to the critics). The game is divided into a total of 8 areas, one of which is secret and unlockable, for a total of 52 levels. In this chapter we find ourselves guiding Diddy and his sidekick Dixie through the arduous task of rescuing dear Donkey Kong who has been kidnapped by the Kremlings and imprisoned on Kremling Island. Naturally, the two protagonists have different abilities. In some situations it will be better to use one rather than the other and vice versa. Along the way we can find other animals that will come to our rescue such as: Rambi, Enguarde, Rattly, Squitter, Clapper, Squawks and Glimmer. Technically, the game is as good, if not better, than the first one, and the same goes for the audio. The music and effects are really beautiful. Personally, I'm more attached to the first episode, which I owned on the game boy, but I recognize that even if it doesn't deviate much in terms of gameplay innovation, this second chapter somehow has a few more cartridges. Minimal differences for goodness sake, we're still talking about two great titles. Finished again and again (last time was last week), I highly recommend spending some time on it as platformers like this are no longer made!
---
As always, I'd like to remind you that you can indicate your favourite games that have not been mentioned here, so that you can try them out and report back in future episodes.
What do you think? Have you played any of these titles yet? MAME Roulette will be back next week.
---
[FR]
Bonjour à tous mes lecteurs. La rubrique MAME Roulette en est maintenant à son 9ème épisode: 3 titres du passé à jouer sur MAME (et autres émulateurs).
NEMO - Capcom 1990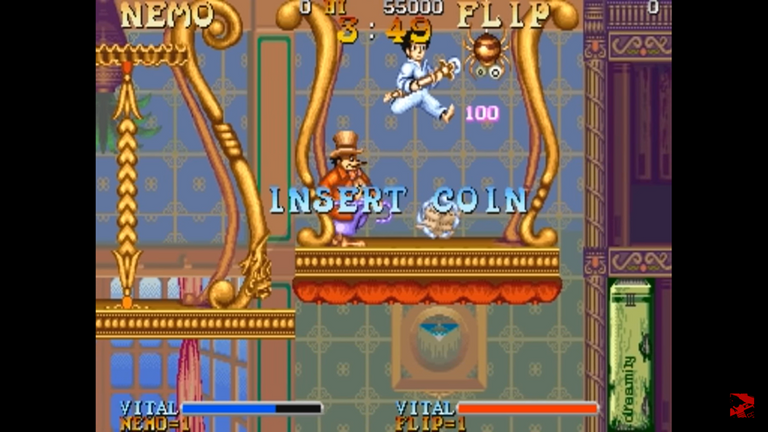 Nemo est un jeu de plateforme/shooter à défilement inhabituel développé et publié par la momie Capcom en novembre 1990. Le jeu s'inspire de la bande dessinée originale de Winsor Mc Kay, "Little Nemo in Slumberland", publiée dans le New York Herald en 1904. Plus tard, en 1910, un film d'animation inspiré des aventures de Nemo a également été produit, et en 1990, "Tokyo Movie Shinsha" (TMS) a acquis les droits pour en faire un film, et a vendu les droits à Capcom pour en faire un jeu d'arcade - celui-ci ! Le jeu commence par une nuit comme les autres, Nemo est endormi dans son lit, lorsque le roi de Slumberland lui apparaît en rêve et l'invite dans son royaume pour jouer avec sa fille, la princesse. Nemo n'hésite pas deux fois et entre dans le royaume, pour se rendre compte presque immédiatement que la princesse n'est pas là. Il décide donc de partir à la découverte du royaume afin de retrouver le roi et de comprendre ce qui s'est passé. Il commence son voyage à travers 7 niveaux colorés dans le monde des rêves, mais tout ce qui brille n'est pas or. Notre héros se rend vite compte que les jouets sont hors de contrôle, et pour sauver sa peau, il devra les détruire sans trop d'histoires, et pour ce faire, il aura un bâton magique à utiliser contre des ennemis aussi féroces. Si vous cherchez une alternative aux titres habituels, Nemo de Capcom pourrait vous convenir, et contrairement à ce que vous pourriez penser en regardant l'image, c'est un titre difficile et impitoyable : le terminer est loin d'être facile.
STRIDER - MEGA DRIVE 1990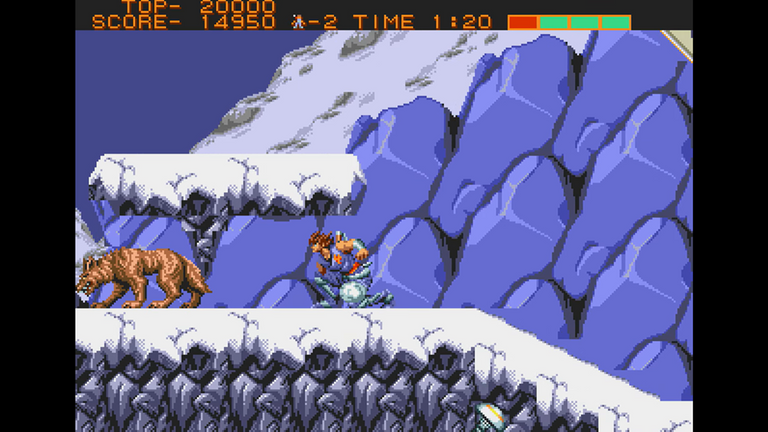 Dans les années 1980, l'un des éditeurs de logiciels les plus prospères était sans conteste Capcom. Sur le marché de l'arcade, une grande partie de ce succès est due aux cartes Capcom Play System ou CPS1, qui ont permis à la société de créer et de publier certains des titres les plus emblématiques. L'un d'eux est sans aucun doute " Strider " (" Strider Hiryu " au Japon) du grand Tokuro Fujiwara (" Ghost'n goblins " et " Tombi "), qui est sorti au Japon en 1989 et a immédiatement attiré l'attention des joueurs, ce qui a conduit Capcom à opter pour des conversions multiplateformes.
Heureusement pour la Mega Drive, c'est Sega lui-même qui s'est chargé de la conversion, donnant aux propriétaires de la 16 Bit une cartouche qui était vraiment quelque chose.
Le jeu se présente avec un aspect graphique vraiment bien rendu. Les sprites sont tous bien définis et animés, et les arrière-plans sont très bien rendus grâce à certains effets. Bien sûr, nous ne pouvons pas parler de perfection arcade (quelque chose qui à l'époque ne pouvait pratiquement se produire que sur le Sharp X 68000), donc nous aurons un peu moins d'ennemis à l'écran, certains décors manquent de détails et dans certaines sections nous pouvons voir de petits ralentissements, mais pour un Mega Drive un travail vraiment excellent a été fait. La musique et les effets sont aussi vraiment addictifs, même si les phrases digitalisées qui étaient présentes dans la version arcade sont absentes.
La partie la plus limitée du jeu est certainement la longévité. Bien que regorgeant d'ennemis, de boss de fin de niveau et de passages très originaux et innovants, les cinq étapes sont très peu nombreuses et le choix entre plusieurs niveaux de difficulté ne suffira pas à vous faire revenir jouer une fois que vous aurez terminé. Il s'agit pourtant d'un titre toujours agréable à jouer mais qui conserve une âme trop liée aux canons des coin ops, ce qui le rend très frénétique mais en même temps extrêmement court.
DONKEY KONG COUNRY 2 - SNES 1995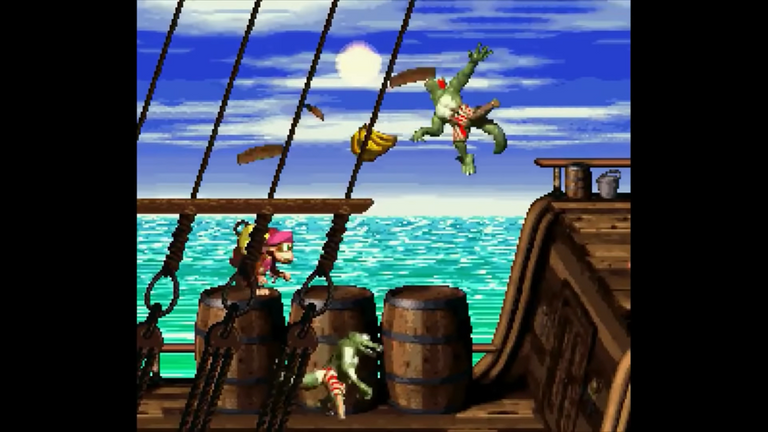 Encouragés par l'énorme succès du premier chapitre, RARE (une société de logiciels britannique) et NINTENDO ont décidé de développer le deuxième épisode de Donkey Kong Country. Le défi à relever était vraiment ardu étant donné l'énorme succès critique et commercial qu'avait connu le premier jeu. Si Rare n'a pas réussi à reproduire les ventes du premier Donkey Kong Country, s'arrêtant à un peu plus de 5 millions d'exemplaires vendus contre les 9 millions du premier chapitre (qui reste tout de même le sixième jeu le plus vendu sur SNES), il a réussi à dépasser son prédécesseur d'un point de vue technique/réalisation (du moins selon les critiques). Le jeu est divisé en 8 zones au total, dont une secrète et déverrouillable, pour un total de 52 niveaux. Dans ce chapitre, nous nous retrouvons à guider Diddy et son acolyte Dixie dans la tâche ardue de sauver ce cher Donkey Kong enlevé par les Kremlings et emprisonné sur l'île de Kremling. Naturellement, les deux protagonistes ont des capacités différentes. Dans certaines situations, il sera préférable d'utiliser l'un plutôt que l'autre et vice versa. Le long du chemin, nous pouvons trouver d'autres animaux qui viendront à notre secours tels que : Rambi, Enguarde, Rattly, Squitter, Clapper, Squawks et Glimmer. Techniquement, le jeu est aussi bon, sinon meilleur, que le premier, et il en va de même pour la partie audio. La musique et les effets sont vraiment magnifiques. A titre personnel, je suis plus attaché au premier épisode, que je possédais sur la game boy, mais je reconnais que même s'il ne s'écarte pas beaucoup en termes d'innovation de gameplay, ce deuxième chapitre a d'une certaine manière quelques cartouches de plus. Des différences minimes pour l'amour de Dieu, nous parlons toujours de deux super titres. Terminé encore et encore (la dernière fois était la semaine dernière), je vous recommande fortement d'y passer du temps car des platformers comme celui-ci ne sont plus fabriqués !
---
Comme toujours, je vous rappelle que vous pouvez indiquer vos jeux préférés qui n'ont pas été mentionnés ici, afin que vous puissiez les essayer et en rendre compte dans les prochains épisodes.
Qu'en pensez-vous ? Avez-vous déjà joué à l'un de ces titres ? MAME Roulette sera de retour la semaine prochaine.
---
---