"Unos Poemas de Incógnito" // "Some Incognito Poems"(ESP/EN)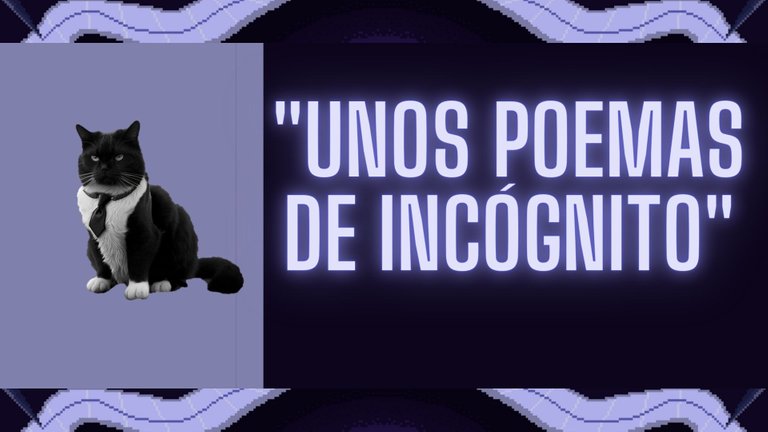 Muy buen día, comunidad de "Freewriters"
E esta ocasión les vengo a traer un conjunto de poemas que hice.
Algunos son cortos como algunos algo extensos, todos varían de tema, pues son de diferentes días, y el cual recopile varios, para poder hacer una publicación más extensa y con un mejor contenido.
Espero les guste.
No tienen un nombre en específico, pues soy malo para poner nombres por eso el título de "Unos poemas de incógnito".
---
Very good day, community of "Freewriters"

This time I come to bring you a set of poems that I made.

Some are short and some are somewhat long, they all vary in subject, since they are from different days, and which collects several, in order to make a more extensive publication with better content.

I hope you like it.

They don't have a specific name, because I'm bad at putting names, that's why the title "Some incognito poems".

Envuelto en pensamiento tan tontos
pensamientos de muchas tragedias
el pasado y el futuro cada día más caótico
protegiendo mi corazón cada día
ocultando entre mentiras mis pasos.
Como una soga en mi cuello
cadenas sujetas a mis temblorosas manos
cargando el mundo que llamo hogar
un peso tan grande que me hacen caer.
Prisionero de mi mente y del dolor pasado
buscando siempre aquella luz que llamo corazón
alejando todo rastro de maldad con una vela
vela que solo consume mis lágrimas.
Arraigado a mi soledad, arraigado a mi felicidad
juntos siempre están en un campo que llamo hogar
un lugar donde solo encuentro bondad
una época donde reina esta prosperidad.
Wrapped up in such foolish thoughts
thoughts of many tragedies
the past and the future every day more chaotic
guarding my heart every day
hiding my steps between lies.
Like a noose around my neck
chains attached to my trembling hands
carrying the world I call home
a weight so great that they make me fall.
Prisoner of my mind and past pain
always looking for that light that I call heart
driving away all traces of evil with a candle
candle that only consumes my tears.
Rooted in my loneliness, rooted in my happiness
together they are always in a field that I call home
a place where I only find goodness
a time where this prosperity reigns.
---

Me siento solo
como un alma perdida
en un inmenso mar
buscando aquella luz
Un amor que me ata a mis sueños.
En mis sueños te encuentro otra vez
un pequeño toque de amor siento en el pecho
Es esto amor, es esto lo que siempre busque.
Aunque te busque en las calles
aunque busque tus ojos en la multitud
no encuentro aquella sensación
es amor o solo un intento de querer.
Son fantasías tan simples como tener tu amor
andar es como flotar si estas tú
Atado a ti como aquel niño perdido.
Todo cambia cerca algunos dicen
pero nada cambia, será porque no es real
busco un amor imposible
ni la belleza ni esas palabras
ninguna se compara a ese fuerte sentimiento en el pecho.
Que es el amor, una costumbre una sensación
solo lo sabes tú, con tu mirada tan dulce que olvido mi triste pasado
mi mente repleta ya de un mundo de realidades.
Que es el mundo si no una triste realidad
donde las fantasías de tu amor
una mentira ya son
aunque te veré otra vez
Aunque una ruleta de miedo y angustia nos separa.
I feel alone
like a lost soul
in an immense sea
looking for that light
A love that ties me to my dreams.
In my dreams I find you again
a little touch of love I feel in my chest
Is this love, is this what I always look for.
Even if I look for you in the streets
even if I look for your eyes in the crowd
I can't find that feeling
Is it love or just an attempt to love.
They are fantasies as simple as having your love
walking is like floating if you are there
Tied to you like that lost child.
Everything changes nearby some say
but nothing changes, it will be because it is not real
I'm looking for an impossible love
neither beauty nor those words
none compares to that strong feeling in the chest.
What is love, a habit, a sensation
only you know, with your look so sweet that I forget my sad past
my mind already full of a world of realities.
What is the world if not a sad reality
where the fantasies of your love
they are a lie
I'll see you again though
Although a wheel of fear and anguish separates us.
---

El tiempo pasa sobre mis hombros
anunciando la llegada de una caída
otra vez aquí en escombros
que pronto convierto en oro caían.
Las aves tan negras como la noche
presenciaban a este hombre sin moral
a un hombre que finge
ser un mago de la realidad.
Será talvez un llanto tan profundo
que en mi pecho resuena cada día
o el pensamiento de aquel loco
que con un té todo lo olvida.
Siento el cuello tan pesado y ajustado
como si unos grilletes pensaran en mi verdad
pienso y pienso en esta marea que no cesa
como una corriente que solo espera mi soledad.
Aunque en ella envuelta me sienta
ese tan esperado alivio nunca llegará
pues el destino caerá sobre el último
que una vez se llamó envuelto en júbilo.
Time passes on my shoulders
announcing the arrival of a fall
again here in rubble
that I soon turn into gold fell.
Birds as black as night
witnessed this man without morals
to a man who pretends
be a reality wizard.
Maybe it will be such a deep cry
that in my chest resonates every day
or the thought of that madman
who with a tea forgets everything.
My neck feels so heavy and tight
as if some shackles thought about my truth
I think and think about this tide that does not cease
like a stream that only awaits my loneliness.
Although I feel wrapped in it
that long-awaited relief will never come
for fate will fall on the last
which was once called wrapped in jubilation.
---

Estoy ciego de tantas voces
me siento como un loco tan cuerdo
consciente de la paranoia eterna
aunque dudoso si es verdad.
Está fina las brechas de esta puerta
donde una voz tan amable me habla
contándome los relatos tan mágicos
quizá un soñador o quizás solo un ladrón.
Aunque mis palabras fueran dadas
solo una tonta respuesta me dan
un olvido entre tantas cartas
que una vez más fueron olvidadas.
No soy un hombre de palabra
pero una ciega confianza siempre estará
este error no fue como otros
solo es una vida más que hoy conocí.
I am blinded by so many voices
I feel like such a sane madman
aware of eternal paranoia
although doubtful if it is true.
The gaps in this door are fine
where such a kind voice speaks to me
telling me the stories so magical
maybe a dreamer or maybe just a thief.
Even if my words were given
they only give me a stupid answer
an oblivion among so many letters
that once again were forgotten.
I am not a man of my word
but a blind trust will always be
this error was not like others
It's just one more life that I knew today.
---

El cielo denso es hoy
con una claridad tan difusa
que esa estrella en la palma nocturna se asienta.
Este viento frío no es más que un recuerdo
un recuerdo de soledad
un recuerdo de libertad
donde moran los nuevos reyes.
Hay un silencio tan abrumador
como si el viento fuera a cantar
las nubes bailan en esa estela blanca
que una vez más el humano ignora.
Es temblor de la soledad
y el silencio de esta estela e
helada
son nada más que recordarme atrapado
en un bucle infinito de corrientes.
Talvez el amor de mi amada vigía
me consuele en esta noche soledad
aunque de ella no escuche si voz
presente siempre estará.
The dense sky is today
with such diffuse clarity
that that star in the nocturnal palm settles down.
This cold wind is but a memory
a memory of loneliness
a memory of freedom
where the new kings dwell.
There is such an overwhelming silence
as if the wind were to sing
the clouds dance in that white wake
that once again the human ignores.
It is tremor of loneliness
and the silence of this wake and
frost
are nothing more than remind me trapped
in an infinite loop of currents.
Maybe the love of my beloved watcher
comfort me in this loneliness night
Although I don't hear her voice
it will always be present.

Sin nada más que contar feliz dia a todos y que un X10 llegue a sus vidas
With nothing more to say, happy day to all and that an X10 comes into your lives
---
---