Safeguarding Your Financial Future with Gold, Silver, and Cryptocurrency

A great method to safeguard your financial future is through investments. The conventional idea of making real estate investments or putting money in banks has fallen out of favour in this contemporary period. New investment strategies are developing as a result of the development of digital technology that are more practical and profitable. Silver and gold are two such investments that are regarded as a different type of net currency.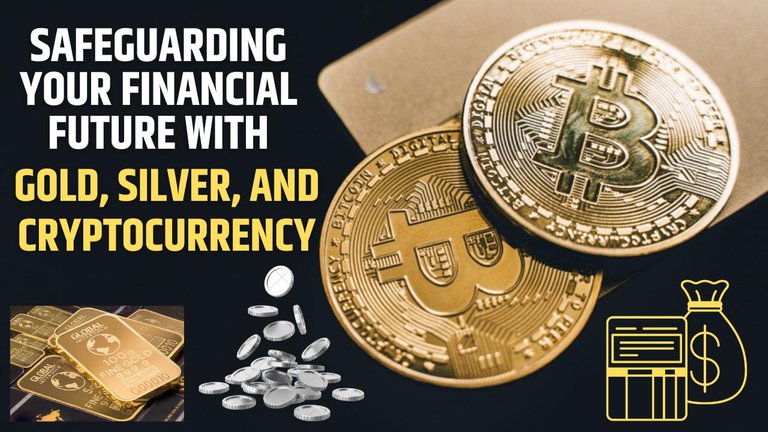 NET CASH INVESTMENTS: GOLD AND SILVER AS PRECIOUS METALS THAT HOLD THEIR VALUE
Investments that can be readily converted into cash without any hassles are known as net cash investments. For millennia, people have exchanged money using precious metals like gold and silver. They have consistently held their value and are easily transferable at any moment. It is crucial to keep in mind that in order to get the most worth out of silver and gold, they must be in pure bar format.
My study and knowledge indicate that the three best investments during periods of high inflation are silver, gold, and cryptocurrencies. These assets are less prone to losses because demand for them is constantly increasing. If investors choose their investments wisely, they can expect a decent return on their money.
Particularly gold has always made a good investment. It has been used for various types of jewellery for both men and women, and it is used in the shape of kilogrammes during every wedding ceremony. Over time, its value has increased and has stayed constant. Additionally, gold is a practical investment choice because it is simple to store, move, and trade.
It's crucial to keep in mind that the purity of the metal is essential when investing in precious metals like silver and gold. The purest and most expensive type of gold is 24 karat gold, which is regarded as being pure gold.
Similar to gold, silver is highly sought after for industrial purposes. As long as industries remain, silver prices will increase. It is also utilised in a variety of jewellery designs and other ornamental products. Consequently, it is a successful financial choice.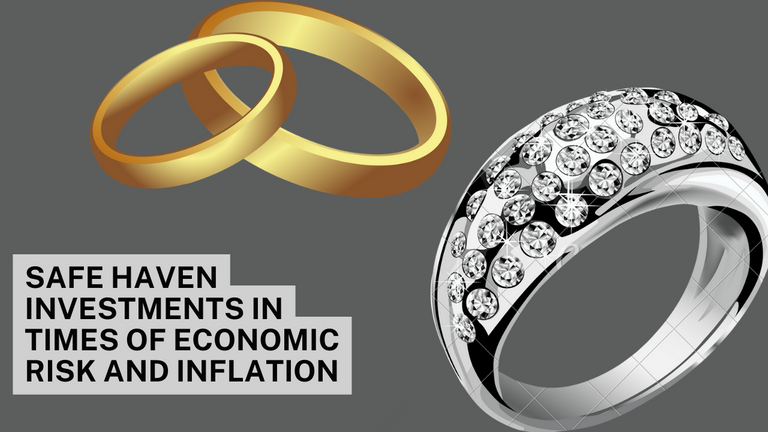 SAFE HAVEN INVESTMENTS IN TIMES OF ECONOMIC RISK AND INFLATION
Gold and silver have shown to be reliable assets during periods of unstable political environments, high inflation, and economic turbulence. Money loses worth due to inflation, so precious metals like gold and silver act as a hedge. These metals are dependable investments because they frequently retain their value during difficult economic times or even increase in value.
The most recent technology, aside from these, that is gaining popularity among buyers, is cryptocurrency. The market for cryptocurrencies has grown in recent years, and this trend is anticipated to continue. It is a decentralised, safe investment choice that is unaffected by inflation or market factors.
The popularity of cryptocurrency, on the other hand, is a comparatively recent investment option. It is a decentralised digital money that runs without the help of a centralised organisation, making it extremely safe and impervious to interference from the government. Cryptocurrency is very volatile because its value is dependent on supply and demand and is not correlated to any physical asset. Even though it might be risky, those who are willing to take the risk may find it to be a profitable investment choice.
Silver and gold are regarded as net cash assets that are hassle-free to sell. These precious metals are in constant demand, which makes them a lucrative business choice. Investors can diversify their portfolios and investigate new business opportunities as a result of the rise of cryptocurrencies. When making any kind of purchase, it is crucial to exercise caution and make wise decisions.
I hope you find this post useful and informative. If you do, please remember to reblog it so that it reaches as many people as possible and that they can benefit the most from it. Also, remember to upvote, which will help me financially and grow my account.
NOTE: PICTURES ARE TAKEN FROM CANVA AND EDITED IN CANVA.
DISCLAIMER
Please keep in mind that I am not a financial advisor. Never, ever take anything I say as financial advice. Conduct your own research. Before making any investment decisions, consult with a professional investment advisor! My posts are strictly for entertainment purposes!
Thank You!
Best Wishes.
Posted Using LeoFinance Beta
---
---