Newbies Initiative: April Batch - Iniciativa de Novatos: Lote de Abril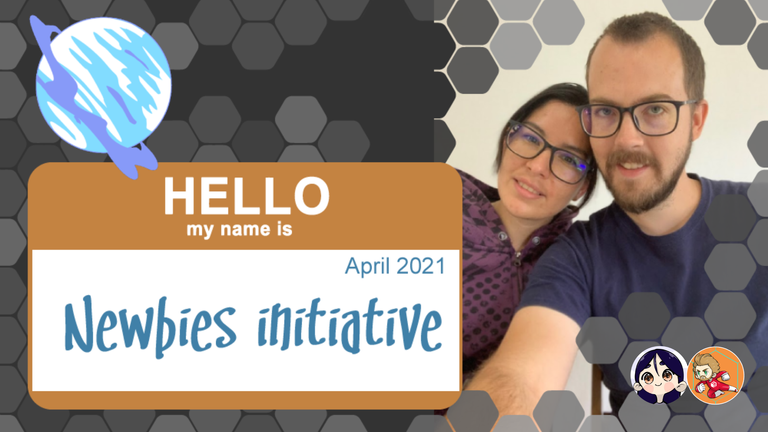 Newbies Initiative
We are beginning a new month, and we are very motivated because the price of HIVE has reached new levels. This will bring a lot of new people who want to start creating content on our platform.
@starstrings01 usually runs this initiative, but he will be busy this month, and he asked me for help. I will do it gladly as I've always like to help new users.
Brace yourself. This month is going to be wild!

Iniciativa de Novatos
Comenzamos un nuevo mes, y estamos muy motivados porque el precio de HIVE ha alcanzado nuevos niveles. Esto traerá un montón de gente nueva que quiere empezar a crear contenido en nuestra plataforma.
@starstrings01 suele llevar esta iniciativa, pero este mes estará ocupado, y me ha pedido ayuda. Lo haré con mucho gusto, ya que siempre me gusta ayudar a los nuevos usuarios.
Prepárate. ¡Este mes va a ser salvaje!

How to Apply:
---
Visit the SMILE Discord server, go to the "ALIENTO" section, look for #newbie-introductory-posts channel and paste the link for your hive introductory post. It doesn't matter if it's old. After that, write a newbie participation post used to analyze if you truly understand this initiative's requirements and benefits.
NOTE: To qualify, you must have a HIVE reputation below 60.00 and less than 500 HivePower.
Cómo aplicar:
---
Visita el servidor SMILE Discord, ve a la sección "ALIENTO", busca el canal #newbie-introductory-posts y pega el enlace de tu post de introducción a HIVE. No importa si es antiguo. Después, escribe un post de participación de novato que servirá para analizar si realmente entiendes los requisitos y beneficios de esta iniciativa.
NOTA: Para calificar, debes tener una reputación de HIVE inferior a 60.00 y menos de 500 HivePower.

Newbies Participation Post
---
As I mentioned, one of the requirements is to make a post to participate in this initiative. These are the steps you need to follow:
Create a post in https://peakd.com/, https://ecency.com/, or https://hive.blog/.
Share your thoughts about this initiative and make also share a link to this post.
Mention your current Hive reputation and your HivePower.
Write about your purpose or reasons for joining this initiative.
Use #new-bie as one of the first four tags.
NOTE: Only five newbies will be selected to participate in this initiative, so it's necessary to follow the rules below:
Your entries should be written in your own words and not a copy of what is written here. Making original content is crucial to have success on Hive.
Post title should contain the words "Newbies Initiative April Batch Application".
Use #new-bie as one of your first four tags.
Contact @tripode in the SMILE DISCORD SERVER to get a badge to use as your application post header picture.
And very important: Set your application post to 100% Hive Power, then share it to #newbies-posts in SMILE DISCORD SERVER on the #newbiesinitiative-posts channel.
Posts de Participación Newbies
Como he comentado, uno de los requisitos es hacer una publicación para participar en esta iniciativa. Estos son los pasos que debes seguir:
Crear un post en https://peakd.com/, https://ecency.com/, o https://hive.blog/.
Comparte tu opinión sobre esta iniciativa y haz también un enlace a esta publicación.
Menciona tu reputación actual en Hive y tu HivePower.
Escribe sobre tu propósito o razones para unirte a esta iniciativa.
Utiliza #new-bie como una de las cuatro primeras etiquetas.
NOTA: Sólo se seleccionarán cinco novatos para participar en esta iniciativa, por lo que es necesario seguir las reglas que se indican a continuación:
Tus entradas deben estar escritas con tus propias palabras y no ser una copia de lo que está escrito aquí. Hacer contenido original es crucial para tener éxito en Hive.
El título de la entrada debe contener las palabras "Solicitud de lote de abril de la Iniciativa de Novatos".
Utiliza #new-bie como una de tus cuatro primeras etiquetas.
Ponte en contacto con @tripode en el SMILE DISCORD SERVER para conseguir una insignia que puedas utilizar como imagen de cabecera de tu post de solicitud.
Y muy importante: Configura tu post de aplicación al 100% de la potencia de Hive, y luego compártelo en #newbies-posts en SMILE DISCORD SERVER en el canal #newbies-initiative-posts.
---

Additional Requirements
---
Set your rewards to 100% Hive Power to grow your account and solve possible issues with Resource Credits. I can explain how settings can do that if you don´t know.

Participating newbies are expected to publish often, at least one post a day. This is possible to attain. That's why we would like to recommend you joining The 30 Days Blogging Challenge hosted by The Blogging Challenge Community which would help to achieve the goal of daily blogging on Hive.

Posts made by participating newbies are advised to be shared in the SMILE DISCORD SERVER in #newbies-initiative-posts under the "ALIENTO" category newbies can engage with each other by commenting on shared posts. We will be on the lookout for healthy comments and supporting them through upvotes or tips via the @peakd tipping system.
NOTE: All newbies interested in this initiative are to make their entry before 7th of April 0:00 UTC, which is the deadline for submission.
Requisitos Adicionales
---
Establece tus recompensas al 100% Hive Power para hacer crecer tu cuenta y resolver posibles problemas con los Créditos de Recursos. Si no lo sabes, puedo explicarte cómo hacer la configuración.

Se espera que los novatos participantes publiquen a menudo, al menos una publicación al día. Esto es posible de lograr. Por eso nos gustaría recomendarles que se unan al Reto de 30 días de blogging organizado por The Blogging Challenge Community que ayudaría a conseguir el objetivo de publicar diariamente en Hive.

Se aconseja que los posts realizados por los novatos participantes se compartan en el SMILE DISCORD SERVER en #newbies-initiative-posts que está bajo la categoría "ALIENTO" los novatos pueden participar entre sí comentando los posts compartidos. Estaremos atentos a los comentarios saludables y los apoyaremos mediante upvotes o consejos a través del sistema de propinas de @peakd.
NOTA: Todos los newbies interesados en esta iniciativa deben hacer su entrada antes del 7 de abril a las 0:00 UTC, que es la fecha límite de presentación.

Benefits
---
Selected newbies will earn a 15% beneficiary reward from all newbies initiative task posts and would get support on posts shared in the #newbies-initiative-posts channel in the SMILE DISCORD SERVER.

High-quality newbies posts will receive a vote from @aliento.

Newbies can ask us anything they want to know about Hive or blogging-related topics in our SMILE DISCORD SERVER under the #help-chat in the "ALIENTO" category.

Each Newbie with low HivePower will receive a Delegation of 15 to 100 HP during their time in the initiative.

Most engaging newbies will receive a prize either in Hive or upvotes.

You'll get to know new authors, communities, and initiatives.
Beneficios
---
Los novatos seleccionados obtendrán una recompensa del 15% como beneficiarios de todos los posts de la tarea de iniciativa de los novatos y recibirán apoyo en los posts compartidos en el canal #newbies-initiative-posts en el SMILE DISCORD SERVER.

Los posts newbies de alta calidad recibirán un voto de @aliento.

Los novatos pueden preguntarnos cualquier cosa que quieran saber sobre Hive o temas relacionados con los blogs en nuestro SMILE DISCORD SERVER bajo el canal #help-chat en la categoría "ALIENTO".

Cada novato con bajo HivePower recibirá una delegación de 15 a 100 HP durante su tiempo en la iniciativa.

Los novatos más comprometidos recibirán un premio en Hive o en upvotes.

Conocerás nuevos autores, comunidades e iniciativas.

Appreciation
---
We want to thank @starstrings01, @tripode, and @cwow2 for this opportunity to help the community. We also want to thank @theycallmedan and the @threespeak team for doing an excellent job. And finally, the Hispanic Community for being one of the best and biggest communities on HIVE. I want to mention @enrique89, @victoriabsb, @ilazramusic, @elizabeths14, @yonnathang, @ritch, and many others who are in my heart, but I will not tag them because it would be spam. Thank you, everyone, for being awesome!

---

@aliento initiative by @eddiespino and @grisvisa

Click the banner to get redirect to Blogging Challenge Community

Click the banner to get redirect to SMILE server, or: https://discord.gg/wyhVUvt

All illustrations made by @tripode in Adobe Illustrator.

---
---