My Octopider Battle - Splinterlands Weekly Challenge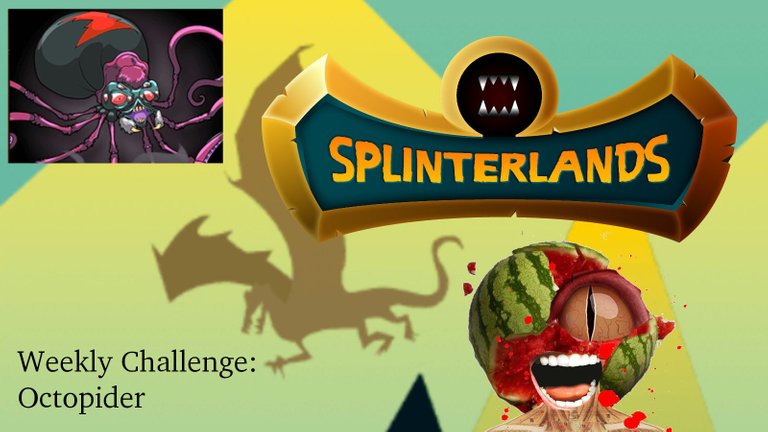 ---
Hello, everyone.
Welcome to my weekly battle post, which has been less than weekly. I feel like I missed out there on the Peaceful Giant and Silvershield Bard. On a positive note, though, I'm back! And this video is 30 minutes long! It includes my commentary of various battles along the way, and concludes with a win with the Octopider.
---
If you want to skip ahead to various parts, here are a few times for highlight moments:
I lose to Yodin Zaku badly: 3m:14s
I get beaten up by Dragon Jumper: 5m:53s
I do something stupid: 8m:00s
Boring Odd battle: 10m:14s
Nice Alric win: 12m:23s
I win with Daria+Water in Little League: 14m:22s
Failed silly Octopider attempt: 17m:55s
Another Alric win: 20m:01s
Skipped Mylor loss to Chanseus: 23m:47s
Skipped unexpected Alric win: 26m:34s
If you're not interested in any of that, though, please skip ahead to:
Octopider WIN: 28m40s!
---
My Line-Up: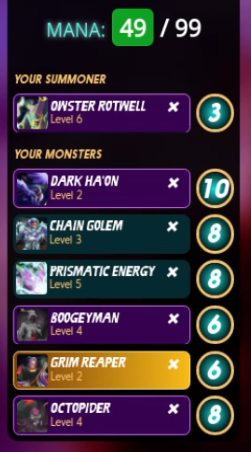 -Explain why you put each card in that position and why they are a good fit with the OCTOPIDER.
I picked two melee, two magic and two range for my team. I put taunt in front, with shield and void in second in case of blast. Then my two magic attackers were chosen because the Prismatic Energy has decent life and the Bogeyman has slow. Grim Reaper added affliction.
-Did your strategy work? What will you try differently next time?
Yes! It worked! Next time I might try to include some Resurrect and Repair, but I don't have the right cards to do that yet.
-Do you like the OCTOPIDER? Why or why not?
Yes, it's a good card. I think its best aspect is in fact its unusually high damage when you get it to max level, as well as the fact that it has nice debuffs for the enemy team.
---
The Video:

---
That's it for this week. I hope you enjoyed it. I hope also to return soon. Take care now. Bye.
---
---