The power of music to effect change

We could change this our world with a piano, add a bass, some guitar, grab a beat and away we go
- Ed Sheeran
---
The inherent ability of music to convey information can touch souls and has power to effect change. Soldiers fighting in the wars over the course of history were filled with courage after singing some important songs, mothers sing songs to children to help them cope when they need it, music is essential to the happiness of a great many people and I admit to being one of them as my life's story cannot be told without music just like you reading this perhaps.
Do you have a favorite song? I don't find it easy chosing or determining my favorites for anything at all, all i know is that my fvorite person in the whole world is my mom but that's as much as i know for favorites. when it comes to music though there's a lot to pick from because there are songs for different moods and i think that that is a function of the inspiration behind the song. Songs can help us feel a certain way at any time, thats true power right there!!
This informs my choice of music and helps me reflect deeply on the messahge i hope to convey when making music..
No wonder unity is sometimes expressed as people 'singing one song'... If that were possible even in a literal sense, we(the world) would'nt be in the current situation we find ourselves in today. one thing would matter more than our diversity and differences
I believe that music has the power to change the world through love and if i am to have a professional music career i would relish the chance to touch souls and heal hearts till my time here comes to an end. For now i have this song for you by one of the greatest musicians of all time, please enjoy the music and i hope that it's exactly what someone needs at this point in time.
---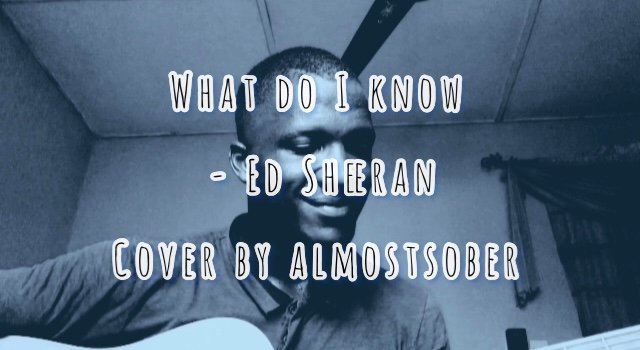 Lyrics
Ain't got a soapbox I can stand upon
But God gave me a stage, a guitar and a song
My daddy told me, "son, don't you get involved in
Politics, religions or other people's quotes"
I'll paint the picture, let me set the scene
I know when I have children they will know what it means
And I pass on these things my family's given to me
Just love and understanding, positivity
We could change this whole world with a piano
Add a bass, some guitar, grab a beat and away we go
I'm just a boy with a one-man show
No university, no degree, but lord knows
Everybody's talking 'bout exponential growth
And the stock market crashing in their portfolios
While I'll be sitting here with a song that I wrote
Sing, love could change the world in a moment
But what do I know?
Love can change the world in a moment
But what do I know?
Love can change the world in a moment
The revolution's coming, it's a minute away
I saw people marching in the streets today
You know we are made up of love and hate
But both of them are balanced on a razor blade
I'll paint the picture, let me set the scene
I know, I'm all for people following their dreams
Just re-remember life is more than fittin' in your jeans
It's love and understanding, positivity
We could change this whole world with a piano
Add a bass, some guitar, grab a beat and away we go
I'm just a boy with a one-man show
No university, no degree, but lord knows
Everybody's talking 'bout exponential growth
And the stock market crashing in their portfolios
While I'll be sitting here with a song I wrote
Sing, love could change the world in a moment
But what do I know?
Love can change the world in a moment
But what do I know?
Love can change the world in a moment
I'll paint the picture, let me set the scene
You know, the future's in the hands of you and me
So let's all get together, we can all be free
Spread love and understanding, positivity
We could change this whole world with a piano
Add a bass, some guitar, grab a beat and away we go
I'm just a boy with a one-man show
No university, no degree, but lord knows
Everybody's talking 'bout exponential growth
And the stock market crashing in their portfolios
While I'll be sitting here with a song I wrote
Sing, love could change the world in a moment
But what do I know?
Love can change the world in a moment
But what do I know?
Love can change the world in a moment
It's been a pleasure sharing my thoughts with you today
---
---
▶️ 3Speak
---
---