Stay- Rihanna X Mikky Ekko

---
I had just finished out of secondary school then, in 2012, when this song was released. I had never heard of Mikky Ekko before then, and that was probably the last i heard of him. The melancholy chords show from the start of the song, the mood of the music to expect... However, this is a song that beats the expectations of the start and only gets better.
The song talks about two lovers who although wanting each other, are faced with realities of life and it's toll on their love. They both wish that things were much simpler, and they could stay together. It remains to see if they did stay together, but i think that depends on if love truly conquers all( in their case)
I hope you enjoy this here rendition of this iconic song from me and the beautiful @khaleesii :)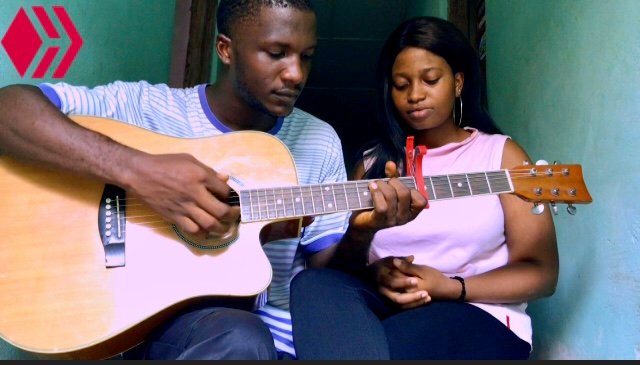 I have played this song with the capo on the 5th fret.
The actual song is not on the same key, and maybe not the same chords. Check it out at the bottom of this post.
---
Lyrics & Chords

C Dm Am. (G Am)x2
All along it was a fever
G C Dm Am. (G Am)x2
a cold sweat, hot headed believer
G C
i threw my hands in the air
Dm Am (G Am)x2
said show me something
C Dm Am (G Am)x2
he said if you dare, come a little closer
F F F F Am G
Round and around and around and around we go
Am G
oh oh
F F F
now, tell me now, tell me now
F
tell me now you know
C Dm Am
Not realy sure how to feel about it
G Am G Am
something in the way you move
C Dm Am
makes me feel like i can't live without you
G Am G Am
and it takes me all the way
C Dm Am (G Am)x2
i want you to stay

G C Dm Am (G Am)x2
It's not much of a life your'e living
G C Dm Am (G Am)x2
it's not just something you take, its given

F (Am G)x2
round and around and around and around we go

oh oh
F G
now tell me now, tell me now, tell me now you know
C Dm Am
not realy sure how to feel about it
G Am G Am
something in the way you move
G C Dm Am
makes me feel like i can't live without you
G Am G Am
and it takes me all the way
G C Dm Am (G Am)x2
i want you to stay
F
ooo ooo
F Am
the reason i hold on
F
ooo ooo
F Am
cuz i need this hole gone
F
it's funny your'e the broken one
F Am
but i'm the only one who needed saving
F
cuz when you see the light
F G
it's hard to know which one of us is caving

C Dm Am
Not realy sure how to feel about it
G Am G Am
something in the way you move
G C Dm Am
makes me feel like i can't live without you
G Am G Am
and it takes me all the way
C Dm Am (G Am)
i want you to stay
C Dm Am (G Am)x2
stay
C Dm Am
i want you to stay
G C
ooo


---
Thank you for visiting this post, we are happy to share this special song with you today
---
▶️ 3Speak
---
---