75k SPS Milestone Achieved.. Next is 100K
SPS is one of the tokens I have accumulated for a long time. It started with the airdrop and since then I have been trying to increase the stake. I am a big-time fan of the splinterlands game and sps is the governance token so we can expect many more benefits and rewards in the future. I had clear goals since the beginning that I will continue to accumulate all the stock that I received through the airdrop. I know that it is free money but I did not treat it like free money and because of this I never thought of booking the profit. There were some scenarios when it was a good time to sell of and book profit or maybe I could have purchased at a lower price but I missed it. It is because I did not want my focus to be diverted and suggested reason I continue to stake all my tokens in the game account.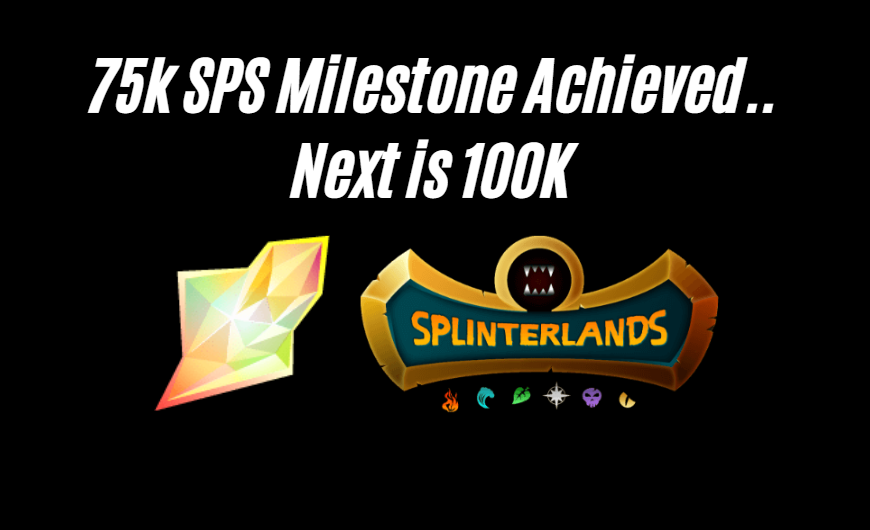 Today I am glad to share that I have reached the milestone of 75000 SPS in my account. It has taken more than 15 months time for me to reach this number. This journey has not been easy for me because I have tried multiple ways to accumulate. While I was getting the tokens every day as part of the reward distribution but I was also buying from the market so that I can grow my overall holding. I have also increased my goal a couple of times in the past and even now I am trying to increase it further. I do not want to stop myself here instead I will continue to increase the overall holding so that it can bring even better benefits for me.
New SPS Goal
Now since I have completed 75k sps tokens in total so I push my goal to 100k. Vishva I am increasing my goal by 25000 additional tokens and will continue to accumulate unless I reach my 100k next milestone. Some people ask me whether it's really worth increasing SPS holding and I do not want to share any financial advice here but I believe that it is profitable for the long term. If you are investing in an SPS for just a couple of months then I would not suggest you go forward instead if you have a long-term goal then just go ahead without giving it a second thought. SPS is a nice token in the game ecosystem where we can see many more things getting changed and even I believe that in the future we are going to see even improved use cases for the governance token.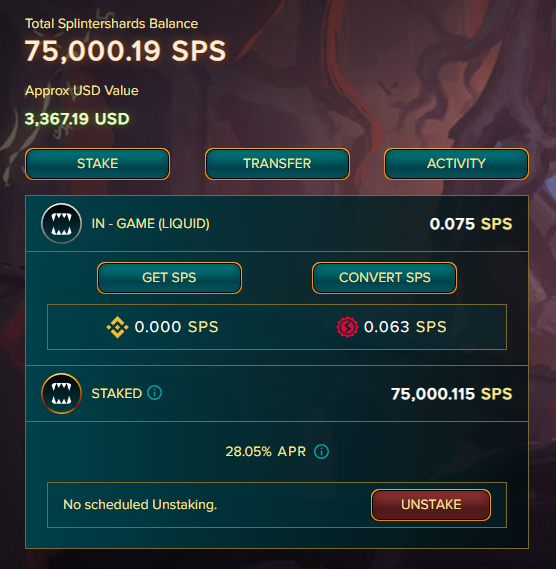 Ongoing GLX airdrop
Currently, GLX airdrop has already started for SPS holders and every day the tokens are credited to our wallet. It's not like SPS where we were required to claim tokens every day but things are more automated this time. You are not required to perform any action and everyday rewards are deposited in our wallet with no manual intervention. Now even we have got the option to deposit our tokens and earn rewards through staking. If you ask for the apr then it has not been shared as of now but I hope this will be shown soon and it will be easy for the people to go for locking the to comes to earn the passive reward.
---
There are so many things in sprinterlands and to be honest it is not possible for people like me to own everything. Still, I try my best to be part of various things in the game and diversify my investment across various assets in the Splinterlands ecosystem. I am trying to add more value to my blockchain gaming investment. There are many things that I am planning to buy and slowly I am trying to buy them one by one which I think is a good strategy as per my plan.
Thank you.
Posted Using LeoFinance Beta
---
---