Bought 6K SPS from Gate.io Exchange
Splintershards (SPS) is one of the tokens that I am bullish on and it's not just now instead I have been following the same approach since the beginning. This is one of the tokens that is highly undervalued and that too when we know that the importance of this token is much higher in the game ecosystem. The more sps we have in the game account means we have more power to get higher rewards as well and there are multiple other things that can be done with bigger SPS holding. it is a key component in the game because the game rewards are distributed according to the reward multiplier and based on sps holding it is determined.
Today I used an external exchange to buy sps and this is the first time, I used this type of external exchange to buy this token. I mostly use hive-engine to buy SPS because its convenient and easy. It is also because I mostly use Hive as a payment option to buy SPS and with Hive engine, it is quite easy. Even transfer happens almost instantly but since I had some funds lying in the exchange wallet so I thought of buying sps now because the price is low and I can get more tokens.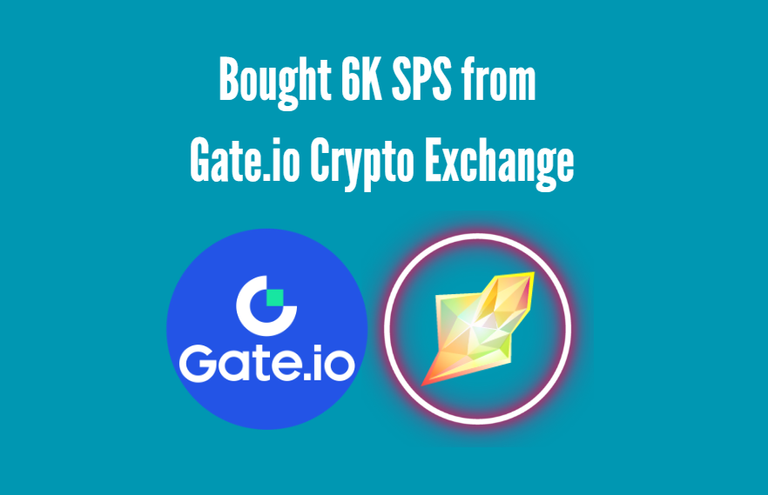 I did buy 6025 SPS in the exchange and tried to withdraw it to my metamask wallet that is linked to my game account. I never tried this process so I had to check out the documentation for the same and I followed it. The exchange charged 64 sps as a withdrawal fee which I think is on high but its OK because I have no other option than going with this. I'm happy that with hive-engine, there are no such transactions and we can transact for free whereas other exchanges are charging much higher.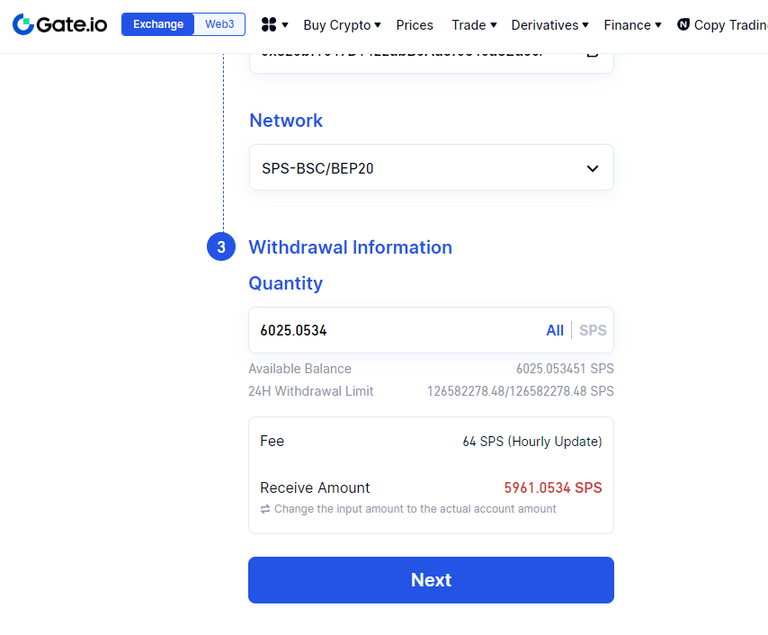 The transaction was processed in a few minutes and it was showing that it is done on blockchain pending which means the transaction is processed from the exchange side. Usually, transactions on the BSC chain are processed in a few minutes time and do not take longer to get done.

I checked the balance in my game account and it was reflecting. The same balance was also shown in Metamask wallet which is linked with my game account.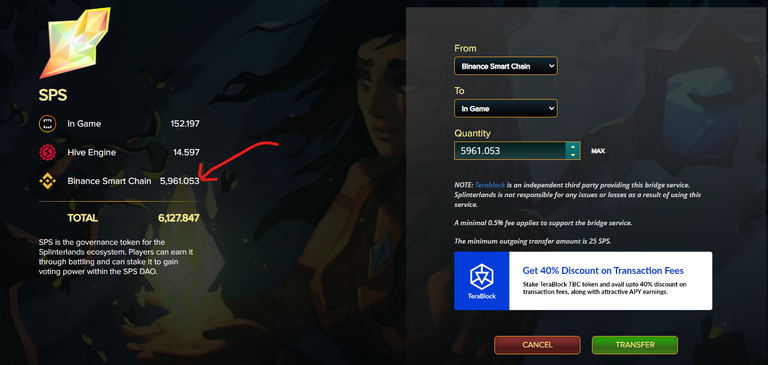 Now there are options to transfer this balance into my game account as shown in the above snapshot and there is some fee towards using the bridge. this is provided by Terra block. Everywhere transaction fee is involved and I have paid the same to the gate.io exchange and now I will be paying to the Terra block for processing this transaction. to be honest this transaction fee is pissing me off and glad we don't have it on hive.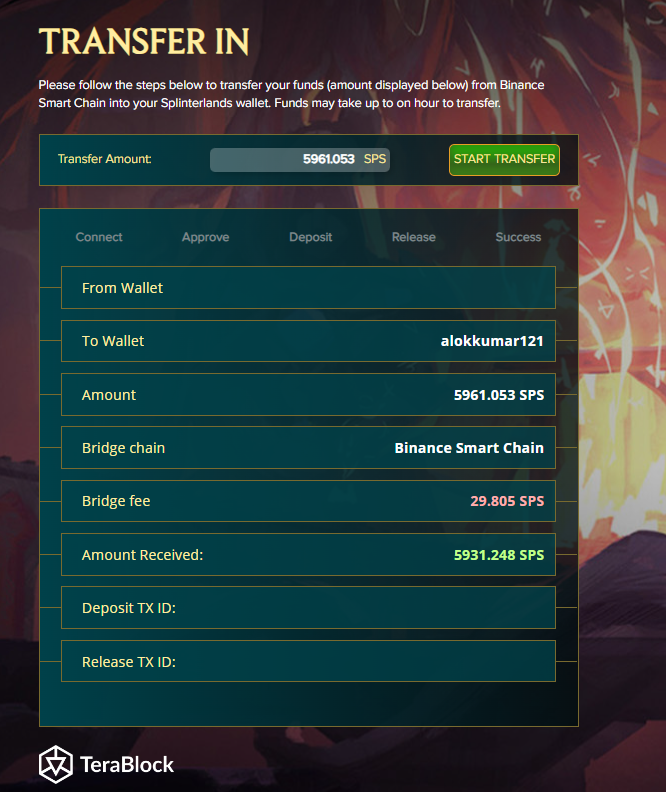 I tried sending the balance a couple of times but don't know what is the issue here since the transaction did not go successfully. I followed the same steps provided on the documentation page by the team but seems something is wrong here so I have raised the request and waiting for them to revert on the solution. There is no point in keeping these tokens idle in my meta mask wallet because it is not generating anything but if I power it up in the game account then it will generate some reward as well as it will also help me have a better season and reward because of the increased multiplier. Below is the snapshot of the error message that I am getting while processing the transaction but I hope this should be resolved soon since the ticket is already raised.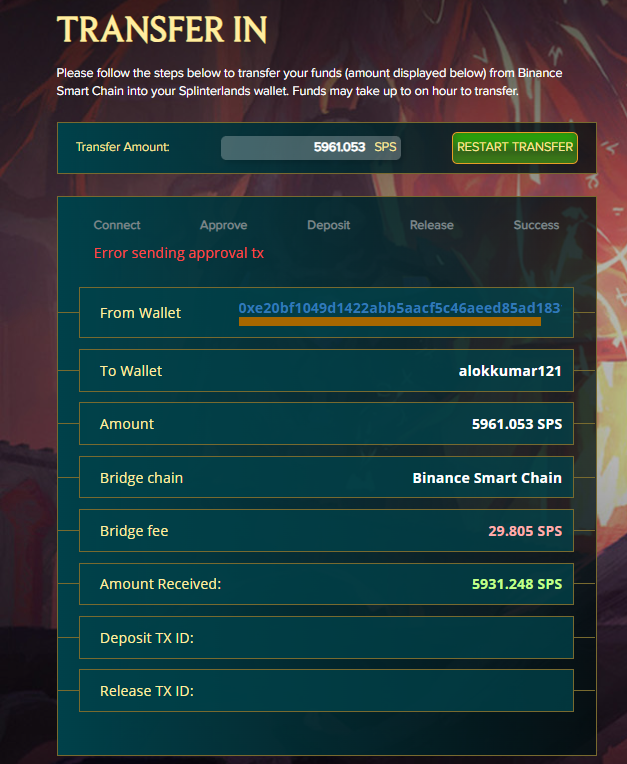 SPS Price
The price for the SPS token is down and it seems that it has reached its bottom point. although I cannot say whether it is bottom or not but since I consider it as a low price mark I bought 6K tokens today and I will be buying more in the coming weeks because this price seems good to me and I will continue to buy to grow my overall sps holding. I have already discussed in one of my recent posts that now the price is coming to my range and it is time for me to get started again and here I am with my action plan which has already been started to accumulate more sps from external or internal markets.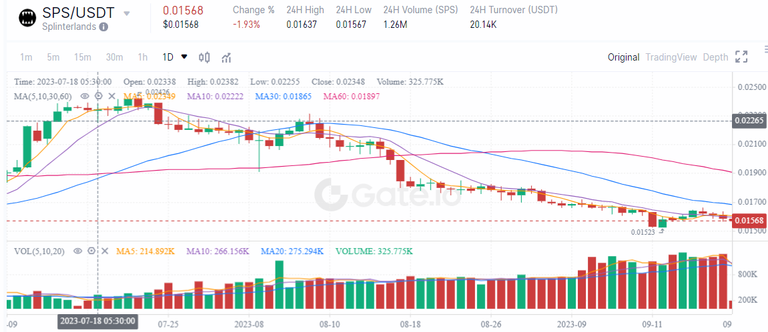 Its a bear market and surely an opportunity for us to build a portfolio with more quantity and we know that this is the time when the value is low. We also know that the bear market is a good opportunity for us to buy and wait for the right time which can be the next few years probably because it is expected that the market cycle will reverse in the next year. Even if it does not then also I'm not worried because the investment I am making on SPS is for the long term and I'm not sure if I will be booking some profit when the price goes up since my motto is to get more benefits of this holding instead of selling off and booking profit.
(images are taken from the gate.io exchange and splinterlands)
Thank you
Posted Using LeoFinance Alpha
---
---