Buying CL Packs this week
Pre-sale for the Chaos Legion pack is getting over in 3 days and now is the time when many players are buying the packs. Those who are big investors must have purchased the packs by now but the user who was waiting to complete the VOUCHER airdrop will now be buying the packs. I have also been accumulating all my vouchers daily so that I can buy packs together in one go. I wanted to buy 100 CL paks however I got about 87 voucher tokens which mean I am short of 13 tokens. We know that voucher token is a mandatory requirement to buy CL packs. Since I have the plan to buy 100 packs because this will give me 10% extra packs and for purchase of 100 I will get 110 packs in total. I will also use SPS to pay and that will also enable me to get a 10% discount so this way I can bag a 20% discount upfront. Who does not like discount and bonus benefits and I also trying to do the same?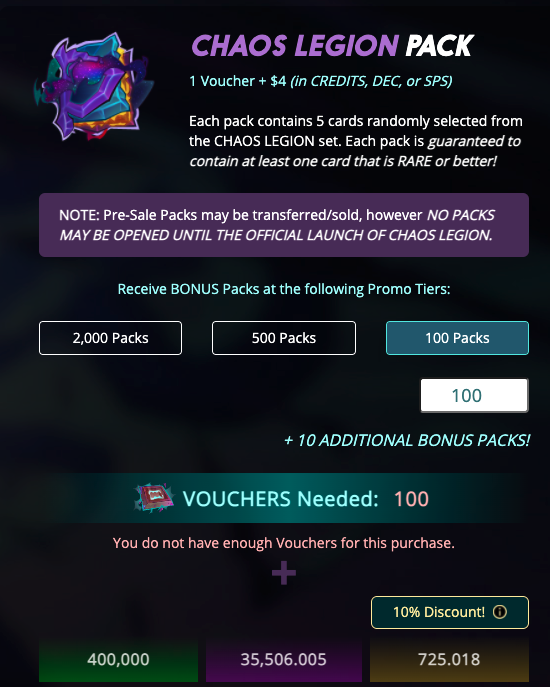 I have some vouchers in hive-engine but I am not sure how can I send these tokens to my game account. I am sure there should be some way but I am not aware so would appreciate it if I can get help on this. I want to buy a minimum of 100 packs because this is a profitable deal. My ultimate goal is to hold 500 packs and I will buy in the second sale as well. This time since SPS gives a 10% discount which will not be available in the second sale so I want to make the most out of it.
The pre-sale event is ending in 3 days and 12 hours at the time of drafting this post and I want to complete my buy within the weekend so that I don't need to rush on weekdays. I am busier on weekdays that's why I prefer to utilize weekend time for such things so that I can do it without hassles and easily.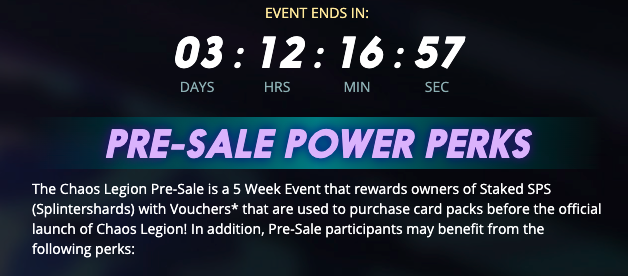 I hold 86.92 vouchers tokens and I need more to buy 100 packs and the only way I have is to buy from the market and make it 100. I trie bit did not get the option to send vouchers from hive-engine so maybe I am missing something.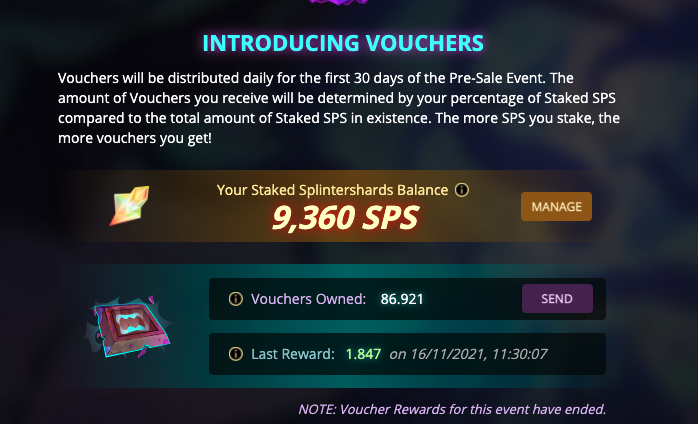 ---
It also has been announced that the second sale for CL packs will be starting from next month (8th Dec) and there will be some changes in that however still it will be a good idea because there will also be voucher distribution. So we can say that its required to have voucher tokens if we want to buy CL packs. The future is exciting with the splinterlands game and if we can hold these assets them I hope it will bring more opportunities for us to earn good on this game. Splinterlands is the leading blockchain game as of the date and it has crossed over a million users tat means we are going to have much more action on the platform.
PlaytoEntertainment has now become play to earn and this is such a wonderful opportunity to make it a good source of passive income. I am enjoying it and would like to know what you think about it.
Thank you so much
images are taken from splinterlands for this post purpose only
Posted Using LeoFinance Beta
---
---