Claimed airdrop for ASTRAL ENTITY Legendary Summoner
I am always excited about the airdrop cards in splinterlands and I am sure that I am not the only one. Everyone likes to have these cards that come for free provided we are meeting the eligibility criteria. The only criteria we need to follow is to buy more packs and if you are lucky now then you can get one or more cards as part of the airdrop. Usually, there is a notification in the game account once the airdrop is executed so we get to know easily that there is something for us to claim. We need to claim the card manually and there is no way it is claimed automatically.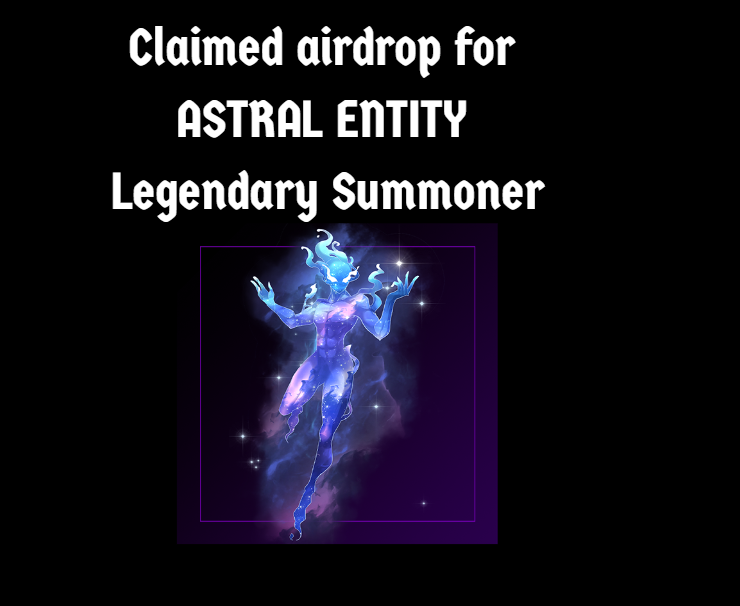 This is the 13th card that has been airdropped and now we are left with one more which is going to be the last. It's all because of the ongoing burn event that happens every day and this is why we are getting these cards faster. I also see that people are buying packs in bigger quantity as every day the quantity is reduced apart from the 25000 which is burnt every day. So we are going to have another card in the next couple of weeks but before that, the one we have received just now is again a nice car to have.
Airdrop Claimed
This is a summoner card from the death element and it is Mana cost is 6. I believe the cards that come with higher mana cost bring multiple abilities and the same as we are going to get with this card. I have purchased 601 packs in total I was expecting at least one card however if it could have been gold foil then it was just amazing. I did not get the gold version of the card but I got two cards which I think is a good deal. I got doubled my expectation and there is something making me happy. To be honest I was not expecting two cards of airdrop but no since I have got it so I will be buying one more soon to upgrade to the next level.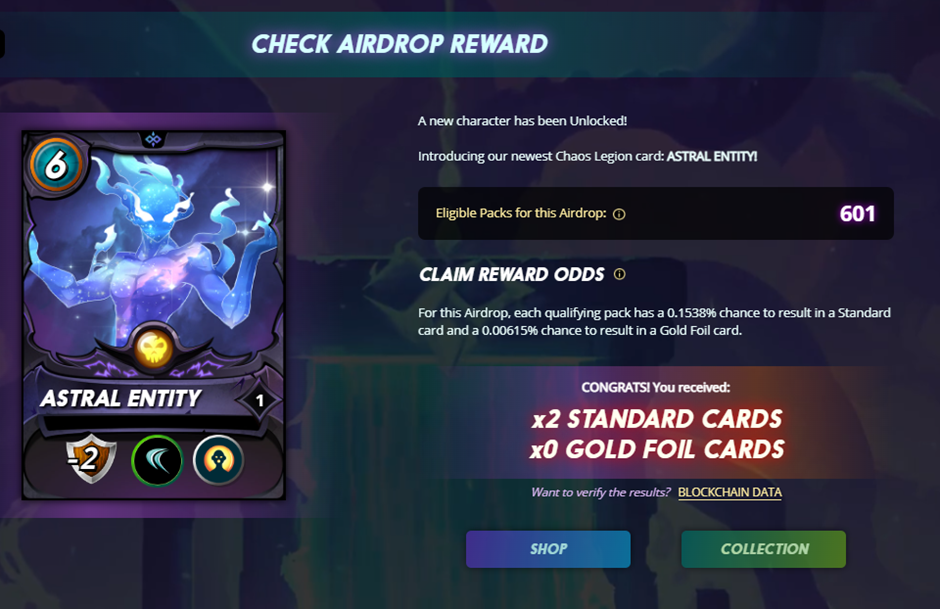 13th Card airdropped
My card collection is good but now it will be time for me to upgrade further so that I can be part of the higher League. We get higher rewards when we play in the higher League and this is the reason why I am planning to upgrade it so that I can grab better rewards with every. Currently, I play in the diamond League and my ultimate goal is to go on champion which I know is not going to be easy but I am on it.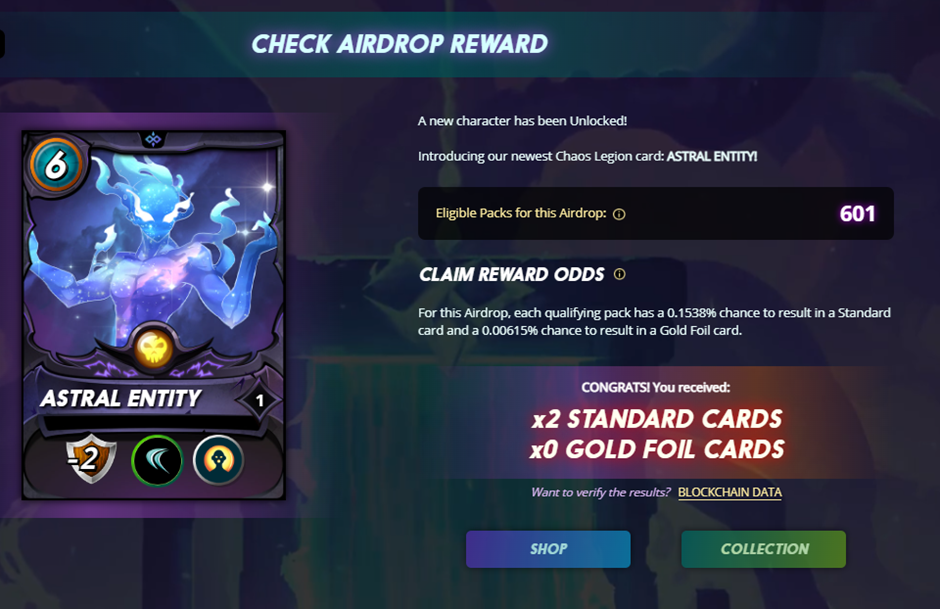 Now since we have got the 13th card already so I am looking forward to having another one soon but that has not been revealed yet. I hope that in a week or two we are going to have some details about the card and let's see how it will be and what ability it is going to offer in the game. I have also purchased packs in the rift watchers edition but I was not lucky enough to be part of any airdrop. There are so many assets in the game which I want to buy but because of the limited funds available, it is not happening.
While I am trying to add multiple assets to my game account but my major focus is on SPS because that is available at a highly discounted price. In my opinion, we do not get this type of deal all the time and this is the reason why I am trying to grow my holding as much as possible. Every asset is important in the game but SPS is even more so one side make it 100K SPS in total then I will think about buying other states because I believe this is something that I should achieve as soon as possible. It is a Crypto market and you never know when things are going to start moving upside then I will have to pay more for the same amount of tokens which I do not want to happen at least for some time so that I can make it to my goal earlier than I planned.
Thank you
Posted Using LeoFinance Beta
---
---