Exploring the Bitcoin, tokenomics and how it works
Once you talk about cryptocurrencies then Bitcoin is the first name that comes to our mind. We cannot talk about cryptocurrencies without Bitcoin because it is the mother currency and everything is based on Bitcoin. It is a high-value coin but there is a technology behind this and it is important for us to know what this technology is about and how it works. All these crypto coins are built on blockchain technology and mining is one of the processes that is followed by the miners to generate new coins.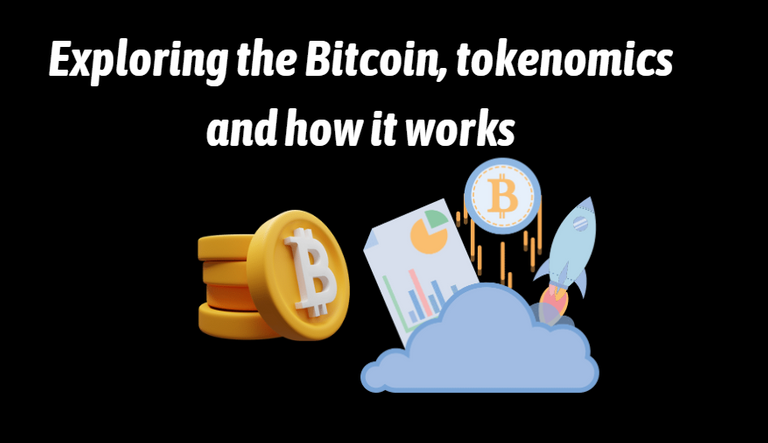 What is Bitcoin?
We know that Bitcoin is a cryptocurrency. This is a virtual asset which we can use to send and receive and we can also trade this asset on various platforms. Although this is not legal tender in most of the countries however there is a possibility that it might happen in the coming years but for now, the majority of countries have considered it as a digital asset that can be traded. This is the basic definition of Bitcoin and majority of the people know this way that it is one of the investment instruments which is available only in the virtual mode and there is no physical presence but still it carries a significant value.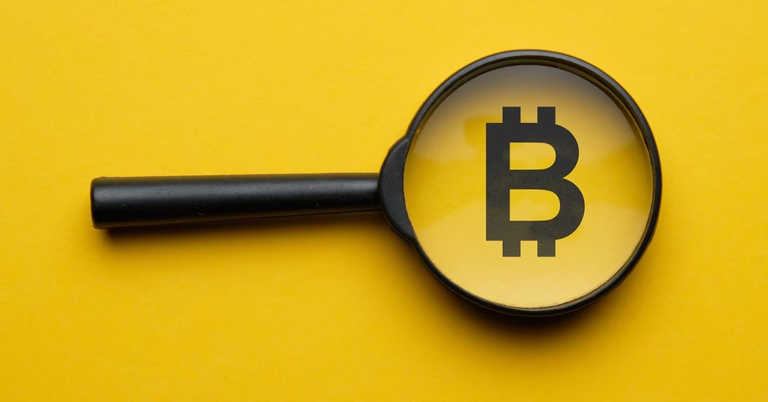 I also searched for the definition of Bitcoin over the Internet and here is what I received which I think is more relevant and appropriate so sharing here for reference. There are multiple definitions of Bitcoin on the Internet and it's very easy to find.
Bitcoin (BTC) is a cryptocurrency, a virtual currency designed to act as money and a form of payment outside the control of any one person, group, or entity, thus removing the need for third-party involvement in financial transactions.
Who found Bitcoin?
As per the information available on the Internet, we know that Bitcoin was launched in the year 2009 by Satoshi Nakamoto however, this identity is still a suspense. We do not know who this person is and there have been multiple instances when people tried to claim themselves as Satoshi Nakamoto however there is no clarity on this till now. He is a developer but we do not know whether he still exists or not. Bitcoin is decentralized and a complete community-driven ecosystem so it does not matter whether the founder is available or not. Its still a mystery about the founder and no one knows about the real founder by face and only the name is known to the public.
May 22, 2010, was a special day for Bitcoin because on this day an early crypto adopter Laszlo Hanyecz paid 1000 BTC for 2 pizzas at Papa John's and it was the first time when bitcoin was used for any payment in real value. Now the value of those 10k BTC is massive but we also need to understand because of this transaction it got more attention. Now this day is celebrated as Bitcoin Pizza Day worldwide.
Bitcoin Mining
Bitcoins are generated through a process called mining and with time the process has been getting more complicated and even the rewards are reduced for the minus. A normal computer is not capable of mining Bitcoin because of the difficulty level so a highly configured computer is required for Bitcoin mining. It is an important process because through this we generate new coins which is necessary. This process may sound easy but its a difficult process and there is significant cost involved. Some countries are not in support of Bitcoin mining because it consumes a lot of electricity hence renewable energy is the next method that some of the miners have started to adopt.
Although I have never seen any mining setup in real life however I have seen multiple videos and photos along with some articles about this information there are two ways of mining that we are aware of and it includes physical mining and cloud mining.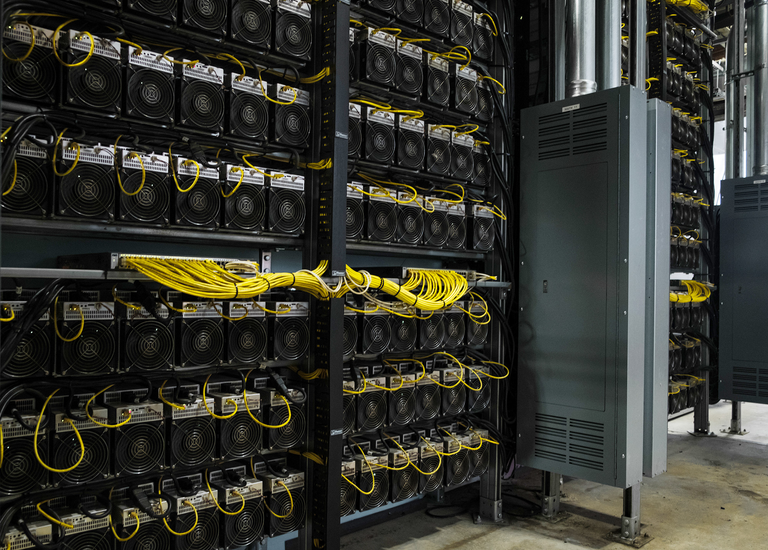 1- Physical Mining Set up
In this method, we need to set up mining machines and there is quite a good amount of electricity consumption that we need to arrange accordingly. This requires a lot of expense to be done for the setup hence not easy for everyone to go for this and now most companies are doing this activity to generate some revenue It's not that an individual cannot do this but the kind of setup it requires is an expensive arrangement and this is why the majority of companies are in this business instead of individuals.
In this method we do need not to set up any mining machine however this is provided by certain companies and they do the setup. Such companies invest a lot in infrastructure and then they offer Cloud mining services that we can avail by paying a subscription. Sometimes its not profitable so highly recommended to check before going for the subscription.
---
Bitcoin White Paper
In short, bitcoin is a peer-to-peer payment system and we can send or receive BTC in our wallet. The Bitcoin white paper is called the original paper and if you like to study and know more about Bitcoin then its suggested to go through the document. This is available in multiple languages so choose the one you like and are comfortable with and grab some depth knowledge about this world's leading crypto coin called bitcoin.
How to Use Bitcoin
We do not need so much technical information to use Bitcoin. As a user we just need a wallet to start with Bitcoin and in the wallet, we can create a wallet address that we can share with our friends who can send the Bitcoin and vice versa. this process is quite simple and hardly takes a minute So we can say that in a minute you are ready to use Bitcoin. There are so many wallets available in the market however it is important to choose the reliable one and some wallets also offer the functionality to trade on Bitcoin through the wallet itself safely. The wallet safety is always recommended however we can share the address with anyone because it is in the open ledger and no one can access our Bitcoin with just the wallet address.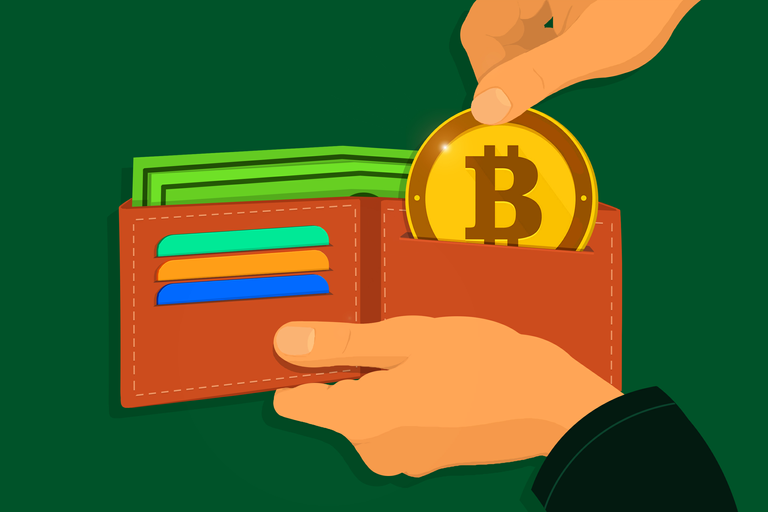 When we initiate a transaction it goes back to the minor queue on the blockchain for confirmation and once the transaction is confirmed then it is added to the blockchain and this is the process that is followed to ensure that balance is updated in the chain. Every transaction is validated and added to the chain only after the confirmation to keep the network error-free and also ensure that the balances are correct. It's not possible to manipulate the network because All the transactions require a certain number of confirmations so one node is not enough to make the decision and that is what plays an important role in the Bitcoin blockchain. if you have ever performed any transaction for Bitcoin then you might have noticed that it takes some time to get executed and during this period, a certain number of confirmations are required to execute the transaction.
Bitcoin tokenomics
Here is the price update for Bitcoin and currently, it is trending at $27K approximately in the U.S. dollar however there is some price fluctuation. A few months back the price for Bitcoin was less than 20,000 usd and now it is here however it was also beyond 30k a couple of weeks back so the fluctuation in the Bitcoin price is always in place and sometimes it is higher. This is one of the assets which is highly volatile and we are aware of this so whenever we are investing in Bitcoin such factors must be considered.

Below is the Price stand for Bitcoin in the last seven days and we can see that the price has come down however it is difficult to predict that where it will go in the coming days and weeks because it is a market and no prediction can go correct.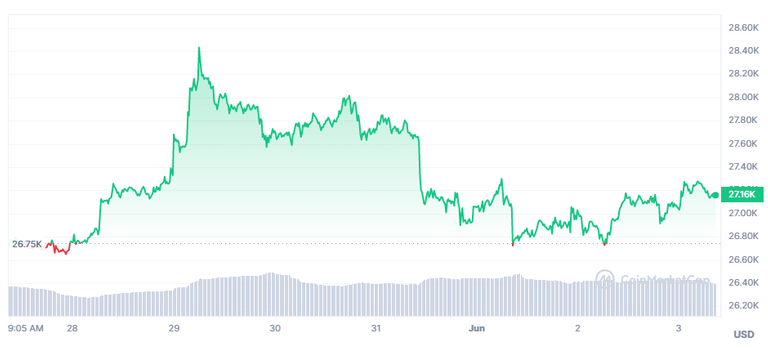 Bitcoin's total supply is 21 million and the top 100 holders own the supply of 13.6% in the market. Recently there was a new update shared that now 1 million wallets hold at least 1 or more bitcin and this count is growing which shows that people like to hold Bitcoin for the long term.
Bitcoin Halving
Halving is a process that reduced the block reward by 50% and the next event is going to happen in 2024. Below is the Bitcoin Halving countdown that is available on Binance and you can check it any time using the link below-
https://academy.binance.com/en/halving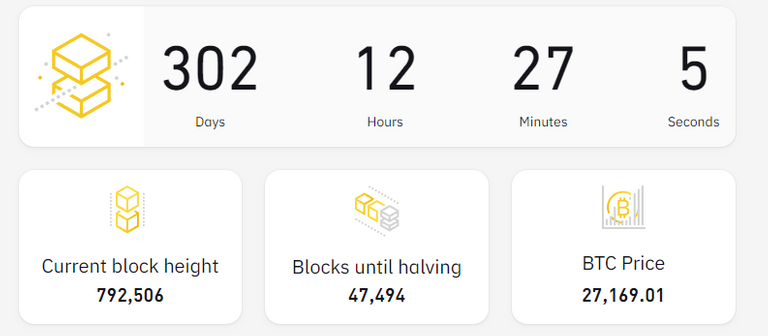 Here is the history of halving there have been 3 events so far and the next 2 will be done by the year 2028 and by that, the block reward will reduce to 1.56 BTC. It has been observed in the past that post-halving we have seen prices going and this is the reason why the next bullrun is expected next year.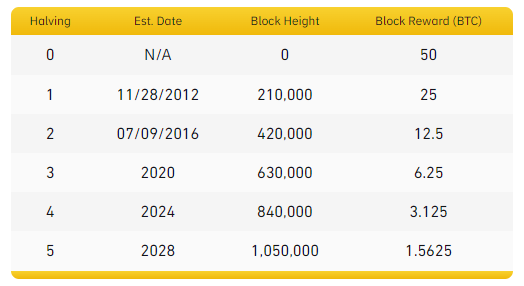 ---
Conclusion
There is a lot to learn and understand about Bitcoin and it is the future that we need to understand. We can call it money for the future as well as we also need to understand that this is a digital and virtual asset however the value is significant and in the coming years, we can expect the price to go even higher. I have seen the Bitcoin price when it was not even $1000 and now it is almost 27,000 US dollars so I have seen a significant growth in the price for this valuable digital asset in the market.
---
Some references I used for this post-
https://coinmarketcap.com/
https://bitcoin.org/
https://academy.binance.com/
---
Thank you
Posted Using LeoFinance Alpha
---
---