Have we reached SPS bottom? 11 days for the Airdrop end!
Time flies and now the sps airdrop countdown is moving faster it seems. It has completed 354 days out of 365 and it remains for just 11 days and will also end within this month and then we will how the SPS market behaves. Usually, during the airdrop, there is a lot of sell pressure which pushes the price down and I believe the same has been happening with SPS. I have been trying to accumulate more SPS throughout the airdrop I also did buy a good chunk from the market. When the price was around $0.15, I did my major buy as I never expected that price can come down to $0.05 else I would have waited, and at this price mark, I could have got 3 times more tokes for the same value that I have invested. Its ok as its markets and we don't know how it will react in the next moment and we just try something to accumulate at the lowest price possible.
Currently, the SPS price is $0.048 with an increase of almost 1% which is just normal and I have watched this space for quite some and seems like this price is going to be stable till the time airdrop continues at least and post the end of airdrop its difficult to predict the next move.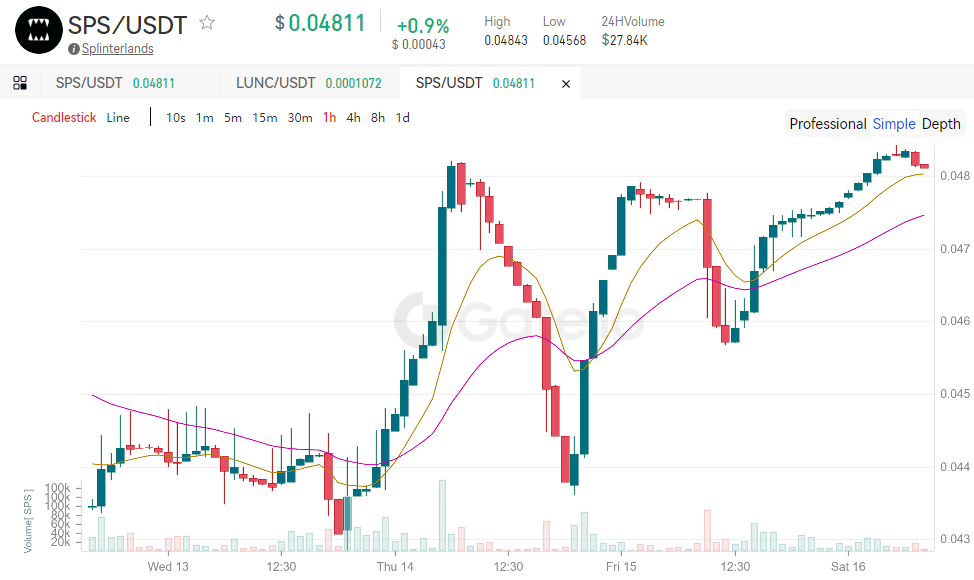 I have 52k SPS tokens and I am getting ready to buy another big chunk before the airdrop end so I think this price is going to help me have more tokens but I will wait for the next few days and will see if there is a better price for the token. The Crypto market is bearish and if the bitcoin price breaks further then probably we can see more dips with sps price as things are mostly going with the pattern of bitcoin.
Why do I accumulate more SPS?
Here is my SPS stake and I am very happy to have 52k tokens. Earlier I wanted to have 50k tokens but after making it 50k, now I want to have a 100k stake and I am on it to achieve it by the end of the year 2022. So as of now, I am away from about 48k tokens and current if I buy these 48k tokens then I would have to invest around $2400 which is not possible for me to do in one go but I will surely do it in parts and that way it will help me grow my stake. This SPS price is insanely and looing at the current development in splinterlands its highly expected that the SPS price will grow significantly in the future and now is the time to build a bigger portfolio.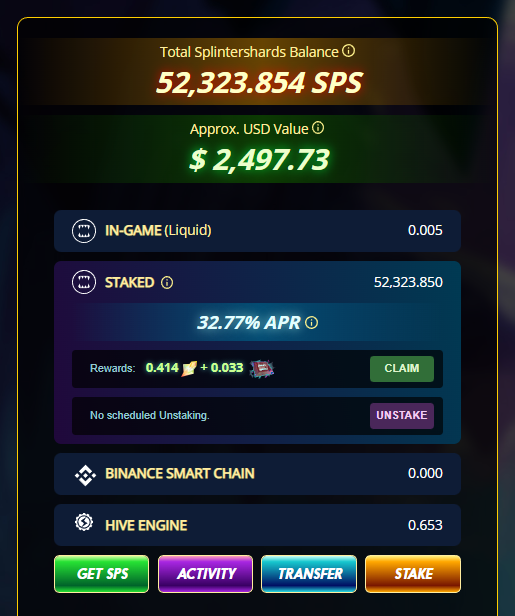 I believe in the splinterlands project and I am very sure that it will grow amazingly in the next few years. SPS is the governance token of the project and so many things are planned with SPS which will bring more value to its price and later buying more will not be possible for me so I am filing my bag as much as possible when the price is low. I started my journey with splinterlands in later 2019 as a player and now I have heavily invested in cards, packs, and tokens and I will continue to do the same so that I can not just make my gameplay better and even enhance my passive income better.
The current APR is over 32% and surely not bad at all to keep the stake and earn this however voucher price is not doing well and this is why I am accumulating all my vouchers and later if the price grows then I can convert it all to SPS. I plan to buy some CL packs and probably with vouchers I can get more bonus packs so will see how I can make better use of my voucher tokens holding.
Thanks for reading
Posted Using LeoFinance Beta
---
---