Moved my CUB from Old to New Kingdom on Fixed-Term Staking
I always believe that the investment done for the long term brings more profitability. Everything needs time to grow, and money is also the same thing that requires time for growth. I had invested in CubDeFi long back when the price was very high (more than$3) and later its price was severely dropped. There was no point I need to sell out because the value was almost negligible so I decided that I will continue to hold all the tokens rather than sell them at a loss.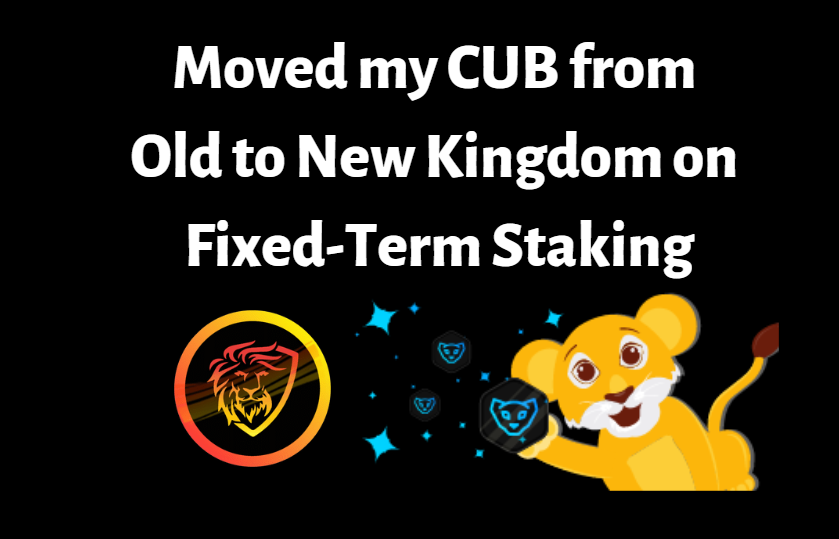 I see that in the last few months team is working to add more value to this platform which I think is a good initiative. Hopefully, we can see more action on the token price in the long term as they keep on adding new options to the platform. We have got new pools that are offering very nice returns on the investment.
New CUB Kingdom
Today they have added another fantastic edition on the platform where we can deposit over tokens for the long term with a decent apy. It is much better than what we get on the flexible option so I think it is worth going with this option. I already had my tokens in Kingdom but this new option is better so I have withdrawn all my tokens from the old kingdom and added them to the new kingdom option in cubdefi. I have chosen the period of 52 weeks and as of now, I am getting approximately 43% of apy which I know will fluctuate over the period of time.

When we think of investing for the long term then I believe that it is very important to choose the right project and reliable team. I am glad to share that leofinance is one of the team that we can trust and because of this reason, I deposited all my tokens without giving a second thought. I know that team is working very hard to add more value to the entire ecosystem and hopefully, this investment will be more profitable in the future. Currently, it has a very low value so there is no other option than these, and I think it is better to make a switch as this way I can earn better returns on my investment.
The current market is low and it is expected that this time crypto winter is going to be a little longer so we need to build during this period. This is the time to build and book the profit when things will start recovering but there is no certainty that how long it will take. I am trying to add more value to my overall crypto portfolio in the long term and I also expect that live finance will be bringing many such things in the future so that the community gets more earning opportunities. Video finance we are getting a bunch of options including the ability to create content as well as to invest in various pools to bag a better reward.
I have moved my token from the older option to the new one and if you are also holding the talk I'm then I suggest you check it out once and do whatever is good for you. This is not financial advice but is highly recommended if you believe in the ecosystem and expect things to get better from now onwards. The price is already at the bottom sides so I am also planning to buy some tokens soon and hopefully this way I will be able to add even more value to my overall decentralized finance portfolio here on leofinance.
Thank you
Posted Using LeoFinance Beta
---
---