My Hive_Goal: Achieved 30K Hive Power Milestone. Next is 50K
Hive power is something that everyone over wants to have as much as possible and I am not an exception. I also want to have more HP like others and to achieve this I had created a goal to have 50k hive power in my account. I know that its a big goal and will take time but I am focused on this and I keep on revising my goal from time to time to see how far I have come. I have certain goals on the hive and working on achieving them all and it includes- Leo, SPS, CTP, and ofcourse hive power because this is the key.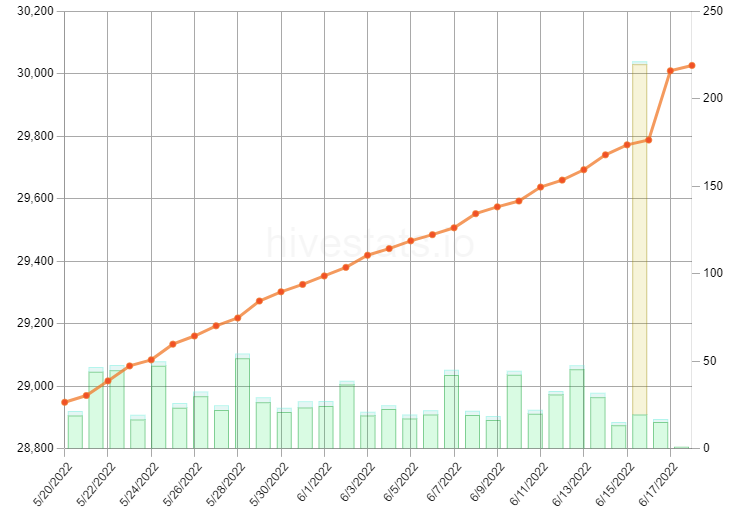 Source-https://hivestats.io/@alokkumar121
I am very happy to share that I have achieved 30k Hive power and and my ultimate goal is to reach 50k I expect that by end of 2023 I should be able to achieve it. Considering 50k as a goal, I can say that I have achieved 60% of it, and 40 % is left that I need to make it happen. Its been 4 years for me in this platform that was started with STEEM and now HIVE. My account was created on 22 June 2018 and it took 4 years for me to have 30k Hive power and this is not the end for me instead I am super excited for the day when I will be able to have a 50k hive staked in my account.

The Crypto market is down and even hive ower is low these days which is good because I get more hive through my content and even if it drops further then probably I will be able to buy some but for that, I am waiting if it drops further to reach my buying range. This journey has been amazing and I have learned a lot during this journey. To be honest its not easy to hold especially when the price was spiked to $3 and for a moment I thought to power down and book some profit then I changed my mind because if I start selling once then I may lose the momentum of accumulation and this is something I dont want to happen. Sometimes to achieve something big we need to ignore small benefits and same as I did and I will not stop unless my ultimate goal is met.
My major crypto holding is here in Hive and splinterlands and I continue to increase it over time by re-investing on it. Its too late for me to buy bitcoin but I dont want to miss out on hive and I am quite confident that this can give much more returns than bitcoin in long term. I have a long-term vision with HIVE and in the next years, we can see the hive growing significantly as the amount of development is high and things moving towards the next level. Hive is a good platform for passive income provided we have a good stake and through curation, we can easily earn 9-10% APR this is much better than bank deposits and even HBD is just awesome. Sadly I have no HBD holding however I think that I need to work in this area while increasing hive power stake because 20% APR is just superb and I don't think any other platform pays like this.
Thanks for reading.
Posted Using LeoFinance Beta
---
---