My SPS Goal- 15 Days for the end of Airdrop
Time has been running fast, and the airdrop for the SPS token will end this month. This airdrop has completed 350 days as of today and now the remaining period is just 15 days which is like 2 weeks and that's all. Its sad that this is ending but there has been a good thing that during this period I was able to accumulate a good number of SPS tokens and I am very happy with my decision to staking sps. Maybe its not a big amount for many but me it means and for this stake I have been working since day 1 and this is kind of a big achievement. I could have sold tokens and booked profit but I choose to hold because I am very much sure that SPS has a bright future and it will bring many more earning opportunities down the line.
Here is my current stake and I have 51524 tokens as of now but my goal is to have 100k tokens and I plan to have it done by the end of the year 2022. Earlier I wanted to have 20k SPS but later I increased it further and now I have pushed it even more and this is for 100k SPS tokens. I know that the current value is not so high for my holding and this is not my concern at all because I am more focused on building the stake as of now and I have no plan to sell my stake real soon. While I am staking all my dropped tokens, I also buy in small parts this is how I should be able to reach my 100k SPS goal. Big goals take time and I am not in hurry at all. I am happy that I have made it a 51k SPS stake I am quite confident that if the market stays like this then I should be able to achieve 100k even earlier than I planned.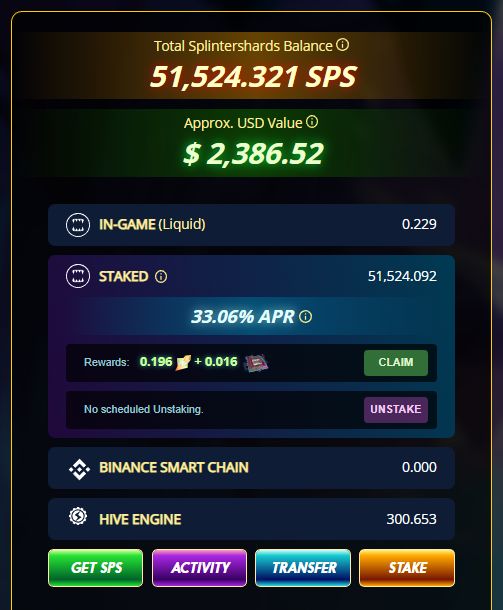 I used to get 130 SPS daily but with each passing season, these numbers are reduced and now I get about 92 tokens in a day and even the APR is dropped a lot these days. Currently, its 33.06%, and it also includes voucher tokens along with SPS. Undoubtedly voucher is a good token and I keep on converting my voucher to SPS from time to time but these days voucher price is slow and low and this is why I don't feel like selling my tokens.
Let's have a look at the voucher price and the current price is 0.78 hive which is too less. It was almost 4hive in May when the first sale of the node license was launched. That was the time when I sold my tokens and converted to SPS and since then I have held all my tokens. I keep on visiting the price to see if there is a good spike and I can sell mine so that it can help me have SPS and the same I can stake to earn a decent APR. Keeping vouchers idle does not bring any value or APR in return but SPS surely does.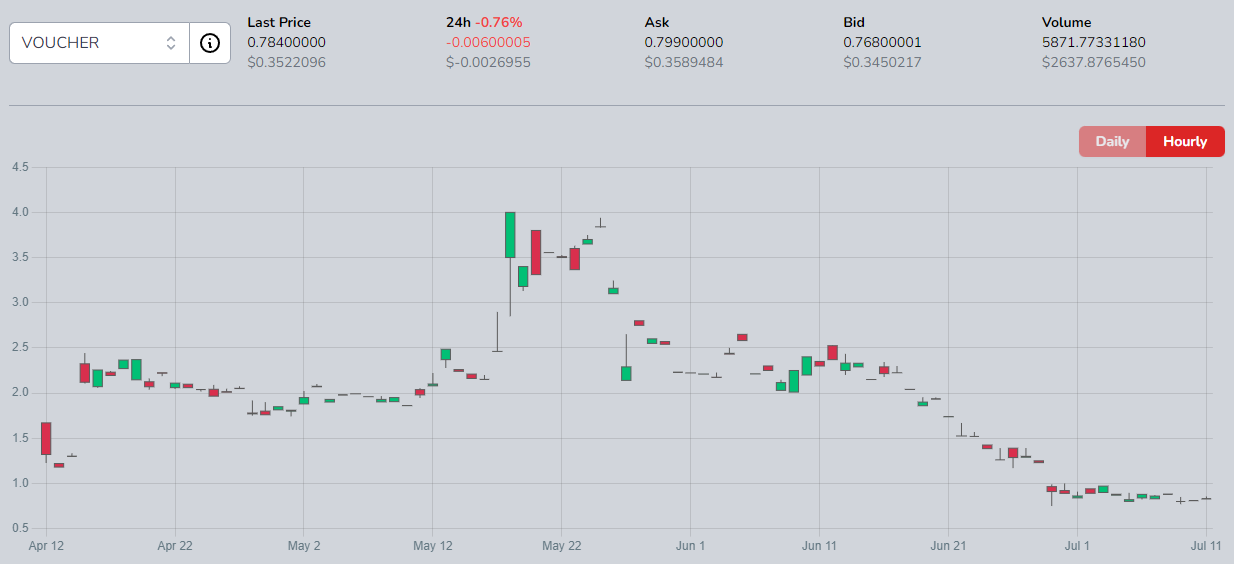 ---
Overall I am bullish on splinterlands but since I have limited funds and mostly I invest post-earning on splinterlands to buy cards, packs, and tokens, etc. I will continue to do the same. if Hive's price improves but SPS remains at the same price then I will be able to have more tokens but not sure how things will be in the coming weeks. SPS's low price is like an opportunity for people like me who are holding for long-term and trying to increase the stake.
Thanks for Reading
Posted Using LeoFinance Beta
---
---