Over 12% APR through Curation on Hive
Content creation and curation are the two major activities on the hive platform. Most users start with content creation because for curation you need to have some hive power and even its even applicable for tribe tokens. For example- if we need to curate posts on leofinance for LEO tokens then we need to have Leo power and when we curate posts then we earn a curation reward which is 50%. I have been curating posts on the hive for quite some time and earlier I was following most of the auto vote using hive.vote which is a tool available on the hive. If you have not used the hive.vote then suggest you have a look at it because it has many utilities that can help us save time and lots of people use it because it helps to save time and is a very good tool.
When I was following auto curation, at that time my curation APR was 8-9% and it has been slighly fluctuating. I even don't remember if I was ever able to achieve 10% APR. I rcently made the changes to my curation strategy and now there is a significant increase in my curation APR. I use https://hivestats.io/@alokkumar121 to track my APR and this is a very easy-to-use tool. This is developed by the @leofinance team and is such a useful tool that I use it a couple of times every day.
Here is the snapshot I have taken from hivestats and my current APR is 12.04% which is very good. If I consider 9% which I was able to achieve earlier then there is an addition of 3% and this is something we can not ignore. These days I am doing 100% manual curation and this is good to earn better curation rewards but it requires more time.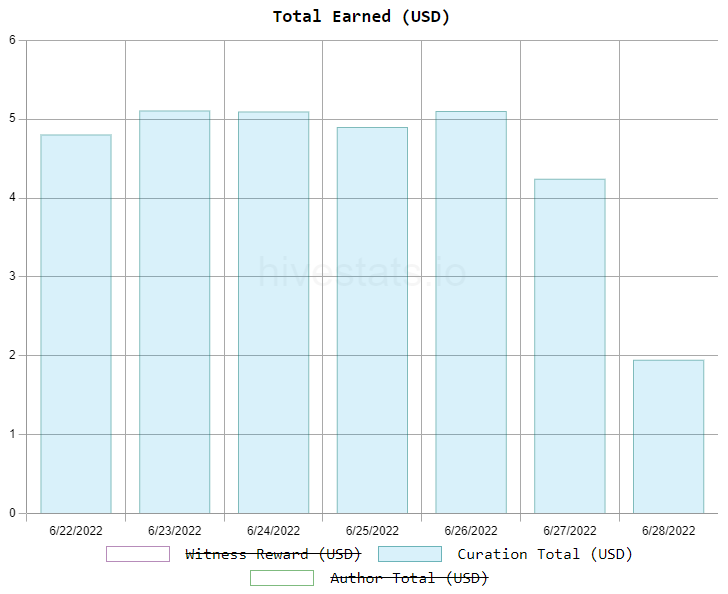 I need to ensure that my VP is not idle at 100% as this waste of voting power so I need to keep an eye on the VP but sometimes I miss especially during my sleeping hours. Voting power at 100% does not earn any curation reward.
Since I do manual curation so I upvote many posts from various content creators and choose different percentages as well so I need to visit peakd about 40-50 times a day.
Doing manual curation is fun because we get to see so muhc of content that we can consume as per our interest and its a learning experince as well. I even curate many posts through the leofinance community which is giving me the opportunity to learn new things every day.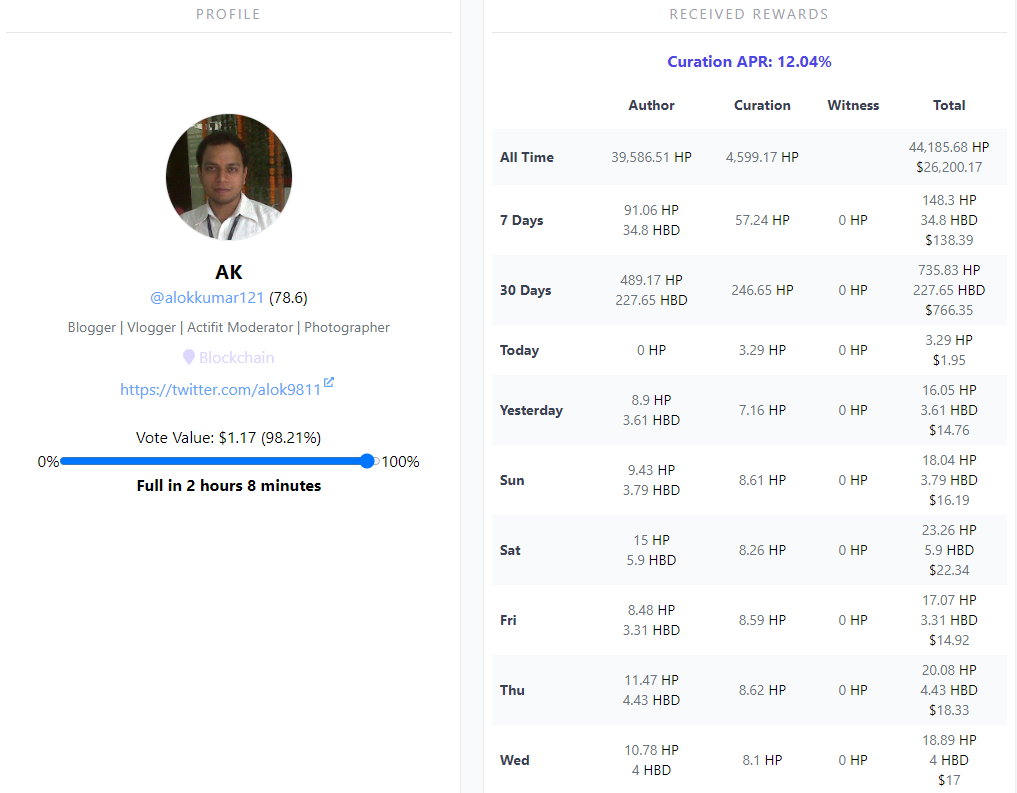 ---
Since its been a couple of weeks since me doing the manual curation and I want to see how howmuch maximum APR I can achieve. I am not sure if its possible to make it 13% so I am trying and let's see if this is possible or not. Its sometimes tough for me to go with 100% manual as to when I am at work then sometimes I don't get time to curate and thats where I need auto curation which can help me reduce the VP and get me to earn some curation reward.
Based on my experince I can say that manual curation is best provided you have enough time. If you are able to give more time then you can earn better rewards. I may think of going with 50-50 kind of where I will use 50% auto and 50% manual to have a balance because this way VP will also not sit idle and even through manual curation I should be able to reach nice content and manage to have a balance between APR.
Thanks for reading
Posted Using LeoFinance Beta
---
---